Original URL: https://www.theregister.co.uk/2010/02/04/review_music_player_sonos_s5/
Sonos ZonePlayer S5
Sonic boon?
Posted in Personal Tech, 4th February 2010 13:02 GMT
Review US firm Sonos first debuted its first products back in 2006, and it offered just about the best example of a self-contained, multi-zone wireless music system that had yet been seen. It featured an iPod-like hand-held controller and used the company's proprietary wireless technology – rather than Wi-Fi – to connect your PC to a series of amplifiers around your home, which could be connected to the speakers of your choice.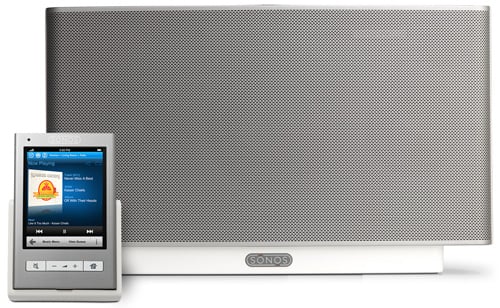 Sound environment: Sonos' ZonePlayer S5 and CR200 controller
Since then the system has continued to improve over the years, with upgrades to the handheld remote control, the addition of various online music services and now, at last, a self-contained amp/speaker unit in the shape of the Sonos S5.
Price has always been a bit of an issue for Sonos – not that it's outrageously expensive, but there are other wireless options available for considerably less. With the S5, there's no need for additional speakers, and if you've an iPhone you can instal a free app so that it can be used as the controller. The alternative is to buy the £275 Sonos CR200 controller, which looks virtually identical onscreen.
If you're using the S5 in the same room as your computer, you can hook it up directly to a LAN port. If you want to use the S5 elsewhere, you'll need a £79 Zonebridge 100 and plug this into your computer or router instead, so that it can link wirelessly to the S5. This unit combined with a single S5 will set you back £429 – around half of what you might have expected to pay for the Sonos BU250 package.
The S5 is a decent-looking unit available in Sonos's trademark white and grey. It's not a style statement like B&W's Zeppelin or Fatman's valve-powered iPod docks, but its clean, unfussy appearance means it should easily disappear into the background. The 217 x 365 x 123mm, 4.15kg cabinet contains five separate drivers: two tweeters, two 3.5in midrange drivers and a single 3.5in subwoofer, each powered by a separate Class D amplifier. Sonos' own DSP (Digital Signal Processing) system takes care of the crossovers.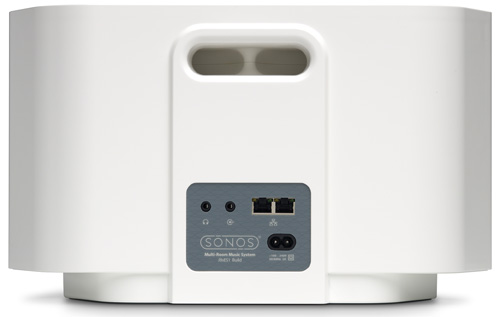 Besides Ethernet, there's interfacing for headphones and external sources
The S5 is not entirely wireless, of course, you'll need to plug it into the mains since there's no battery power option and around the back is a pair of Ethernet plugs, plus a 3.5mm headphone jack and a 3.5mm line in, so you can play an MP3 player through it direct – useful if you have iPod-toting friends round. There's also a handgrip for lifting and on top are volume and mute buttons.
Sonos now supports a broad range of audio formats, including MP3, iTunes Plus, WMA (including purchased Windows Media downloads), AAC (MPEG4), Ogg Vorbis, Audible (format 4), Apple Lossless, Flac (lossless), as well as uncompressed WAV and AIFF files. There's native support for 44.1kHz sample rates as well as additional support for 48kHz, 32kHz, 24kHz, 22kHz, 16kHz, 11kHz, and 8kHz sample rates. However, it won't handle Apple "Fairplay", AAC Enhanced and WMA Lossless formats though Sonos says this may appear later.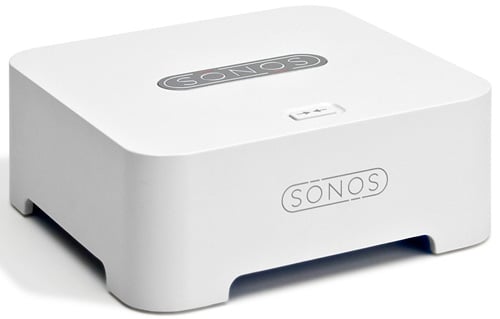 The Zonebridge is, effectively, the wireless access point for this Sonos setup
On-line services include Internet radio access, and music from Last.fm, Deezer and Napster (£5 a month now for 8 million tracks, without the need for a computer) plus audio books from Audible and it's now possible to make Twitter updates through Sonos. The service offers a template tweet namechecking the track you're listening to and you can add your own message about it. There's no Spotify yet, which is beginning to feel a little weird, though we've got our fingers crossed.
Putting all that on-line content aside, the primary purpose of the Sonos system is to stream music from your PC, Mac, or a Nas server around your home, and this it does easily and effectively. You can import playlists from iTunes and, for a price, you can add other S5 units and link them to the Zonebridge and control them all from the iPhone or CR200 enabling different music streams, or the same source around the house at different levels for each room.
We used the iPhone app, which, for the most part, is easy to navigate and use. It's lacking a few of the options available on the computer-based interface, but it's all you need to configure the system and control each of the zones you set up.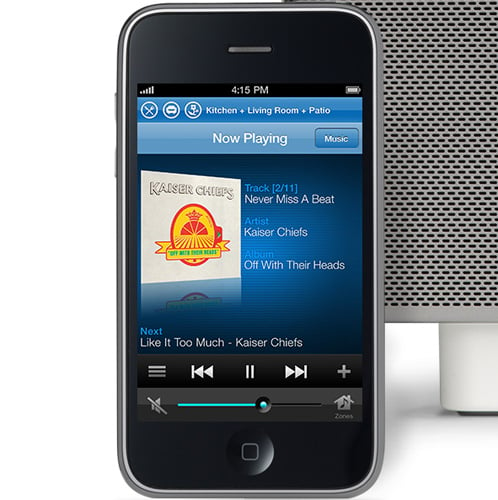 iPhone control for free, assuming you have one
We had a slight problem during installation, which we're getting used to with Sonos. As we've found in the past when setting up a Sonos system, there are issues with firewalls and the software. Indeed, this occasion was no exception. A phone call to the Sonos support team got it sorted though and once we were up and running, playback went smoothly for the most part.
We did encounter the odd wireless dropout – never for long, and it always reconnected itself. We never quite worked out if this was an issue with the Sonos system or our wireless network and although it wasn't disastrous, it was certainly irritating. However, the S5 made up for this occasional glitch with the quality of its sound, which is really very impressive. The midrange is expressive and open and while the top end can sound just a smidgeon shut-in on occasion, it's really nothing to worry about at this price.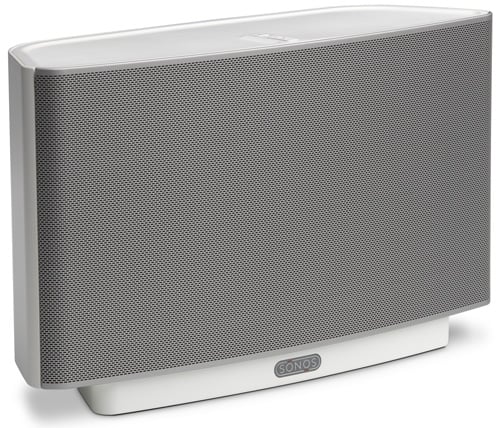 Intuitive operation and sounds great
Bass isn't super deep but has a decent punch and it's reasonably tight too. It doesn't distort either until you push it right to the max – even then the bass remains tight and controlled, though the treble starts to get a bit harsh. It certainly stands comparison with many of the better quality iPod docks we've heard and while it may not quite match the full range of B&W's award-laden Zeppelin, but it's not far off. Not far at all.
Verdict
Once you've got it up and running, the Sonos system is an excellent way to pipe your music around the house without having to rewire it. The sound is impressive for such a compact unit and easily stands up with its nearest rivals towards the higher end of the iPod dock market. Furthermore, it offers an increasingly impressive armoury of music source options and, as such, remains the wireless streaming system to beat. ®
More Networked Music Gear Reviews…

Logitech
Squeezebox Radio

Pure
Sensia

Sony Gigajuke
NAS-SC500PK

Pure
Evoke Flow