Original URL: http://www.theregister.co.uk/2010/02/04/review_3g_modem_huawei_e5/
Huawei E5 Wi-Fi/3G modem
Better known as the 3 MiFi
Posted in Networks, 4th February 2010 08:02 GMT
Review Huawei's E5 is one of a growing line of compact, standalone HSDPA 3G modems that double-up as impromptu Wi-Fi hotspots. You may have heard of it as 3's MiFi.
Rather than hook the E5 up to a single device - your laptop, typically - the built-in access point means you can share its 3G link among all your gadgets: phones, tablets and so on. That said, the E5 can also connect directly to a computer and operate as a typical 3G dongle.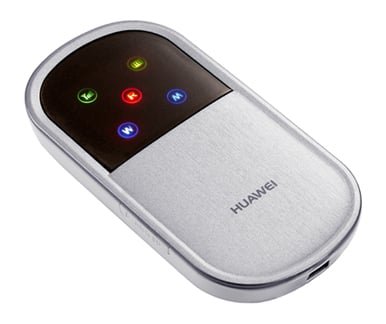 Huawei's E5: no bigger than an old-style 3G dongle, but with a Wi-Fi router on board
Don't have any other Wi-Fi devices? Then just treat the E5 as a dongle you don't need to plug in. Or even take out of your bag.
The Wi-Fi support is limited to 802.11b/g, but then most small mobile devices don't have 802.11n either, so this is perhaps no great loss. The E5's 3G radio operates in both the 900MHz and 2100MHz UMTS bands, and it has quad-band GSM/GPRS/Edge support too should find yourself too far from a 3G basestation.
When you are in range, the device will support upload speeds to 5.76Mb/s and download speeds of up to 7.2Mb/s. These are theoretical maxima, so you won't get them in the real world, even if the network you're using supports them.
And, of course, you don't mind paying inflated data-roaming rates when you're traveling beyond your national borders.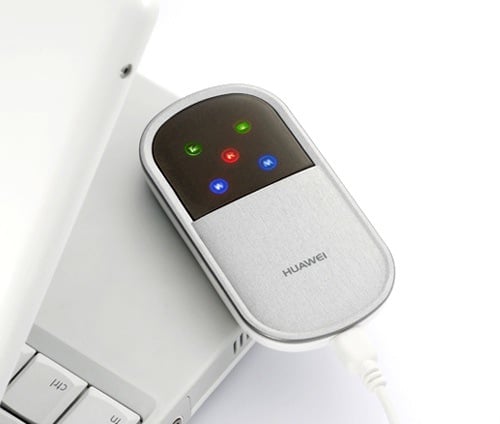 USB or battery powered
The E5 is powered by its own, removable lithium-ion battery, charged over USB. A computer's USB port will do, as will any suitable AC adaptor, though you don't get one in the box, just a short cable.
Flipping out the battery - which, Huawei claims, is good for four hours' continuous usage; that's about right - reveals the modem's Sim card slot. On the side of the device is a separate bay, for Micro SDHC cards should you need to use the modem as USB Flash drive too - it isn't shared over Wi-Fi, though.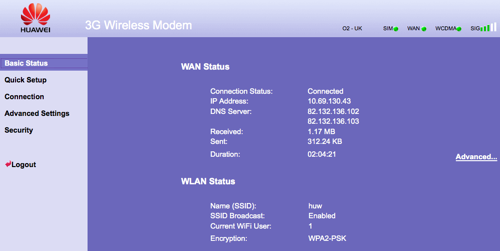 The web UI presents the same controls any other router has
You'll need to remove the battery not only to slip in the Sim card but also to find out the unit's pre-loaded WPA password and the WLAN SSID. Our review sample had a different SSID to the one printed inside the battery compartment, though the WPA key proved to be correct.
Not that it made much difference. Huawei states that the E5 is compatible with Windows and Mac OS X. That may the case with the dial-up software you use when you want the E5 to operate as a dongle, but we couldn't get Mac OS X 10.6 to accept the WPA key, even with a '0x' in front to indicate it's a hexadecimal one.
A handy Windows XP machine would relay the key correctly, but modem and PC refused to communicate sufficiently well for the Huawei to provide the computer with an IP address. So to change the WPA key into something more sensible, we had to resort to connecting the E5 with a cable so we could access the device's admin web page.
This despite restoring the E5's settings to factory defaults.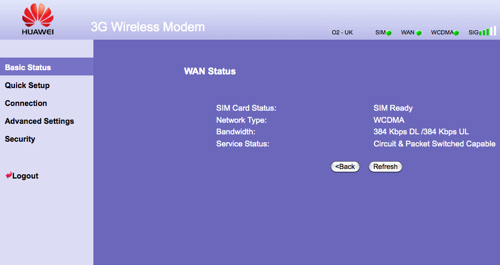 The UI is crude, but functional
Once in the management console, you have full access to the E5 and all the settings you'd expect from any standard Wi-Fi router. It isn't the best laid-out console we've seen - the options could be more logically organised, for example - but with a little exploration time you can find all the you need to enter your carrier's network login details and to set up your ad hoc WLAN the way you like it.
You can set the E5 to instigate a 3G connection when your computer is sending a request for internet data, or have it simply connect when it's powered up. You can also tell it only to connect when you push the tiny Dial button on the side of the modem, but 'auto' is so much easier and saves the inevitable pauses between browser requesting page and modem dialling in to deliver it. They always feel longer than they are.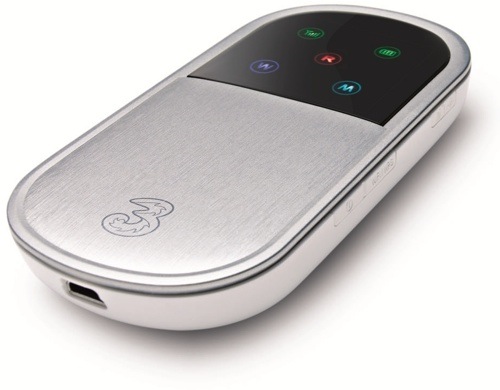 3 calls the E5 the MiFi
Huawei is a past master in the art of 3G modem creation, so we weren't surpised at the E5's ability to establish a mobile broadband connection. The device's Wi-Fi abilities aren't bad either. As long as you don't expect expect the house-filling coverage a regular, mains-powered router can provide, you won't be disappointed. This is an on-the-go product for meeting places, hotel rooms and the like, and the coverage it provides is enough for that.
Our only beef with the unit is its display. Brightly coloured LED icons are great for photographs. But to conserve power, they have to be switched off, so you have to press a button on the E5 every time you want to check the battery status, 3G signal strength or even if there's a 3G connection present. We'd rather have a low-power LCD readout, please, even though it wouldn't look as good.
The E5 will set you back around £180 for an unlocked, Sim-less unit, or less if you buy it with an airtime contract. 3's prices vary from nothing to £50 for the E5, plus £7.50-23 a month for 18 or 24 months. Data allowances range from 1GB to 5GB.
Verdict
The E5 is a great gadget, but how often are you likely to need it? There's no shortage of Wi-Fi hotspots, and many hotels rooms have it too. Those that don't often have wired links instead, and these you can set your notebook to share through its own Wi-Fi adaptor. Its utility depends on how often you need Wi-Fi coverage when there's only 3G to be had. It's a pricey device to buy on the off-chance. ®
More Wireless Reviews...

Belkin
Home Base

Keene
IRAnywhere

Q-Waves
Wireless USB

Vodafone
Access
Gateway