Original URL: https://www.theregister.co.uk/2010/02/03/review_hd_monitor_medion_akoya_e54009_touchscreen/
Medion E54009 touch monitor
Go touchscreen without buying a new PC
Posted in Personal Tech, 3rd February 2010 12:02 GMT
Review Love or scoff at the idea, Windows 7's touchscreen features need to be experienced first-hand, and jabbing away at a demo machine at PC World doesn't really count. The problem is that buying in to touchscreen technology for the home is an expensive experiment: you would normally need to invest in a brand new touchscreen notebook or all-in-one touchscreen desktop computer to really get to grips with it.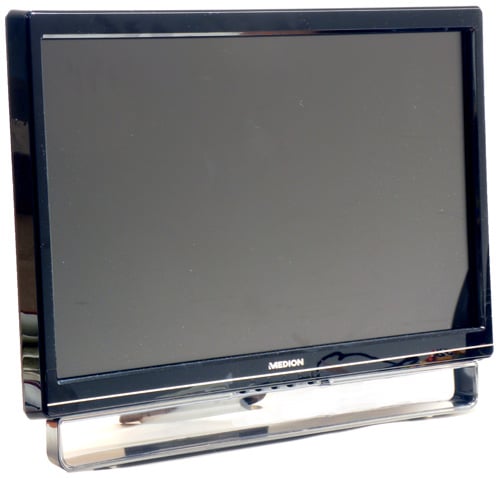 PC touch up job: Medion's Akoya E54009
German manufacturer Medion's answer is to upgrade just the display, not the computer. The voluminously named Medion Akoya Multi-Touch Monitor E54009 is quite simply an LCD display that you can plug into whatever PC you already own; add Windows 7 Home Premium and you have full touchscreen functionality straight away. Beyond this, no additional drivers or special hardware setup are required.
Despite its size – this is a 21.5in diagonal monitor approximately 7cm thick – the E54009 is surprisingly lightweight, making installation less troublesome than expected. The display leans backwards on a prop stand arrangement with rubber feet to keep the unit gripped to your desktop. Don't bemoan the lack of tilt and swivel: an immobile display is what you need for touchscreen use.
The sleek black lines of the bezel are unfortunately disrupted by a cheap-looking stand raiser underneath. Despite appearances in the photo shown here, there is no gap inside the raiser frame: it is filled with a pane of transparent plastic, presumably to ensure rigidity. If you have keyboard, mouse and other USB cables running across your desk, you must route these around either side of the monitor.
Unlike other modern displays, the E54009 offers only one video input: an analogue VGA mini D-Sub port. Those with digital video cards and DVI cables will need an adapter. Also provided is a single USB port for connecting to your PC to enable Windows 7 to control the touchscreen features on the unit. There is no USB hub built into the monitor. You can, however, connect your PC's audio-out to the E54009 in order to make use of its pair of built-in 1W speakers.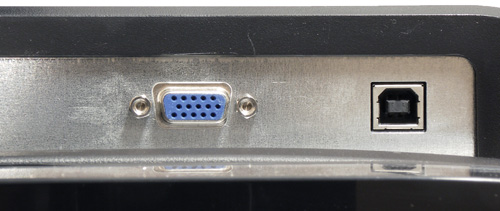 VGA only with USB to handle the touchscreen features
All cables – VGA, USB and stereo audio with 3.5mm jacks – are provided in the box. Also provided, of course, is the necessary power supply cable, curiously referred to in the heavily Germanic user manual as a 'netzcable'. To get started, connect the VGA and USB cables and switch everything on. As soon as Windows 7 has booted, you can use its touchscreen functions immediately, including flick, rotate, scroll and zoom. Setup really is that simple.
The E54009 requires a firmer touch than many of the dedicated touchscreen PCs we have tried. This is not a criticism, merely an observation. Some touchscreens are so sensitive that they react unexpectedly when your fingers merely hover near the surface of the screen. Hence, the firm response of the Medion device is not such a bad thing, especially on a computer that might be used by all the family.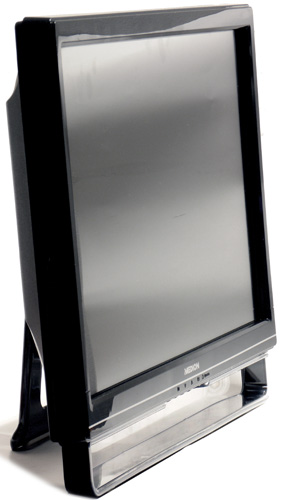 Image control buttons are partially hidden under the bottom bezel
One of the drawbacks of touchscreen operation is that you can't see on-screen objects directly under your fingers, while tiny objects such as checkboxes and scrollbars are extremely difficult to latch on to with your stubby fingertips. To assist with this, Medion provides a plastic stylus for precision work. The stylus is housed for convenient safe-keeping in a slot inside the bezel at the bottom right-hand corner of the display.
Not so conveniently, we found it extremely difficult to pull the little bugger out of its slot, despite its textured top edge to give you some grip. Possibly there was a problem with the unit we tested, but withdrawing the stylus was a rubber-glove challenge on each occasion.
Any concerns about the non-digital video connection were forgotten in use. The screen image is bright, clear and uniform with good touch location accuracy. It supports a native resolution of 1920 x 1080 pixels at 60Hz with a response time of 5ms, and is rated with a typical contrast ratio of 1000:1 and brightness of 300cd/m2. The viewing angle is rated between 160 and 170 degrees, although the practical viewing angle is narrower, of course.
Since touchscreen monitors need to be closer to you than conventional displays (operating a touchscreen computer at full arm's length is an ergonomic nightmare) the viewing angle is all the more important, especially on a home computer, which might be operated by more than one person at a time. That said, the E54009 offers plenty of good vision for side-by-side users.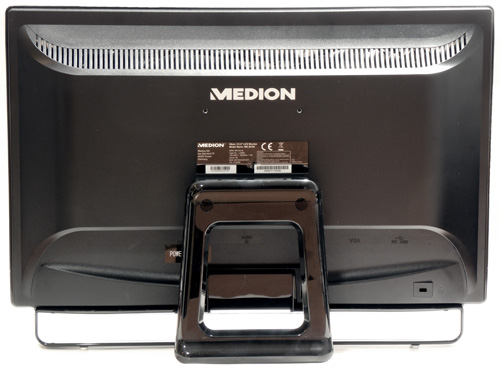 Fairly lightweight yet sturdy, with a simple but effective tilt stand
The image is adjusted using an on-screen display menu controlled by buttons under the bottom bezel, their position requiring you to press them upwards, which feels a bit strange. You can switch between Cool, Normal, Warm and user-defined RGB colour temperatures, and apply fine-tuning to the VGA signal to improve image position and sharpness.
You can also toggle between a series of built-in Opticolor modes that are supposed to suit different applications including games, video, photos of natural landscapes, text and something called ECO which seems to disable your contrast and brightness settings.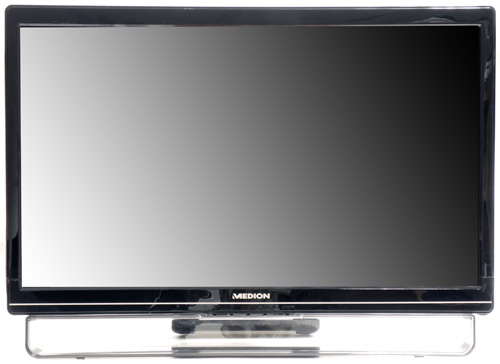 Good image quality and easy to configure
Thankfully, you can circumvent the display menus with direct adjustments for contrast, brightness and audio volume, plus an all-important Auto Adjust. These all work fine but Medion could have made things easier by labelling the buttons more clearly. The labels that do appear are tiny, difficult to distinguish on the shiny black bezel, and tricky to associate with upside-down buttons that you can feel by groping but cannot actually see.
Verdict
Specification comparisons with other 1920 x 1080 displays do not show the E54009 in a good light. For the same price, you could buy a 22in device with DVI, multiple HDMI inputs and a built-in TV tuner. Take away all that, as Medion has, and you would save £100. However, what you get for that extra cash is an instant touchscreen conversion for any desktop or notebook PC with a VGA port and running Windows 7 Home Premium; installation itself is a no-brainer. The image quality is very good, allowing plenty of scope for personal adjustment, and the pull-out stylus for precision touch operation is a thoughtful extra. Moreover, a digital input would have been better still, hence our conservative overall rating. ®
More Touchscreen Gear Reviews...

Acer
T230H

PsiXpda
Pocket Computer

Packard Bell
oneTwo M

Acer Aspire
5738PG Touch