Original URL: https://www.theregister.co.uk/2010/02/01/nokia_x6_comeswithmusic/
Nokia X6 Comes With Music
Sound investment?
Posted in Personal Tech, 1st February 2010 12:02 GMT
Review Nokia's X6 smartphone is more than just another touch screen smartphone in an overcrowded market. In its 32GB form, this well-spec'd music phone will only be available with Nokia's Comes With Music package. It'll be hard to avoid, and is likely to benefit from aggressive subsidies.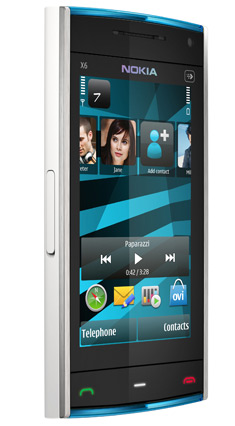 Nokia's X6: one of the few models currently supporting the latest Ovi Maps upgrade
Comes With Music is basically a free download subscription service, but this 'universal jukebox' allows you to keep the music you've downloaded. The cost of a year's subscription is bundled with the phone, so it appears to be free. If after a year, you choose another CWM Nokia phone, it rolls over, and continues to be free.
Either way, the music doesn't disappear, as it does with Rhapsody or a Spotify subscription. The only restriction is that it plays on one nominated PC and one nominated CWM phone. It's a great sounding concept, but the public has been unimpressed so far. So the X-series represents the company's best and possibly last hope that the CWM concept will finally catch the interest of the masses. Is the X6, and the revamped CWM enough to do it?
The X6 runs Series 60 Fifth Edition, Nokia's stop-gap touch UI, and there are no surprises if you're familiar with the 5800 or N97 handsets. Nokia opted to retain familiarity for users, and API compatibility for developers – Fifth Edition is really just the old S60 in a fishtank, so the interface and interaction are unchanged.
With a quality capacitive screen – replacing the resistive screens of its predecessors – the experience is a little smoother. That said, it really feels like the stopgap it is, S60 is Third Division compared to the Champions League smoothness of the Apple iPhone or Palm Pre.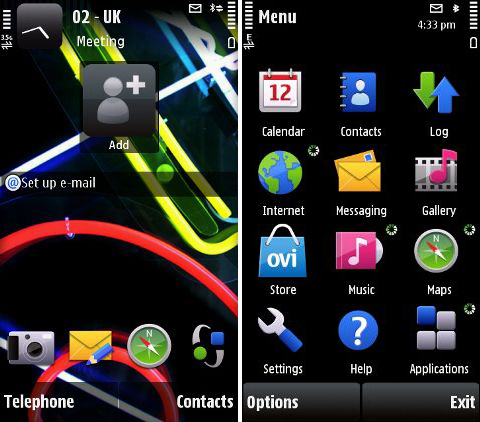 The default home and menu screens: no surprises here
So little has changed since the N97 and S60 now also feels like a backwater. For example, Nokia also shunned the opportunity to tidy up the sprawling settings. There are no fewer than six activation wizards: Sett.wizard, SW update, Phone setup, My Nokia, Access. setup, Email setup and Switch, the migration app.
Although the capacitive screen is an improvement over the resistive screen of the N97, the Qwerty keyboard – which is activated by turning the phone 90 degrees into horizontal mode – is fiddly. It's far too small, the visible portion is tiny. Strangely on the Alphanumeric pad, which is the default for Portrait input, T9 is turned off by default. Needless to say, text entry proved somewhat erratic.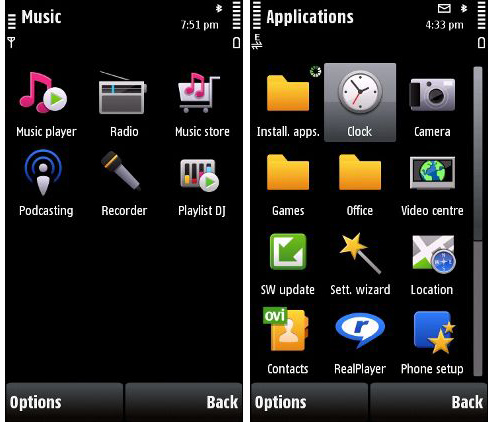 The default music and apps folders
Shoehorning S60 into a touch device produces inconsistencies which otherwise weren't apparent. Usually, two sequential clicks (or a double clicks) are required to select a control (give it focus), then change its state. Yet in the main menu, a double tap will not only open a folder, but open the default app in that folder (say, the Clock) which you can't see.
Years of neglecting S60 usability issues are plain, here. For instance, the home screen shows four apps by default. How do you suppose you change those four apps? How about double tapping one to activate a menu? How about a tap and hold? In fact nothing so simple. It takes eight clicks and some good guesswork to drill into a settings menu far, far away, to change these.
Then you'll find a long scrollable list of about fifty radio buttons – a list that doesn't include the most recently installed apps. The list of radio buttons dates back to 2002, but this is the first time I've encountered this bug on a S60 phone. The short-lived N-series 'multimedia key' has returned, in a new guise. It's evoked by tapping a a small square just off the screen. This brings five unlabelled icons. These can't be configured.
You won't fall in love with the Qwerty keyboard. You can tell things are not as they intuitive as they could be when the manufacturer needs to tell you where the message text is being displayed. There are other pretty whacky inconsistencies. If you drag an item in the Settings (there are only six) then all six move up and down. I can't think of a reason why they should, but there you have it. The cumulative effect of all these inconsistencies is that the phone does not appear to be a deterministic system.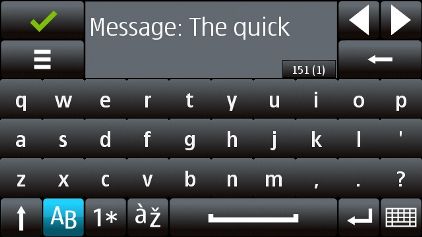 Data entry from the touchscreen keyboard could be more intuitive
The X6 is far from the most lavish design we've ever seen from the Finns, there are few attempts at luxury here, it's a no frills upgrade from the 5800 Xpress. The back cover is the flimsiest I can recall on a Nokia handset, and still leaves a tiny gap at the top. The three main onscreen keys are under a single same plastic strip. It looks neat, but looks are at the expense of ease of use. There's nothing to indicate the importance of the central Menu key.
The slide lock on the right hand side needs to be operated firmly, and since it's in the middle of the phone, the most likely operator is your middle finger. I can't understand why Nokia can't combine the Lock with the Power key (as with the iPhone) or place it more conveniently, where it falls naturally under your strongest digits (your thumb or forefinger). Samsung takes the latter approach. Both lock and menu keys are used several times a day, any issues here are magnified.

A music device first, second and third, but will Comes With Music be a sufficient draw?
Despite the bulky appearance – some promo shots suggest it's far thicker than it turns out to be, the X6 is doesn't burst a hole in your pocketat 122g, unlike the N900. Panning out at 111mm x 51mm x 14mm, a shade lighter than the HTC Hero. The screen is better than the bodged S60 UI makes it appear – the Android with far fewer pixels (480 x 320 versus Nokia's 640 x 360 pixels) appears clearer and sharper.
Battery life proved to be excellent. Nokia claims 6 hours talktime on 3G from the 1320mAh battery; and 35 hours playback. Disappointingly this doesn't charge from the micro USB with which Nokia advises you to connect to your PC or Mac. The HTC Hero claims a better talktime, but in practice I got nothing like that from my power-guzzling HTC, and felt far more confident of the X6.
The X6 boasts stereo speakers, and a standard compliment of WLAN, and HSDPA radio. There's an FM radio, but it still needs the headpiece connected as an antenna. With 600Mhz and 1Ghz chips in the latest gadgets, the 434MHz ARM is adequate, but no more.
The camera has autofocus and a harsh dual LED flash. It's nothing to be ashamed of: it offers perfectly acceptable shots outdoors and in decent light, it's only in dim lighting conditions that it struggles. Video records at up to 640 x 480 pixels and up to 30fps (TV quality), again, not earth shattering for a high-end phone, but respectable for a midrange beastie.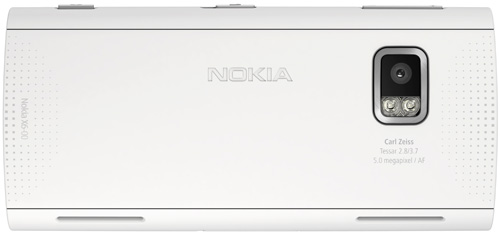 Featuring a Zeiss lens, the 5Mp camera performs reasonably well, except in low light
Nokia must optimise the Gallery, it's now too pokey and slow compared to the iPhone, showing the 21st Century equivalent of the hour glass as you scroll through pictures. Modern phones give people a pocket-sized picture frame, but Nokia is still obsessed with the idea that 'sharing' is primarily a web-based activity. It's not. Most photo sharing is simply showing a friend or relative a picture. The iPhone is flawless in this respect.
Sample Shots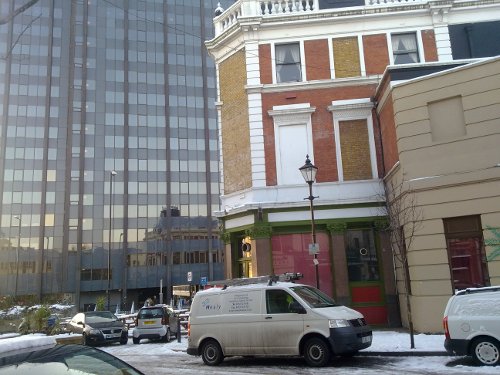 Click for a full-resolution image
---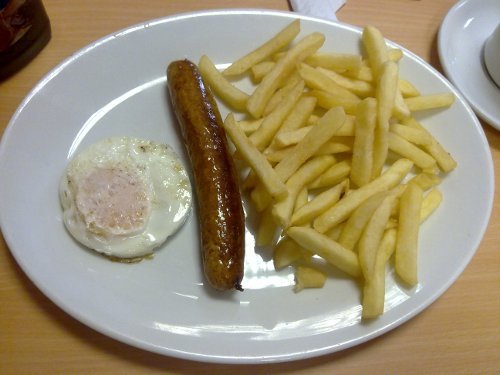 Click for a full-resolution image
Nokia has bundled its Navteq Maps purchase – since rebranded as Ovi Maps – for free for some time. Now it offers free turn-by-turn Navigation for drivers and pedestrians. It's still much harder to use than Google's Maps, which began the rush to offer free directions, but Nokia's offering caches the maps offline, and shows street numbers. Google's shows bus stops, however - and the killer integration of Street View into the Maps application itself. For all the fuss around Ovi, downloading Google Maps is one of the first things people will do with an X6.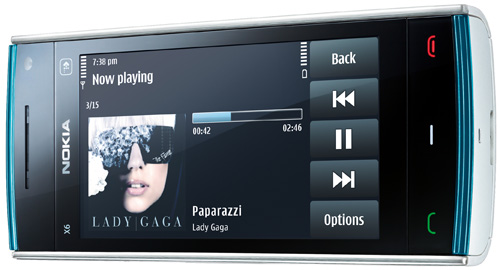 Storing up trouble? The unit doesn't default to store data on the 32GB drive
This review is a tale of two devices, and the performance couldn't be more different. They were both X6 phones, both had identical firmware, and the only difference was the amount of free space on the C:\ drive, namely a small partition separate from the whopping 32GB flash drive, largely devoted to system files. You may wonder why, 30 years after Bill Gates made MS-DOS bug compatible with CP/M, any device should have a 'C:\' drive. Let's put that to one side. The issue is why encumber the user with having to deal with two partitions? It could be completely transparent.
The first X6 that Nokia sent was very flakey, so much so that it couldn't adequately multitask. Trying to activate the camera when music was playing, and the phone flashed up the terrifying message: 'Deleting some items from memory' – imagine how that goes down with a new or nervous user – before dumping you out of both Music Player and Camera. The device had around 45MB left on C:\. The replacement X6, otherwise identical in every way, had 250MB free on C:\, and exhibited no such problems. Multitasking was much smoother.
The problem is that C:\ is the default for so much data: incoming files, downloads, mail attachments - they all fill up the tiny C:\ partition first, unless you manually intervene. So without a lot of TLC, phone number two is destined behave like phone number one in time.
Nokia ships an above-par WD-500 wired headset with the phone, which gives you track forward and back functionality. Which is just as well, as you need to unlock the phone to do this using the screen - a mind-boggling decision. As for the Player, it's changed little since the serviceable S60 3rd edition music client familiar to millions, seen on the N73 and N95 8GB Music Editions. There's no 'Now Playing' option, however, you may return to the home screen where the track, but not the artist, is displayed in a fairly small font.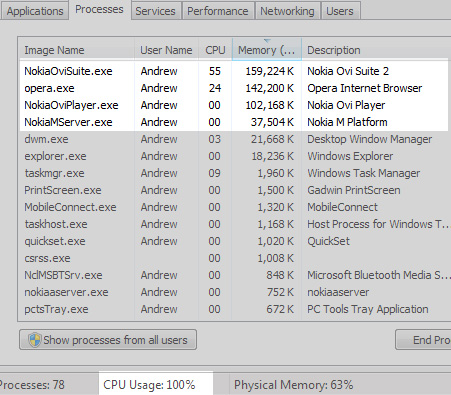 Ovi Player stalled, maxing out the CPU at 100 per cent, performing a simple transfer
To take full advantage of Comes With Music, you're required to instal the Ovi Player. Nokia also smuggles in something called Ovi Suite, which is the already-notorious replacement for the Nokia PC Suite software.
Strangely all this comes on a mini-sized CD. But a 350MB download then follows. Why not ship a normal sized CD? The Ovi suite, which is missing the useful video sync software, has some more drawbacks. Both Ovi applications are written in .NET, which ensures they're enormously buggy, take far more system resources than they should, and are not portable to Mac or Linux. Tales abound of lost data. While you can (and should) steer well clear of Ovi Suite, you will need the Player.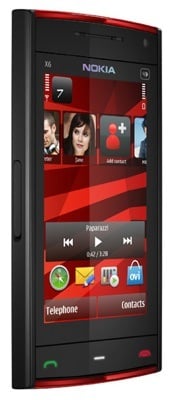 An attractive bundle, but struggles to deliver on its promise
Unfortunately, while this is well designed and functional, it's barely usable. As our earlier screen grab shows, the test system stalled, with all fans blowing after transferring fewer than 1,000 files.
Comes With Music requires a long PIN to be entered once. Again, the buggy .NET suite acted against the user when it didn't need to: dialogs would be hidden behind windows. A little confusingly, CWM uses the Nokia Store – an iTunes-alike service where songs and albums are purchased individually. But free CWM are described as purchases. Once you're up and running it's as good as it promises. There's a wide catalog available, you simply stock up and go.
My first X6 device found Nokia misfiring on all cylinders. Insufficient RAM, sign-up glitches, daft defaults, all marred the experience. Many of the performance issues vanished when an identical replacement showed up, with enough memory on the system drive. Transfers were smoother, too, yet there are still sufficient bugs in the Music Player to give the potential buyer second thoughts.
Verdict
As a stop gap UI, 5th Edition can't compete with the high end, but it performs adequately when compared to cheaper rivals. I got the impression that the phone team hadn't bust a gut to make this a must-have phone, assuming that the unique Comes With Music proposition would sell the device. The Music team thought something similar. The result, when compared with similar offerings, is more prickly than need be.
For example, I recently tried Orange's Monkey Music (a music store for Pay As You Go subscribers) where almost everything is slicker and easier – and the test device, a Samsung S5600, while lacking the X6's paper features, was simply nicer to use.
A strong package on paper, a few tweaks could make the X6 a respectable midrange contender, but Nokia badly needs to go to market with something smarter and more modern than Symbian S60. ®
More Phone Reviews...

Sony Ericsson
Aino

LG
New Chocolate
BL40

Nokia
5530
XpressMusic

Samsung H1