Original URL: https://www.theregister.co.uk/2010/02/01/ipad_is_aye_bad/
What do you call the iPad in Arabic?
Google finds another way to insult Apple
Posted in Personal Tech, 1st February 2010 17:50 GMT
What do you call the iPad in Arabic? Sorry, can't help you there, but then neither can Google Translate, which transliterates whatever the iPad is called in Arabic into the English "Aye Bad".
As mistranslations (of this BBC report) go, this is particularly serendipitous, confirming, at a nadir between the two companies, that Google's sole purpose on this planet is to do evil to Apple and to annoy the hell out of Steve Jobs. Although not necessarily in that order.
Google's magic algorithms will soon get to work, and the Aye Bad, or Moses Tablet as it is more correctly known, will be as if it never was. Except for this little fanfare to remind us all:

Who could argue with this?
Hats off to Reg reader Emrys for the tip. Emrys is particularly charmed by Google Translate's headline for the Aye Bad specification box, which we also capture for posterity.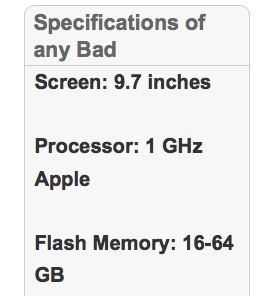 Bootnote
Apple is not an Arabic loanword. But Orange is. As is Lime. And Apricot.