Original URL: https://www.theregister.co.uk/2010/01/28/review_laptop_asus_g51_j_3d_notebook/
Asus G51J
In yer face stereoscopic 3D gaming, for a price
Posted in Personal Tech, 28th January 2010 12:27 GMT
Review Late last year we were left somewhat underwhelmed with Acer's attempt at a 3D laptop. The Aspire 5738DZG was underpowered, making 3D gaming nigh-on impossible. Now Asus has entered the fray, with the G51J 3D, which handles the whole 3D thing in a very different way.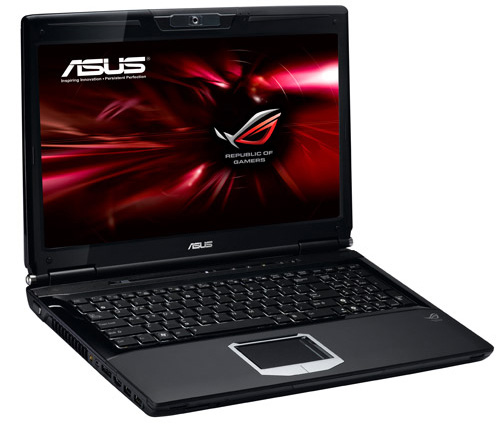 Asus' G51J 3D: combining 3D and raw power
Instead of using a polarised pair of specs, Asus has opted for Nvidia's 3D Vision technology. Just as important, however, is that the G51J 3D is much more powerful under the bonnet, with an Intel Core i7 720QM 1.6GHz processor, 4GB of DDR3 memory and Nvidia GeForce GTX 260M all combining to provide far more oomph than Acer's attempt. As you might expect, this also means it will set you back a fair bit - £1,699, to be precise.
It's a fairly bulky piece of kit, measuring 375 x 265 x 41mm. The battery also pokes out from the rear, which is a shame since given the size of the laptop there should have been room to keep it in within the confines of the chassis.
The laptop's styling is questionable. The lid looks like Wolverine has gone to town on it, with a large tear motif sitting in the middle. Asus has also deemed it necessary to adorn the chassis with lights – two strips on either side and a third on the lid – as well as illuminating its Republic of Gamers logo. Somewhat annoyingly, it's not possible to switch these blighters off. Worse still, leave the laptop in standby with the lid closed and the two lights on the top will endlessly flash.
LEDs have been put to far better use with the backlit keyboard. A variety of brightness settings are available, including switching the backlight off altogether. The flexing exhibited by the keyboard isn't quite so impressive, and both the Enter and arrows keys have been slimmed down in order to fit a reduced-size numeric keypad.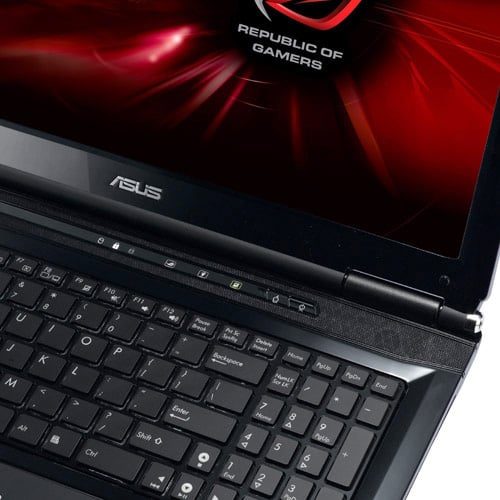 The backlit keyboard is a nice touch
Sat just above the keyboard is a touch-sensitive strip with three controls for disabling the touchpad, changing the power mode and activating the 3D engine. Two more traditional buttons sit alongside this strip – one's the power button, the other loads the Linux-driven ExpressGate OS. Asus claims an eight-second startup time for ExpressGate, but it took us 30 seconds to go from a cold boot to a working browser window.
Video outputs are provided in the form of HDMI and VGA, while external devices can be connected using the four USB ports. There's also an eSata port and 54mm ExpressCard slot, while Bluetooth and Gigabit Ethernet are both included.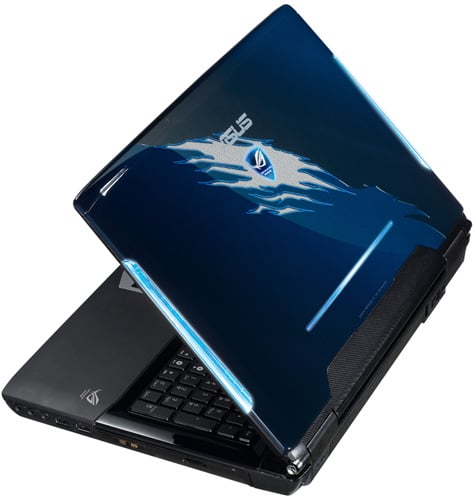 Annoying lights adorn the lid
Asus has gone for an Intel WiFi Link 1000 card to provide wireless support. This can handle 802.11n but, unlike the 5100 and 5300 models, it's a single band card and therefore only operates at 2.4GHz – if you've a dual-band router the laptop won't be able to talk to it using the less-cluttered 5GHz spectrum.
A pair of Altec Lansing speakers is located just below the display, but they're not nearly as loud as we'd like on a gaming laptop. The underside of the chassis also has what looks like a grille for a sub-woofer but, given its extremely tinny audio playback, this model clearly doesn't actually come with a sub.
A Blu-ray drive is slotted into the right side of the chassis, but with the 15.6in screen's relatively low native resolution of 1366 x 768 you won't be able to enjoy 1080p movies without hooking up an external HD TV.
Asus hasn't held back with storage on the G51J 3D and ships it with no less than two 500GB hard drives whizzing along at 7,200rpm. However, before you get ideas of boosting performance, it's best we point out there's no RAID controller. This means you're stuck with the 1TB of storage, which seems a bit excessive on a laptop. Asus might have been better off dropping one of these drives and shaving some money off the price tag.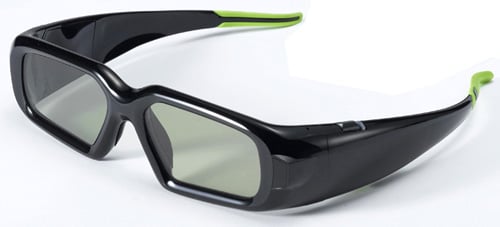 Best avoid wearing the 3D glasses in public
So, back to the 3D side of things. Given they house active shutters, it's no surprise Nvidia's 3D Vision glasses are bulkier than the polarised pair shipped with the Acer 5738DZG. Their chunky nature also means the glasses will happily fit over most prescription specs. A power button is found on the top of the glasses, while a mini USB port lets you charge the battery – Nvidia reckons 40 hours is possible from a single charge.
In order to communicate with the laptop, an infrared USB dongle has to be attached. With a range of 15ft, this dongle includes a small scroll wheel that allows the 3D depth setting to be adjusted on-the-fly. The laptop comes preloaded with all the necessary 3D software, but you won't start experiencing 3D until a compatible application or game is launched.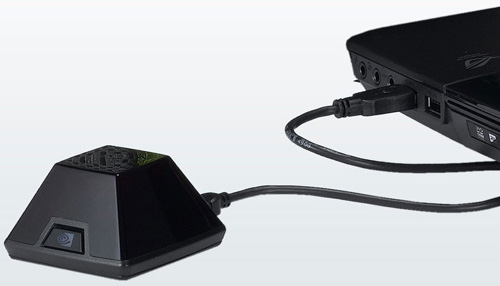 The USB dongle links up with the glasses with infrared
One problem with the polarised 3D method on Acer's laptop is that the resolution gets split in two, with each eye seeing alternate horizontal lines. This results in a loss of detail and causes particular problems when trying to read small text. On the G51J 3D, however, each eye sees all 1,366 lines of the laptop's display.
As soon as a suitable program is fired up the glasses take on a dimmed effect, caused by each eyepiece rapidly switching on and off. This process is timed to coincide with the display's refresh rate, meaning each eye sees alternate frames. On standard laptop displays, which usually run at 60Hz, this would mean the refresh rate effectively halving to 30fps. By using a 120Hz display, the G51J 3D is able to provide up to 60fps for each eye when running in 3D mode.
Naturally, content designed specifically for 3D works best. It came as no surprise that the Nvdia test screen provided a real knock-your-socks-off 3D experience, with the revolving Nvidia logo really leaping out from the screen.
The quality of 3D gaming depends on the title you're playing. Nvidia's trawled through over 350 games and rated them as to their 3D performance: Excellent, Good, Fair and Not Recommended. When firing up a game, a screen pops up explaining what settings, if any, should be altered in order to get the game running at its best. A full list of compatible titles can be found on Nvidia's 3D Vision website.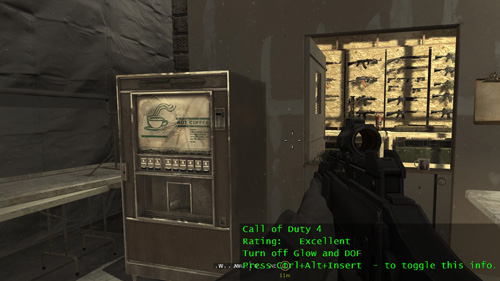 Run a game in 3D and you'll be told what settings to adjust
Unlike with the Acer, which had viewing angles restricted due to the polarised glasses, you don't need to worry about your positioning in relation to the display. However, the shuttering nature of the glasses means everything appears a lot dimmer. Although not a problem with most games, those with darker scenes can cause problems.
We also occasionally noticed a flickering effect on the screen, while ghosting was sometimes visible. Thankfully, extended use didn't provide the headaches and dizziness we were expecting, but as always your personal experience may vary in this respect. Playing games in 3D on Acer's laptop all but crippled it, so we were eager to find out what sort of performance hit occurred on the Asus G51J 3D. Naturally, with its far more powerful hardware, frame rates were much higher. There is, however a noticeable hit when the 3D engine is activated.
Benchmark Tests
PCMark Vantage Results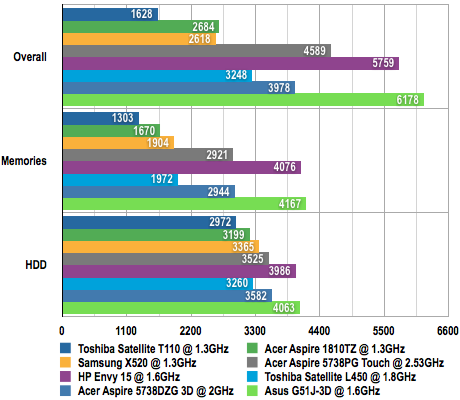 Longer bars are better
In Call of Duty 4 at 1366 x 768 and 4x AA, we managed 47.2fps. Flicking the 3D switch resulted in 23.9fps – a drop of just under 50 per cent, but certainly still playable. Compare these results to the Acer's of 29.5fps and 11.6fps (2D and 3D respectively), and it's clear the G51J 3D is a far more competent 3D gaming laptop.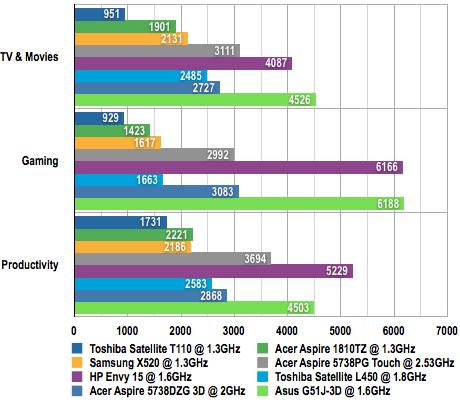 Longer bars are better
Far Cry 2 saw a similar halving of frame rates. At the laptop's native resolution and with detail levels set to medium, we achieved averages of 61.4fps with the 3D engine off, and 35.2fps when turned on.

Battery life in Minutes
Longer bars are better
Thanks to the Core i7 processor and GeForce GTX 260M graphics, the laptop also posted impressive scores in our synthetic benchmarks. In PCMark Vantage it managed to clock up an overall score of 6178, while 3DMark Vantage saw it return 5103 in the Performance test.
One thing we noticed when running the benchmarks and playing games was that the G51J 3D got pretty warm. A fan does it's best to vent the hot air, but the left side of the keyboard gets noticeably warm after extended use.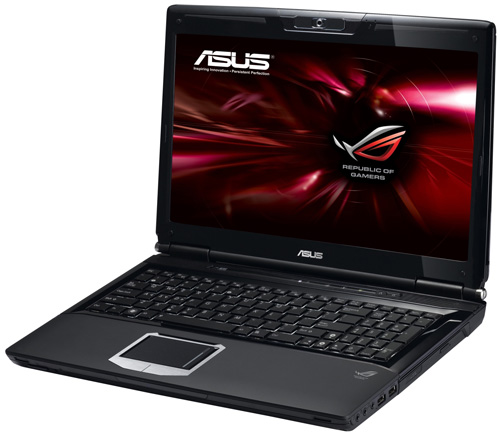 Impressive performance, but the battery life suffers
Despite its six-cell, 7200mAh battery, the G51J 3D doesn't cope well when not hooked up to a power socket. In our high-stress PCMark Vantage loop test it managed 1hr 29mins. But with the laptop weighing 3.3kg, this hit on portability probably won't bother too many potential buyers.
Verdict
As far as 3D goes, the Asus G51J 3D is certainly a more capable machine than Acer's 5738DZG. Not only is it more powerful, but with the active glasses it can also deliver a better 3D experience. The high price tag is the obvious stumbling block. Prices will no doubt fall if and when 3D finally takes off, but at the moment anyone looking to wave goodbye to 2D will have to pay a rather hefty premium.
More Nifty Notebook Reviews...

Apple
MacBook
Pro

Rock
Xtreme
X790-i7-950

HP
Envy
15-1060

Acer
Aspire
5935