Original URL: http://www.theregister.co.uk/2010/01/27/review_phone_nokia_n97_mini/
Nokia N97 Mini
Size matters?
Posted in Personal Tech, 27th January 2010 12:26 GMT
Review Nokia's Symbian-driven N97 smart phone came out in the summer to rather mixed reviews, with most people praising its feature count, but finding it a bit of a pain to use. Now comes the N97 Mini, a little (but not a lot) smaller than the original N97, and with most of its feature count intact, including its 5Mp camera, HSDPA 3G, Wi-Fi and A-GPS, though it now has a smaller screen, as well as reduced memory and battery life.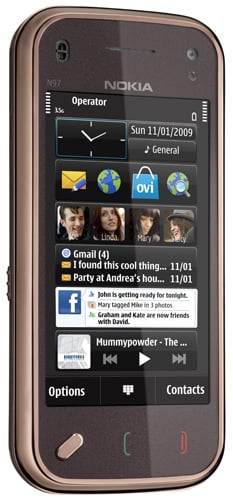 Nokia's N97 Mini: supports the new free Ovi satnav
The original N97 measured 117 x 55 x 16mm and weighed 150g while the newbie cuts that down to 113 x 53 x 14mm and 138g. It's still a decent handful, but where the N97 felt bloated and heavy, the mini is comparatively sleek and tactile.
Above the touch screen is a 640 x 480 camera for video calls, while below it are touch-sensitive call start and stop buttons, plus a distinctive, offset, hard menu button. Around the sides are a volume rocker and camera shutter button, plus micro USB power/sync slot, and screen lock switch, with power button and 3.5mm headphone jack on top. At the back is the Carl Zeiss camera lens and dual LED flash, standing slightly proud of the rest of the casing.
The Qwerty keyboard snaps open rather brutishly and flips up on that same angled hinge we saw on the original. We like it, but we would have liked it more if you could adjust the angle. The N97's five-way navpad is replaced with some direction arrows, which is fine, and there's now room for the keys to spread out a little, making them easier to find under the thumbs.
The space key is still offset to the side though, which feels a bit strange, especially if you're left-handed. The rubberised plastic of the keys is nice and tactile but they don't offer much feedback, and we took to pressing them with our thumbnails to ensure we hit them.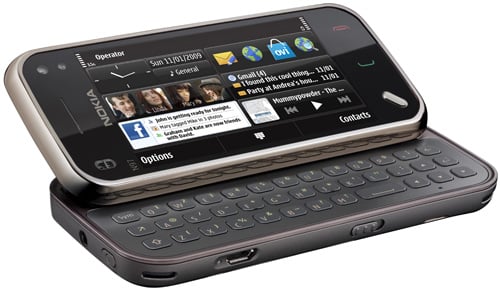 Unlike the N97, the mini uses arrow keys instead of a navpad
We were disappointed to see that resistive screen return. It wasn't much fun the first time round and it doesn't seem to have improved any either. It's a little smaller at 3.2in - dropped from 3.5in - but the main problem is its chronic lack of sensitivity, and it often seemed touch and go whether it could make a distinction between our brushed and presses. All in all, using it is more frustration than exhilaration.
The N97 Mini runs on the Symbian S60 5th Edition operating system with its associated UI and we really can't bring ourselves to love it. Along with the screen issues, it isn't particularly intuitive to use, with some actions requiring a single press and others a double, with no apparent logic.

More pocketable than its former guise
The UI features a busy widget-filled homepage. The blocky arrangement of different-sized shortcut and app widgets appears less tidy than the uniform but endlessly customisable arrangement of the iPhone or Android handsets. Nice to see a Facebook app that announces your status and updates there, though it's a bit hungry on the RAM – the system runs a little quicker without it. Other handy widget apps include AccuWeather, YouTube, CNN Video, World Traveller, ESPN football news and Elle magazine.
We had no trouble with call quality on the N97 Mini – the speaker proved loud enough even next to a busy road and the tone is pleasantly full, with no trace of raspy tinniness. Conveniently, if a call comes through while you have the keyboard open, it's automatically diverted to the loudspeaker, but switches to the ear speaker when you snap it shut.
Most email accounts require just address and password to configure and it supports Microsoft Exchange too. With the messaging widget, the latest incoming mail can be displayed on your homepage.
The camera and flash are the same as the N97's, though the mini has lost the lens cover. It starts up fairly nippily in less than three seconds, automatically switching the screen to landscape mode. Picture quality is pretty good, with colours well reproduced and images generally sharp in good light, though the quality soon tails off in lesser light conditions. There's autofocus and a heap of options available in the menu, including contrast, colour tone, white balance, light sensitivity settings,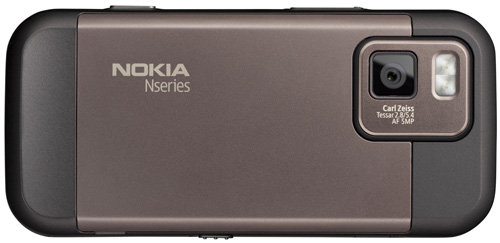 No lens cover but still a good camera for a phone
Other features include macro, landscape and sports options, a multi-shot mode that can take anything up to 18 pics in quick succession, a timer, and geo-tagging using the on-board A-GPS supported by Nokia's Ovi Maps, and an on-board compass. In short, it's a solidly put together camera package. Video drops the quality level a tad but it records in 640 x 480-pixel resolution at 30fps, or widescreen shots at 640 x 352 pixels resolution which is certainly fit for YouTube use.
Returning to Ovi Maps, Nokia dropped a bit of a bombshell on the satnav industry the other day by announcing that it would be making its satnav service free for all. Currently, only ten Nokia smartphones, including the N97 Mini, can download the full program from here and use it for nowt. Apparently, the original N97 will get full Ovi maps support in March.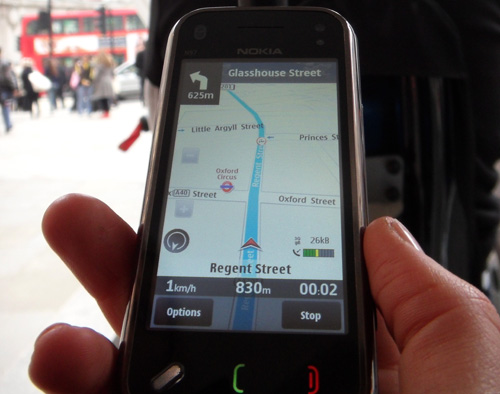 On the road with the new, free Ovi Maps satnav
There are 2D and 3D map options available, as well as satellite photo and terrain views, a dashboard with speed and distance info and you can choose from a variety of voices and languages – for some reason the 'surfer dude' voice tickled us. Ovi Maps carries some basic traffic updates and addresses of local businesses, but there's also a wide range of short and snappy descriptions from the free Lonely Planet and Michelin Guides.
It may not be as full-featured as the best dedicated satnavs from TomTom or Wayfinder, but it's certainly good enough, with plenty of potential to make you think twice about shelling out for a dedicated system. After all, it can be used off-line so you don't get data charges if using it abroad and European customers will get maps for the whole of Europe. Aptly, the territory maps supplied vary depending on where you live.
The web browser is functional, but would have benefited greatly from a more intuitive zoom function. To quick zoom you can double tap the screen, but anything more subtle involves accessing the menu then controlling an onscreen zoom bar. Web pages are generally rendered well though, and it supports Flash video.
The decent-sized screen offers 640 x 360 pixels and over 16 million colours, so it's nice and crisp for watching movies, although DivX or XviD videos are unsupported. Nokia's ever-expanding Ovi service has video downloads, though the line-up isn't exactly must-see just yet.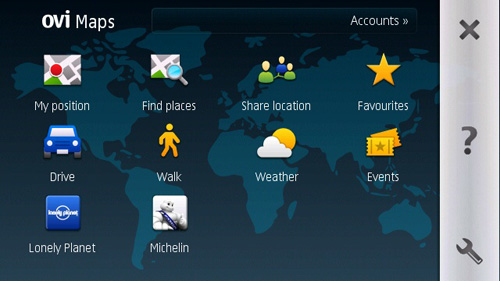 Ovi Maps options
The music player is straightforward with its functional interface and support for MP3, WMA and all the usual AAC flavours. What impresses though is the sound. The graphic equaliser boasts all of five presets, which looks disappointing until you realise you can tweak each of them using a proper eight-band graphic equaliser and save the settings, so you get just the sound you want.
Sample Shots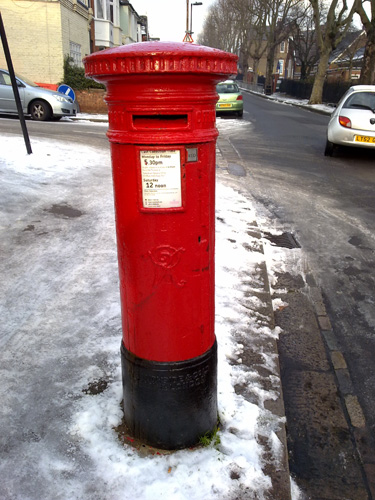 Click for a full-resolution image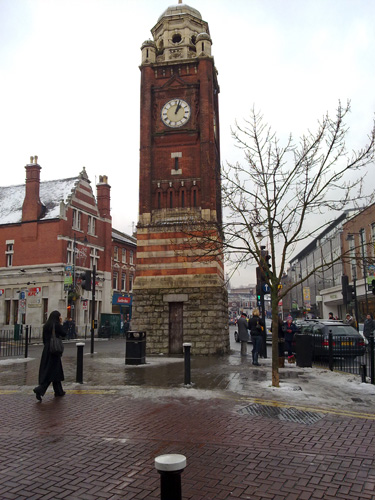 Click for a full-resolution image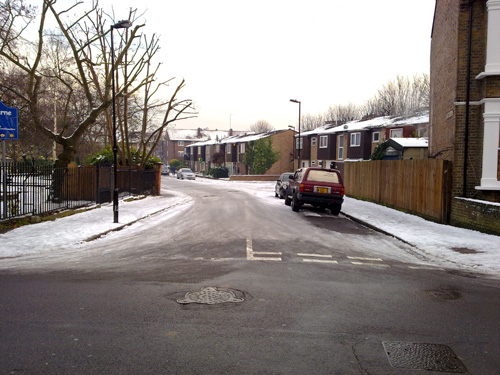 Click for a full-resolution image
The supplied headphones come with noise-isolating grommets with full in-line play controls attached. They're a little on the bright side, though there's a fair bit of scope to correct this with the graphic equaliser. Failing that, the 3.5mm headphone jack and stereo Bluetooth option make upgrades easy. Also present is Nokia's rather excellent FM radio with auto tuning and 20 presets.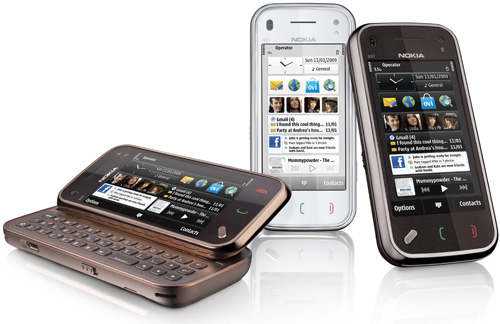 Feature rich, but still rather unintuitive
Onboard memory has been slashed from 32GB to 8GB, which will still be more than enough for most. If you need more, you can add up to 16GB with a micro SD card. Battery life has dropped a little on the N97 mini. We barely got a day of solid use out of it, which could certainly be an issue for heavy users.
Verdict
With its decent camera, okay browser, better than average music player Wi-Fi, HSDPA 3G and A-GPS The Nokia N97 Mini seems pretty, much as its predecessor did. Yet it's still a frustrating experience to use, largely due to that irritatingly unresponsive screen – and the unintuitive, clunky and ugly UI doesn't help either. If you persevere and get used to its quirks though, it has a lot to offer. The trouble is, there are plenty of other phones from HTC, Apple, Palm and Blackberry that offer all those features too, and make them easier to use. ®
More Qwerty Smartphone Reviews...

Nokia
E72

Motorola
Dext MB200

RIM BlackBerry
Bold 9700

Samsung
GT-C6625