Original URL: http://www.theregister.co.uk/2010/01/26/review_networking_belkin_home_base/
Belkin Home Base
Printers, hard drives etc on your WLAN
Posted in Networks, 26th January 2010 12:02 GMT
Review There is no shortage of wireless routers that will let you hook up a printer and maybe some USB storage too and make them available to anyone on the network. If your router lacks this ability, there are plenty of gadgets that will add it by bridging USB to an Ethernet port.
The downside of either approach will be instantly apparent to anyone whose router and printer and not close to one another. If the gadgets aren't adjacent, you end up with long cables or powerline Ethernet adaptors, all of which defeats the object.

Belkin's Home Base: wireless device sharing over your home network
This is what put us of sharing a printer on the network, even though our router will let us do so. Now, though, we can, thanks to Belkin's Home Base accessory - a wireless printer sharing device.
Home Base is a small box with four USB 2.0 ports round the back, though it can handle up to 15 devices, connected through hubs. It has an Ethernet port if you do want wires, but crucially there's an 2.4GHz 802.11n Wi-Fi adaptor inside that will talk to your router from any point in your premises that's capable of getting a decent signal.
That means it needs to be powered, of course, so the Home Base has its own AC brick and therefore isn't quite as neat a solution as being able to plug a dongle directly into your printer's USB port.

Only four USB ports, but up to 15 devices can be connected through hubs
Home Base comes with software for both Windows and Mac OS X, and the user experience is the same whichever operating system you prefer. Belkin advises you set up the Home Base using a wired connection to the router and then go wireless. That's what we did, but having done so we can't see any reason why you shouldn't initialise the box over the WLAN.
Belkin's software consists of an set-up wizard and Control Center, an app you'll need to install on any networked machine to which you want to grant access to the shared resources. Set-up is straightforward and gets your Home Base up and runing on the network in minutes.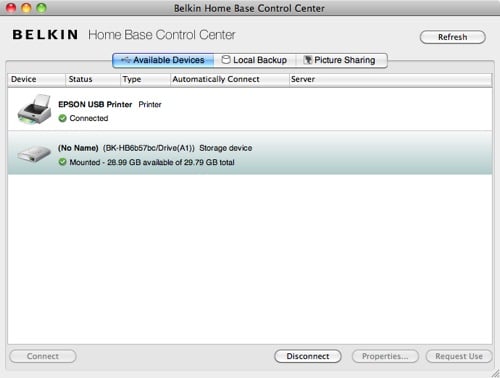 Shared: printer and USB stick
In fact, in some ways, it's all too easy. Well, if you're a techie, at least. Case in point: we wanted to share our Epson D88 printer. We assumed, from long experience, this would not be a matter of setting up the Home Base, then plugging the printer into it. We anticipated extra driver installations, configuration tweaking, setting up a new printer - separate from the D88 as a directly connected peripheral - and so forth.
But no. Had we simply plugged the D88 into the Home Base and printed something from the first of our test machines - a MacBook Air and an Acer Aspire 1810TZ - we'd have been laughing. Second time round, we just left it alone, and it worked.
Belkin's software is savvy enough to match the printer connected to the Home Base up to what you already have installed. Print to a USB printer and, even if it's now linked over the WLAN, it will print out as before. Not as quickly, perhaps, but not so much so that it's likely to be a problem.
Unhook the printer from the Home Base and plug it directly into your computer, and the next print job works as smoothly as it ever did.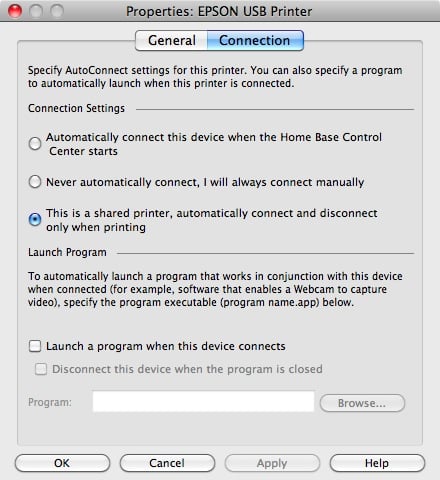 Auto-release printers so other users can work with them
Home Base exclusively links a resource to the computer that is currently making use of that resource, but the software can be set - indeed, it's the default - to release printers when a job is complete, allowing other machines to use it afterward.
In addition to printers, you can hook up other USB kit, including storage devices, which can then be mounted locally. They can also be set as the destination for the built-in automatic back-up software. Inevitably, the initial back-up will take a long time over Wi-Fi, so Belkin has thoughtfully allowed to make the first back-up run with the storage connected directly to your computer.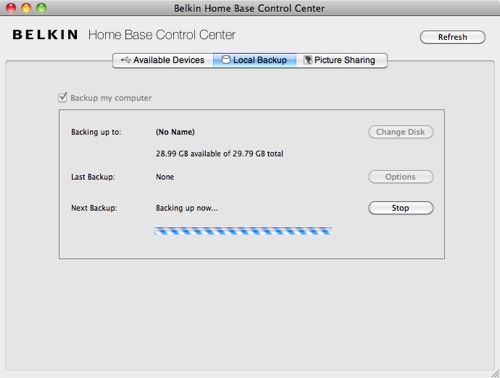 Time Machine-style over-the-air back-up included
Equally clever: it sticks a copy of the restore utility alongside the back-up ready for use if your computer goes foom.
The other key feature is the automatic posting of pictures to Picasa and/or Flickr, which seems something of a 'because we can' feature. More useful is the DLNA/UPnP media server, which means Home Base has the makings of a basic media Nas if you want to stream video, music and pictures to your TV, phone or computers.
Belkin prices the Home Base at £100, but it can be found online for rather less than that. Whatever the price, whether it's worth paying depends on how much you need it. If you want to share your printer, and your router supports this, you could just move the two devices closer together for free. But if re-arranging your home or office this way isn't possible, £100 may be money well spent if it means you no longer have to put up with others asking if you can print documents out for them.
Verdict
Belkin's Home Base isn't cheap, but if you find you need the wireless device-sharing functionality it offers, you'll discover it does the job well and makes the set-up process as painless as it's possible to be. It's a niche device, but on a 'does what it says on the tin' basis, we have to give it our thumbs up. ®
More Home Networking Reviews...

Keene
IRAnywhere

Devolo
dLan
AVplus

Q-Waves
Wireless USB

Belkin
Powerline HD