Original URL: https://www.theregister.co.uk/2010/01/22/review_desktop_pc_hp_touchsmart_600/
HP TouchSmart 600
Touchscreen iMac wannabee
Posted in Personal Tech, 22nd January 2010 12:02 GMT
Review Every now and again, reviewing a new PC can be a pleasure rather than a chore. The feeling is not the result of blistering performance or a full set of ticks next to a spec list, but the natural response to using high-quality kit that works exactly as you want it to. HP's TouchSmart 600 looks beautiful and reveals an approach to product design that suggests the company has thought carefully about every component and feature, and how best to implement them.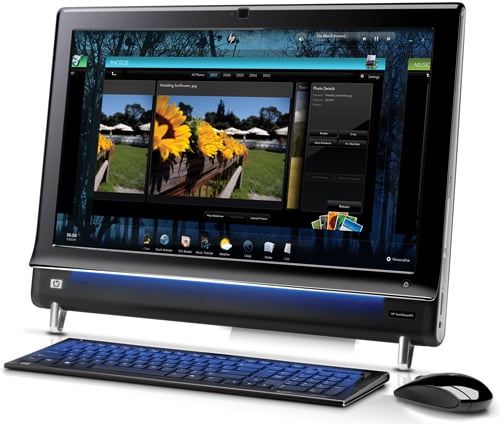 A touch of class? HP's TouchSmart 600
The main body of the computer is an all-in-one CPU and 23in widescreen TFT-LCD monitor, encased in luxurious-looking, shiny black plastic. The display resolution is 1920 x 1080 pixels, making it just right for full HD video playback. Inside the unit, HP has fitted an Intel Core 2 Duo P7450 64bit processor running at 2.13GHz, and supplied 4GB of system memory and a generous 1TB of hard disk as standard.
This is a good basis for any home computer, but the big difference with the TouchSmart 600 is in the product design. For example, a pair of rubberised feet raises the main unit from your desktop by a few centimetres, leaving space to slide the keyboard all the way underneath when it's not in use.
The computer leans back on a single, sturdy rear prop – touchscreen devices need this setup rather than tilt and swivel – with a cut-out area through which you can gather power and other cables. The rear prop makes a toe-curling crack sound when you hinge it backwards to its initial setting, after which it provides firm but smooth adjustment to allow the screen to be angled between five and 40 degrees.
The front of the main unit incorporates a built-in mic and webcam along the top bezel, and a pair of stereo speakers underneath the screen. Although such speakers are never going to offer adequate bass, the quality and volume of the TouchSmart 600's audio output is unusually good for built-in speakers. If you were to use the computer for TV and movie viewing in a living room, the sound would be more than acceptable.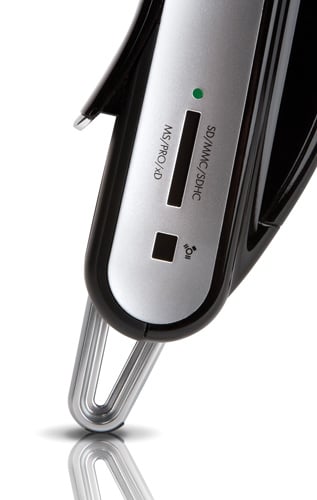 Here's a fine idea: a built-in camera card slot supporting six formats
The on/off button is found on the right-hand edge of the main unit, with the on-screen display (OSD) menu button further down, along with volume up/down/mute controls. Below all of these, close to the bottom, is a conveniently located single memory card slot that supports six formats: xD, SD, SDHC, MMC, MS and MS-Pro. We have seen the slow appearance of these slots on notebooks and peripheral devices, and it is good to see them being built into desktop PCs more often.
Tucked just behind the right-hand bezel is a slot-loading combo CD/DVD writer that is also capable of playing Blu-ray discs. For some reason, it consistently took up to a minute to recognise Blu-ray media, during which time the HP MediaSmart DVD program displayed a misleading 'No disc loaded in the drive' message. Wait long enough, however, and the disc mounted and played without problem.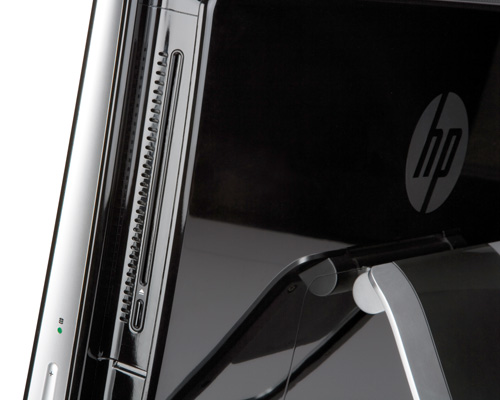 Recessed behind the screen bezel, the slot-loading optical drive can be a little difficult to locate.
A small concern with the location of the drive is that you are forced to load discs by feel. Since the slot is hidden behind the front bezel rather than in it, you cannot actually see it without having to peek all the way around the back of the computer. Blindly guiding a disc into the narrow slot invariably involved a bit of scraping.
The left-hand edge of the unit bears an 'ambient light' button that switches on a full-width strip lamp under the bottom bezel. Being 'ambient', it is no replacement for a desk lamp but is bright enough to let you see the key caps on your keyboard in a darkened room. You can even use an on-screen utility to change its colour, mimicking those pink and blue undercar lighting effects so beloved of Need For Speed Underground fans.
A pair of USB 2.0 ports, plus 3.5mm audio in and headphone out sockets are also provided on the left-hand edge. Removing a large plastic cover section at the back reveals a good collection of additional interfacing. These include three more USB 2.0 ports, a single HDMI port, a digital audio out socket, a stereo speaker socket, and 'in' ports for composite video/audio, S-Video and TV stereo audio. The TouchSmart 600 houses an analogue and DVB-T TV tuner, so you can also connect a TV aerial directly.
For cabled networking, a Gigabit Ethernet port is provided. Otherwise, the product supports wireless connectivity with 802.11b/g/n and Bluetooth 2.0. Both the keyboard and mouse are Bluetooth peripherals, both designed in the same black plastic as the main unit.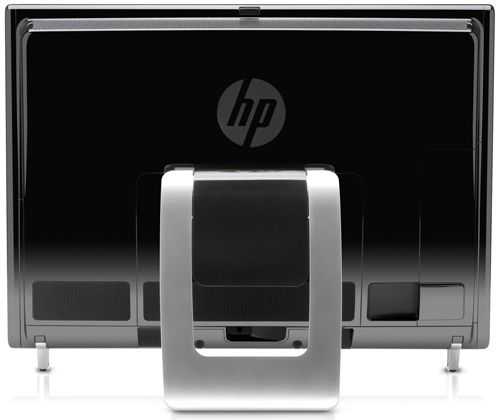 The sturdy lean-back prop adjusts screen tilt between 5 and 40 degrees
The mouse is a fairly average two-button, laser-accurate scrollwheel device but the keyboard is ultra-thin with notebook-like action. Not everyone likes these keyboards because they favour soft typing over violent jabbing, but we actually prefer them. HP's keyboard for the TouchSmart 600 is a particularly good example, too.
As the name suggests, the TouchSmart 600 is a touchscreen device running Windows 7 Home Premium. This allows you to scroll, select and drag onscreen objects and interfaces using your fingers on the screen as well as navigate screens and rotate and zoom documents using two-finger manipulations.
Benchmark Tests
PCMark Vantage Results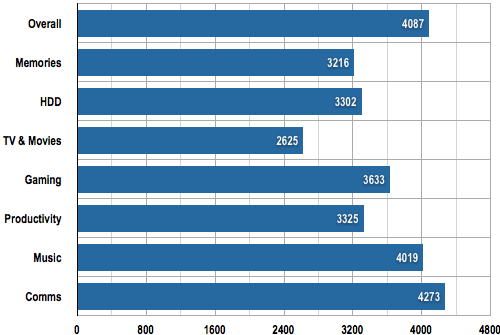 Longer bars are better
3DMark Vantage Results

Longer bars are better
The computer comes with HP TouchSmart software installed, providing touch-enhanced programs for organising media files, browing the web, designing calendars and collages, and so on. These programs are fairly intuitive and enable some unexpectedly clever functions: in TouchScreen Photo, for example, we were able to zoom and rotate two images independently from each other but at the same time by using both hands on the touchscreen.
The screen is extremely sensitive and this can take some getting used to. The advantage is that response is gentle and precise, avoiding any clumsy pressing. The disadvantage is that you can end up selecting objects by mistake while your finger is hovering above the surface of the screen. Given the choice between gentle and firm pressure, we prefer the former, if only because it makes sweeping actions smoother and more accurate.
PC performance is good but not outstanding, least of all when running 3D games: this is a general home-use computer and media player, certainly not a hardcore gamer's machine. On the other hand, processor-intensive tasks such as video playback and image manipulation are perfectly clean and glitch-free.
Its media player credentials are strengthened by the inclusion of an infrared remote control handset, again encased in shiny black plastic. You can use the handset to operate Windows 7 media players – useful if you are watching TV or a movie in a living room environment – and link it up with other IR-supporting peripherals such as games consoles and set-top boxes.

Use the remote to operate the PC and any connected infrared devices.
It does this using an external IR emitter unit that translates commands from the HP handset via the TouchSmart 600 to the selected peripheral. Although the IR emitter system is limited – it only supports one peripheral at a time – the remote control handset itself is excellent, whether you want to extend the IR capability or not.
The remote has a good range of well-spaced and clearly labelled buttons, including those for recording TV onto hard disk, along with a big central button for returning immediately to the top level of Windows Media Centre. Given the choice of operating the computer by touch, mouse, keyboard and remote handset, we had a great time using all of them.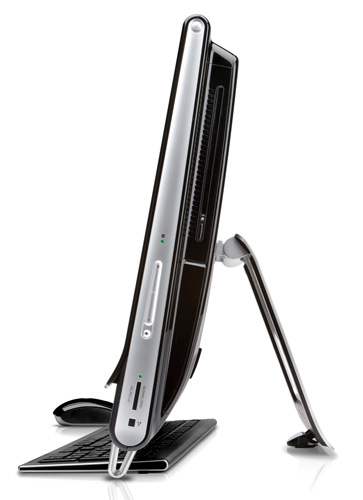 Thanks to the raised stand design, you can slide the keyboard underneath when not in use.
The only component that didn't seem to fit the pattern of attention to detail was the power supply cable. The transformer block on these cables gets smaller every year: the one for the TouchScreen 600 was the size of a house brick.
Verdict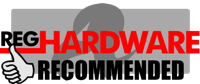 While the home computing market is full of business computers clumsily adapted with cheesy software and ugly peripherals, the HP TouchSmart 600 accurately targets what most people want at home: a very smart-looking, all-rounder with skilfully implemented Windows 7 touchscreen abilities and highly versatile media playing options. The only problem is the price: if you didn't need the touchscreen or TV inputs, you could buy a much more powerful, 27in, 3GHz Apple iMac for less money.
More Touchscreen PC Reviews...

PsiXpda
Pocket Computer

Packard Bell
oneTwo M

Acer Aspire
5738PG Touch

MSI Wind Top
AE1900