Original URL: http://www.theregister.co.uk/2010/01/20/review_media_player_speedo_aquabeat/
Speedo Aquabeat
The life aquatic
Posted in Personal Tech, 20th January 2010 08:02 GMT
Review If you fancy some music while you work out at the gym or go jogging then the options are endless. Apple, Sanza, Samsung or Sony will all sell you something small and robust so you can fight the flab to Lady Gaga or Rage Against The Machine. Jump into the pool for a dozen lengths with any of them though and you will soon be listening to the sound of silence. Enter renowned swimwear makers Speedo with just the answer, the Aquabeat waterproof MP3 player.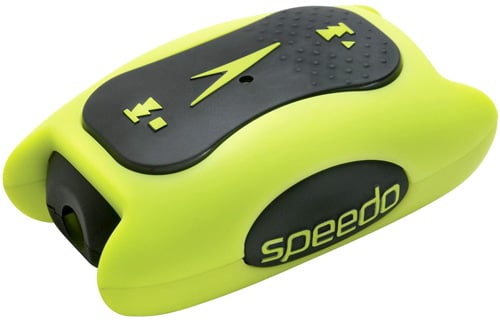 Making a splash: Speedo's Aquabeat
The Aquabeat is actually only rated to a depth of 3 metres or 10 feet so you can't get too Jacques Cousteau with it, but it will suffice for stroking about in the pool or splashing around on the beaches of Bimini or Phuket. It's also buoyant, so there is no chance of you breaking the surface while it drifts to the bottom to be carted off by a larcenous crab.
The player itself is a small 35g rubberized lump with a clasp on the bottom so you can hook it to a bikini string or goggles strap. If you prefer to swim in the buff, then you can either stuff the Aquabeat where the sun don't shine or purchase the optional £15 arm band, which would be our recommendation.
Controls are very simple with a pressure pad on the top taking care of power, start, stop, skip forward and back, while a rocker pad on the side manages the volume. Press any control and a small 'beep' is heard letting you know the command has been acknowledged.
The only orifice in the Aquabeat is the 3.5mm jack which doubles up as both the headphones socket and the USB port. The bundled earphones are of the loop-around-the-ear type and while a bit of pain to get situated are very secure once in place - no matter how we thrashed, turned and twisted they never once fell out.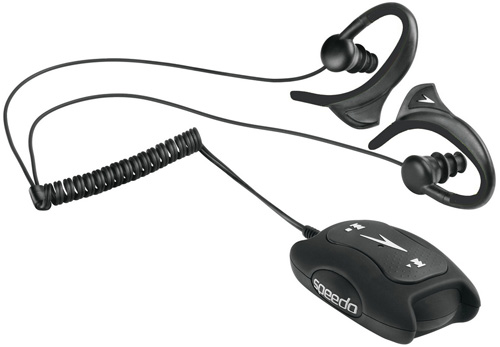 Simple controls, but no shuffle mode, alas
Speedo bundles three types of rubber ear-bud - one conventional pair that won't keep the water out and two sizes of three ridge buds that will. The rather short earphone cable is coiled for a third of its length which helps prevent users strangling themselves or snagging on undersea obstacle,s though Speedo also supplies a 1m extension cable to make life easier on dry land.
File support includes DRM-free MP3 and WMA and...well, that's it actually. Let's be honest, if you want a waterproof PMP that plays Flac audio files and H.264 video you are missing the point of aquatic pursuits to start with. Loading content is a simple matter of drag'n'drop from any operating system you care to name though the player also shows up as an MTP device if you want to sync playlists. Sadly though it doesn't have a shuffle feature.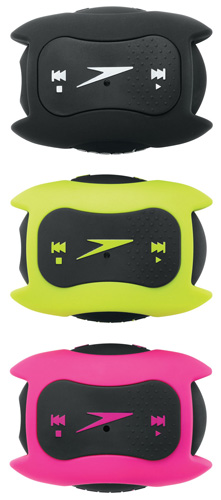 Discreet black or visible day-glow colours – either way, it floats
Once loaded with content the Aquabeat is musically pretty competent. OK, let's qualify that. We are not saying it can compete with a Sansa Clip and a decent pair of earphones because the bass is just a little woolly while vocals sound just a touch too sibilant, but the sound it produces is certainly good enough to keep you diverted while splashing about and is no worse than the sound you get out of an iPod Shuffle with Apple's bundled phones.
More importantly, the sound quality doesn't take too much of a hit when your noggin is submerged. In fact the earphones do a great job of keeping the water out of your ears even during prolonged spells in the drink. Speedo reckons a full charge is good for 9 hours of playback, but the best we managed was just over 7.5 hours, without any sort of charge indicator, you only know you are out of juice when the music dies.
Verdict
Listed at around £75 for the 1GB version and £100 for the 2GB LZR swimsuit-styled incarnation, the Aquabeat is not cheap. Do some astute on-line shopping for better prices and the outlay is probably worth it to put the finishing touches on a decent holiday in the sun or if you are the type who does a dozen lengths each day. And let's face it, that is the target audience, not someone who is worried about dropping their iPod in the bath of a Sunday evening. ®
Thanks to AdvancedMP3Players for the loan of our review unit.
More Media Player Reviews...

Mintpass
Mintpad MP100

Apple
iPod Shuffle

Sony Walkman
X-Series

Apple iPod
Nano 5G