Original URL: https://www.theregister.co.uk/2010/01/18/review_hd_monitor_acer_t230h_touchscreen/
Acer T230H multi-touch monitor
Point and flick?
Posted in Personal Tech, 18th January 2010 13:02 GMT
Review Apple fans have been enjoying the advantages of multi-touch computing for some time, but Windows users are little late to arrive at the party. However, with Windows 7 billed as the first version of the operating system to "fully embrace multi-touch technology", we're starting to see notebook PCs and add-on tablets supporting the functionality.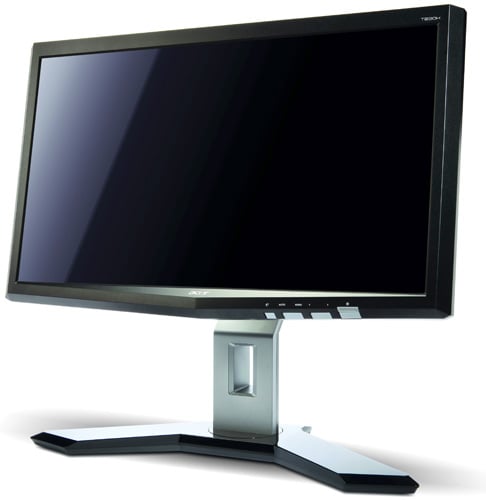 Making a gesture: Acer's T230H
For those of you wondering what the fuss is all about, the T230H will allow you to do away with your mouse and keyboard, if you wish, and operate your PC entirely by touching the screen. You'll also be able to use a pair of fingers to rotate and pinch to zoom just as you can on an iPhone.
Now with the Acer T230H monitor you can make use of these functions simply by plugging it into your Windows 7 PC. The display hooks up using VGA, DVI or HDMI, with the touchscreen capabilities handled by the USB port. Windows 7 will then recognise the display as an input device and allow you to use Pen and Touch input controls automatically.
Physically reminiscent of Acer's G24 gaming monitor – although without the garish metallic orange paint job – the T230H has an angular, modern look with a relatively thin bezel and a row of control buttons along the underside over to the right. The display comes with a decent height-adjustable stand and it all feels rather weighty and solid, which is a good thing seeing as you'll soon be jabbing and poking at it with both hands. So, you can rest assured that this monitor isn't going to go flying over the back of your desk.
We would have been delighted to find that the monitor's on-screen menu could be controlled from the touch interface, but we weren't surprised to find that you can't. The usual, frustrating, plod through menus with buttons it is then.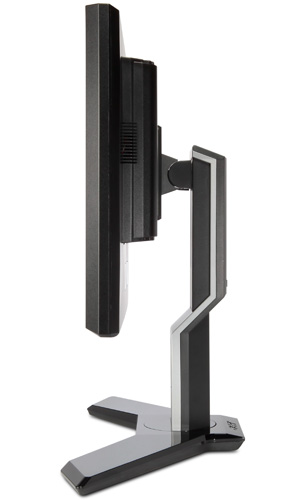 Reassuringly sturdy
As a 23in widescreen display, the T230H's specifications are pretty standard fare: supporting full a HD 1920 x 1080 pixel resolution with a fast, 2ms grey-to-grey response time and decent 300 cd/m2 maxim brightness. At 160 degrees in both directions, viewing angles are adequate, but not great, and a dynamic contrast ratio of 80,000:1 is quoted.
Touch screens are hardly new, with many devices incorporating them with the simple mouse pointer control easily understood and used by applications. However, to take advantage of multi-touch, you'll need software specially written to deal with more than one touch point at any given time.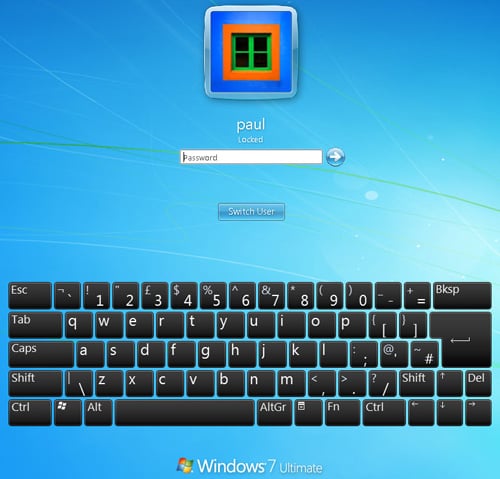 Windows 7's touch Qwerty keyboard login screen
If you're running Windows 7 then there's multi-touch support built into the operating system. So all you need to do is hook up the monitor and you can start using multi-touch features right away. For example, the built-in Windows Photo Viewer will allows pinch-to-zoom and two-finger rotate features, much as you would on an iPhone – though sadly without the smoothly animated rotation of the latter.
You also get to use the rather nice Windows on-screen keyboard and gesture-based controls for navigation. What's more, when you're using touch input, Windows 7 endeavours to make things easier for you by automatically adding in extra space in menus to help alleviate your fat-fingered fumblings.
Some third-party applications such as Corel's Photo Studio 10, have incorporated multi-touch into the control interface, making good use of its capabilities throughout the suite. Yet, many older applications remain blissfully unaware of touch input devices, but Windows 7 has built in some legacy support for such programs allowing most of them to make use of the basic two-finger panning, zooming and flicking gestures.
The T230H supports two touch points, so you'll be able to perform the essential multi-touch operations outlined above, but is doesn't come close to palette of sophisticated many-fingered gestures supported by the Mac. That said, the T230H's multi-touch features aren't supported by the Mac at all.

Plenty of input opportunities
Using the T230H to control Windows is sometimes a joy – the large text and controls found in Windows Media Center, for example, make it really quick and fun to use. However, it can occasionally be rather frustrating too often resulting in repeated failed attempts to drag and drop or select a particular screen element.
One particularly frustrating example is trying to move a Windows Sticky Note around the screen. Touch the part containing text, and you'll automatically enter text entry mode, but attempting to edge your finger carefully towards the right spot on the window can also fail, as the monitor detects your finger's presence a millimetre or so before it actually makes physical contact.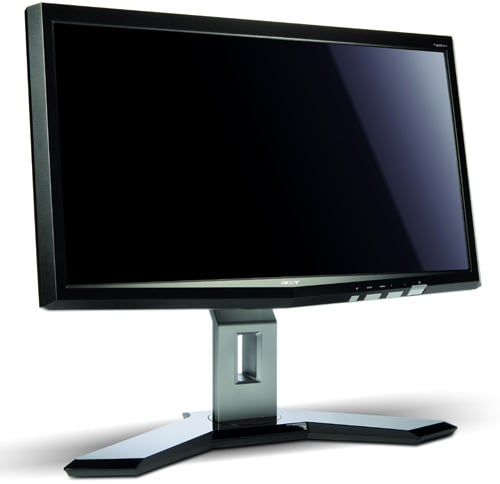 The gestures work, but it's the image that needs touching up
At its native resolution and with Windows setup with its default font size, screen elements can be really tiny and difficult to operate with the touch screen. However, selecting large fonts from the Windows control panel improves things significantly, making icons generally large enough to be easily selected with a finger. Once you get used to it, the T230H can genuinely be much faster than using a mouse – especially, when navigating web pages, which you can flick through like the pages of a book.
Although the T230H is able to turn many impressive tricks from the touch screen, its performance as a standard monitor has been somewhat compromised. Colour reproduction and contrast both suffer. Its rated colour gamut of only 72 per cent of NTSC is distinctly is distinctly lacklustre. Although we measured rather better results of around 87%, we still wouldn't say the colour reproduction was impressive.
Display contrast is also less than perfect. On starting up the PC, the Windows logo appears to be on a dark grey background, rather than black. Calibration improved picture output considerably both in terms of colour and contrast, but we still wouldn't recommend this display to users who went the most accurate display for photo editing.
Verdict
While the multi-touch function works reliably, you'd have to have a real need for it before buying this monitor. Not simply because of the extra cost, but because the image quality doesn't appear to be as good as many others in Acer's considerable catalogue of displays. ®
More Touchscreen Gear Reviews...

PsiXpda
Pocket Computer

Packard Bell
oneTwo M

Acer Aspire
5738PG Touch

MSI Wind Top
AE1900