Original URL: http://www.theregister.co.uk/2010/01/16/review_hd_tv_philips_40pfl9704_lcd_tv/
Philips 40PFL9704 40in LED backlit TV
Black is black?
Posted in Personal Tech, 16th January 2010 09:02 GMT
Review LED backlighting is all the rage at the moment; it can dramatically improve the contrast ratio of LCD panels, helping them towards the deep blacks seen on plasma displays. But many of the sets available at the moment, including the LG we recently reviewed, use LEDs that aren't individually addressable – so it's still really all or nothing.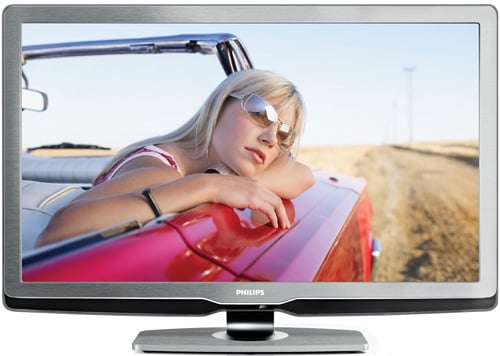 Elite LED backlighting: Philips' 40PFL9704
Philips' 9704 offers 'Pro LED' backlighting, the better to distinguish it from the presumably amateur type on other sets. That means that the backlighting is split into 274 individual segments, each of which is independently controlled. Other selling points include the latest version of the Ambilight system, wireless connectivity, built in web browsing and DLNA support.
Users outside the UK may be able to take advantage of the MPEG4 decoding, and the CI+ slot too, but for those of us in Blighty, an external source of some sort will be needed if you want to watch HD programming. SD Freeview and analogue tuners are, of course, included. Compared to some recent TVs from the competition, the Philips is positively chunky, with the rear panel curving round to the front, and providing sufficient depth for both the Ambilight system and decent size speakers.
This 40in, 1920 x 1080p resolution model has four HMDI sockets on the rear, as well as two Scart sockets, component and VGA inputs, while the left hand side provides a fifth HDMI – helpfully labelled 'HDMI side' in the menus – together with S-Video, composite, audio in, headphone out, and a USB port. The rear panel also hosts analogue audio outputs, coaxial digital (no optical), and an Ethernet port, should you not want to use the 802.11g Wi-Fi.
The right hand side is host to the usual set of buttons for volume, channel change, and menu functions, in case you lose the remote. That is a very solid feeling unit, with a brushed aluminium top panel, which can also be programmed as a multi-function remote, with an on-screen wizard telling you which codes to enter for particular brands; that said, we couldn't persuade it to emulate the 'back' button for the LG Blu-ray player we had to hand. Still, if it drives your devices, it's useful to have.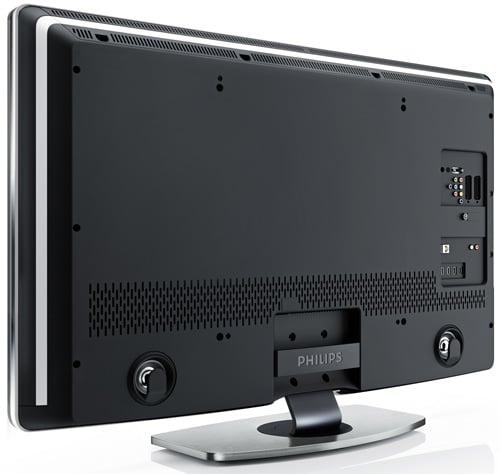 Digital interfacing is coaxial only, with no optical option
Initial setup is straightforward, with both analogue and digital channels tuned automatically. Unlike many other brands, the Philips combines the two by putting the analogue stations in the 400 range, so you don't have to fiddle with a source or mode switch to move between them.
Initially, we felt the Freeview picture looked a little grainy, but turning down the sharpness control improved matters tremendously. There's a good range of adjustments available, including preset modes, and plenty of opportunity to tweak, as well. The remote gives easy access to some of the most common settings, with a dedicated button for aspect ratio too, and a press of the Home button will take you to a main screen where you can access settings, home media, USB keys, and so on.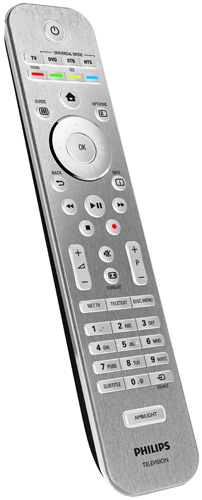 Easy access to most common functions, but others require some digging
Initially, we were annoyed that it didn't seem possible to stop the set from expanding 4:3 content to fill the screen; you can't do that from the button on the remote, but burrowing through the menus and selecting the counter-intuitively labelled Auto Zoom did the job.
Freeview, as mentioned, provided a decent SD picture, as did a connection using the component input, once the sharpness and noise reduction settings had been tweaked. However, we didn't much care for the EPG view, which has channels down the left and just two columns on the right – effectively an extended now/next view rather than a full programme grid.
The Ambilight is a feature you will probably either like or hate. It's certainly responsive with lighting around three sides of the set, capable of displaying a range of hues from each panel. Obviously, it works best against a white wall and there's a dedicated button on the remote to turn it off. Most people buying a set like this will, of course, be using it for HD sources and it certainly accommodates with its five HDMI inputs. The combination of full HD resolution, with 200Hz motion interpolation and that Pro LED backlighting, makes for stunning viewing.
Watching The Dark Knight, we saw the blackest blacks so far for an LCD panel; the area above and below the picture really is black, rather than the very dark grey of a traditional backlight. Motion looks smooth, the contrast is excellent and – once you've tweaked it to your preferences – the picture quality is excellent, as you'd expect for this money.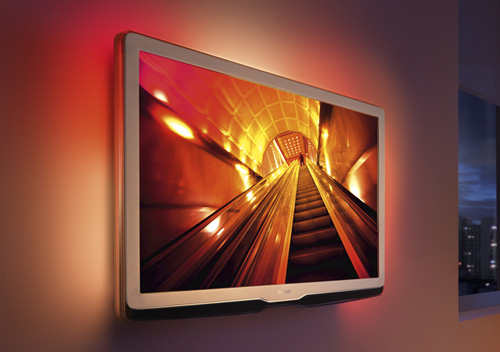 Ambilight: the je ne sais quoi viewing experience
There aren't any surround modes on the set – and in our experience they seldom do much anyway – but the built in speakers do provide a richer and more natural sound than thinner sets can offer. It's a pity there's no optical digital out, but with no HD tuners, that's perhaps not too important to most users.
We had rather more mixed results with the network functionality. Philips boasts that the set can provide unfettered Internet access, and that's true. At first you reach a portal, providing quick access to sites like YouTube and DailyMotion; a further click allows you to enter URLs directly, with on-screen buttons for 'http', 'www.', '.com' and so on, speeding entry up.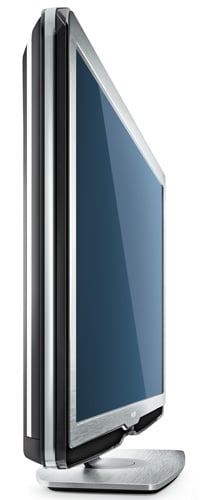 Not the slimmest, but sounds good
However, the response was a bit sluggish, and while it makes a decent fist of displaying even complex pages like The Guardian, multimedia support is limited, and some CSS tricks aren't supported, like drop-down menus. Stick with mobile-orientated sites, and it's a useful extra, but not earth shattering.
DLNA support is a bit of a mixed bag; we could play VOB files without any problems, though not .mpg MPEG2 files. The spec sheet also boasts support for .AVI files, but that certainly doesn't seem to include DivX content, nor did our WMV test files play, although some files played from a second TwonkyVision server, but only when transcoded.
To be fair, though, it would be hard to find a DLNA-compliant TV set that doesn't have compatibility issues these days. All in all, the 40PFL9704 produces a great picture, especially from HD sources, and the network extras may appeal to some users, as might the Ambilight. But it does come with a hefty price tag.
Verdict
There's no doubt that this set has astonishing contrast, thanks to the segmented LED backlighting. It's also generously equipped with plenty of inputs, and rather than going for all out for slimness, there are decent speakers too. But the DLNA connectivity isn't up to that much, and full net access is a gimmick that's a little sluggish in our view. Paired with external HD sources, it's a great choice, but price and lack of HD tuners preclude a higher rating. ®
More HD TV Reviews...

LG
42SL9000

Sharp
Aquos
LC40LE700E

Samsung
UE40B7000

Sony
Bravia
KDL-46W5810