Original URL: http://www.theregister.co.uk/2010/01/15/review_pc_psixpda_pocket_computer/
PsiXpda pocket computer
Psion of the times?
Posted in Personal Tech, 15th January 2010 08:02 GMT
Review About 10 years ago, Psion's handheld computers were the ones to beat and the Psion Series 5 was at the top of the heap. The keyboard was tiny but so well designed that it was really possible to touchtype on it. Indeed, the Series 5 set the standard for others to emulate, and, quite simply, as far as usability is concerned no other small format device since has come close.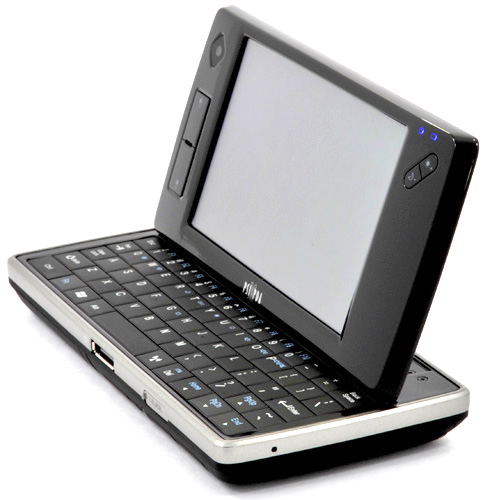 New series? PsiXpda's Pocket Computer
The PsiXpda doesn't claim to be a Series 5 for the modern world but – being brought to us by the pairing of an ex-Psion employee and a handheld computing enthusiast – hopes are high that it might recapture some past glory. It falls into the UMPC category, being a fully-fledged Windows XP Professional machine.
Relying on an Intel Atom processor, the PsiXpda has a 5in screen and relatively sizeable keyboard, 16GB of SSD storage and microSD card support. It also features Bluetooth, Wi-Fi and a SIM card slot for mobile data – all quite alluring, really.
You'd need a pretty large pocket to accommodate the PsiXpda. It measures 174mm x 84mm x 25mm and weighs 430g, which is enough to drag down any pocket you can find for it. The provided protective neoprene sleeve means it'll languish safely in a bag, though.
You'll need the sleeve for protection, as the screen on the outside so you can use the PsiXpa without resorting to its keyboard. To help with this there are some controls to the left and right of the display, and the screen itself is touch sensitive. Nestled inside one corner of the chassis is a stylus, no larger than those found on a typical smartphone. We found a fingertip or the end of pen was more convenient to use for prodding at the screen.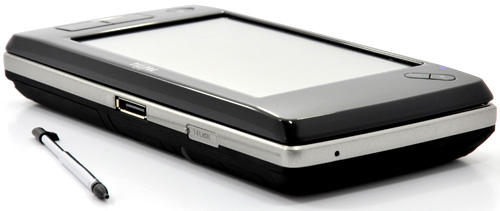 If the screen isn't finger friendly enough you can revert to the stylus
There's a VGA webcam to the left of the screen, which you can use for video conferencing and two banks of three status lights sitting at the top left and right edges of the screen section. To the right are two buttons to raise and lower the screen backlighting.
Left and right mouse buttons appear on the left of the screen and on the right, a completely unmarked touchpad area. These work together well, though their range is necessarily limited. You can point and click at things, but, obviously enough, you can't enter any text. To perform that feat you need the keyboard.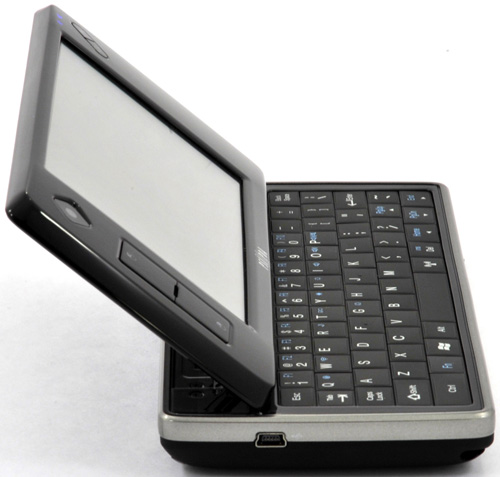 Click to view the slide-up screen image sequence
To access the keyboard you slide the screen section away from you, then pull it up at an angle. The hinges are solid enough to anchor the screen anywhere between flat and about 80 degrees. The mechanism itself feels as though it might not last forever and probably needs to be treated quite gently and with a fair amount of respect.
The keyboard is full Qwerty with the numeric row of keys the same size as the alpha ones. The numeric row doubles up to offer Fn keys. You need a decisive, hard press to register keystrokes, and we found the pressure required was not uniform. This took some getting used to and accurate typing necessitated a quite severely reduced speed. A Fn key combination can toggle backlight on and off which helps when using the PsiXpda in darker conditions.
The 5in screen is sharp and bright, but its 800 x 480 pixels aren't really enough to let you use Windows XP Pro and associated applications efficiently across the board. It was OK for Web browsing, but less so for composing documents.
Writing this article using the copy of OpenOffice that was pre-installed on our review sample was a bit tedious. The text itself renders quite small to the screen and you can't see a lot of document height at any one time. Add in the need for relatively slow typing and, in sheer productivity terms, we'd choose a netbook every time.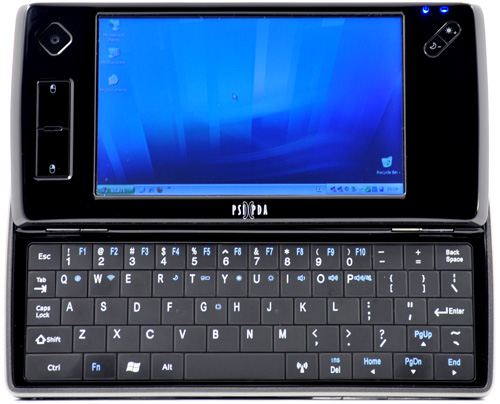 The keyboard responsiveness is somewhat inconsistent
You can set the display to all four screen orientations, thanks to Intel GMA driver for ultra mobile resident in the system tray. We found ourselves using the portrait orientation quite a lot for reading text. One other screen annoyance is worth flagging. When working in standard laptop computer mode, Windows dialogue boxes were sometimes too tall for the screen.
Workarounds include dragging the boxes, rotating the screen so you can see more of their height and, rather interestingly, changing the screen resolution to 1024 x 768 from the same system tray link used to rotate the display. This interpolated resolution makes the display squint-inducingly small, but you can see all of a window.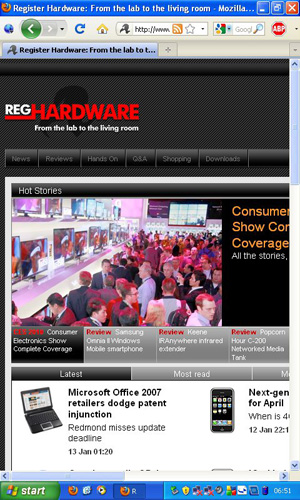 Portrait-style browsing
Other niggles include the Wi-Fi, which supports 802.11b/g, but not 802.11n. Also, the headset socket is 2.5mm rather than 3.5mm, and a rather lacklustre set of flat in-ear buds is provided. Music playback through the internal speaker is loud enough for personal listening, but unsurprisingly is on the tinny side.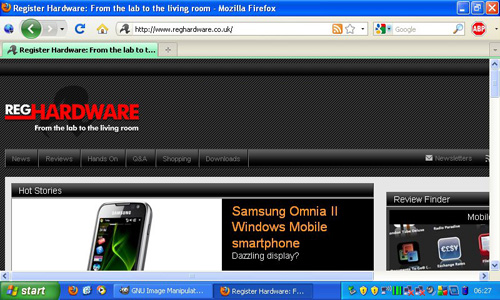 Browsing screen real estate in landscape mode
Still, the device had no trouble finding music on a USB drive inserted into the one full sized USB slot and, this along with micro SD option, are both very convenient ways to get data on and off the PsiXpda. An alternative is to create a direct connection, using the PsiXpda's mini USB port and the provided cable, to another computer for file sharing. The supplied software manages the client/host relationship between PsiXpda and another Windows device.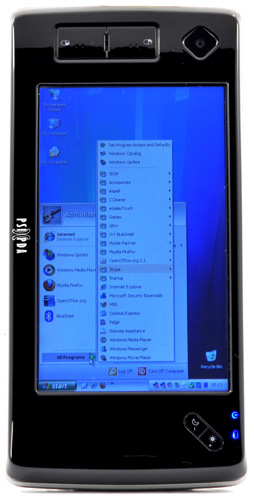 Running Windows XP Pro, any screen orientation is available
The 3G data connection is a nice touch and is catered for by a Huawei EM730 modem. Getting 3G data is not a simple plug and play operation. You'll need to configure the Huawei Mobile Partner software with some settings. You'll find a range of these for the main UK network operators in an appendix to the PsiXpda manual, that alas, you need to download. This information might well suffice but, if not, configuration settings are easily obtained from your telco operator.
As is the convention for this type of software the Huawei Mobile Partner application can be used to manage SMS messaging and voice calls as well as data connections. The all-important Sim card is positioned beneath a cover on the underside of the casing.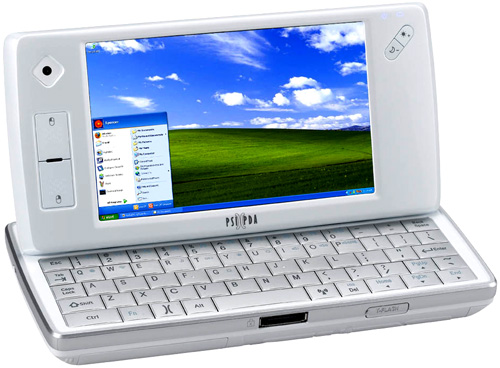 Also available in white
We found the 1GHz Intel Atom Z510 processor was efficient at keeping things going as long as we didn't open too many applications at once or ask it to think too hard. It baulked at having 3G, Wi-Fi and Bluetooth running as well as streaming music from a USB stick, for example, but it made easy work of Web browsing and playing video.
There is 16GB of SSD storage on board. Windows XP consumes some of this, of course. There were several other apps pre-installed on our review sample, including the aforementioned OpenOffice, Pidgin and Firefox. We added the free version of AVG to the mix immediately and we were left with about 9GB free for more apps and data.
Battery life is crucial in a device like this. In general use we found we could get half day from the 1850mAh battery, but nothing like a full day. A more stringent test was to play music from a USB flash drive with Wi-Fi and Bluetooth on, and the power scheme tweaked so that the screen remained on. In this configuration we managed 1hr 50mins of music before the device conked out.
Verdict
The PsiXpda leaves us with mixed feelings. The comms capabilities kept us happy and it worked well enough as far as the internals are concerned, provided we didn't ask the processor to keep too many balls in the air at once. However, the screen, while very readable, is too small and the keyboard too fiddly to allow the PsiXpda to be a device you'd want to rely on for serious tasks. At £500 we reckon it will be difficult for many to justify the expense. ®
More Portable Computing Reviews...

Samsung
N140

Mintpass
Mintpad MP100

Motorola
Milestone

Sony Vaio
VPCX11S1E/B