Original URL: http://www.theregister.co.uk/2010/01/15/mandybill_progress_report/
The Digital Economy Bill: Where are we now?
Oh Mandy, well you came to stop me from downloading
Posted in The Channel, 15th January 2010 12:34 GMT
Pelted from all sides by amendments, the Digital Economy Bill continues to plough its way through Parliament. This week, the Lords lined up to have their say, but since there are so many (300) Amendments, they'll be at it again on Monday.
Of course, out of the ten subject areas, the one labelled 'online copyright infringement' has attracted the most attention from their Lordships. Lord Mandelson made a number of modifications acknowledging these concerns this week - including some substantial changes to the processes. It's the procedure rather than the principle that is vexing the Lords.
Nobody - not even those who support the Bill - is entirely happy with the procedures. Yet there is no great grassroots outpouring of opposition. While 500,000 people may have paid 79p in one week to register a protest vote for the Christmas Number One single, fewer than 500 have signed up to the Open Rights Group's "Message to Mandelson" campaign - and some of those are supportive. We spotted one 'Go Mandy' from a major record label staffer and another urging his Lordship to bash the 'freetards'.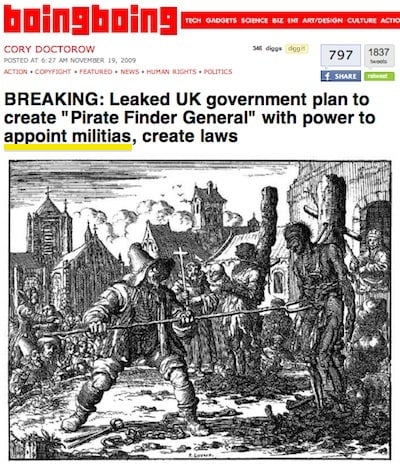 Strange and vivid persecution fantasies
Something, even a token measure, is regarded as necessary - only a lone voice or two were heard proposing the principle that artists' digital rights are dispensable. Lord Razzall (whose high living earns him the nickname 'Razzall of Dazzle') said the belief that all information must be free was 'understandable'.
Yet it's the procedures - with nameless detectives serving citizens with incomprehensible technical evidence - that has caused the most debate. Critics have pointed out that with infringement, the allegation itself becomes 'proof' - just as it does in contemporary 'climate science'. Similarly, the Secretary's powers to extend the law on the hoof, as he sees fit, have also been tempered this week.
Hereditary Conservative peer Lord Lucas emerged as the most articulate and vocal critic of the proposed infringement measures, and the best hope of the Stop Mandy crowd. A self-described libertarian with a physics degree, Lucas told the House of Lords that, "I earn most of my income outside this House from the sale of copyright material. So, I should naturally be on the side of the companies, but, perhaps instinctively, I am not."
Leading a defence of the proposals was Lord Davies, former Communicatons union leader. "Our intention [is] to try to change behaviour and effect a cultural change, so that people recognise that creative activity and its copyright support is of real value to society as a whole," he said.
Follow that ambulance
Lucas was one of several Lords who described the ambulance chasing practice of filing speculative demands. Yet the music industry isn't behind these, as Lucas and others implied. It was Davenport Lyons, and they stopped last year. The Earl of Erroll (Merlin Hey) doubted that the creative industries would collapse without protection.
"Being subject to the BPI's lawyers, let alone some of the fringe operators, is an extremely unpleasant business when defending yourself against something which is not an ordinary act," said Lucas. "If my neighbour says, 'You kicked my dog', that is something which you can comprehend. You did or did not do that and other people might have seen it. But if you are told that something has happened on your network — people use machines, they do not understand how they work — you have no particular concept of how to get at that, how to control it, who might have done it or what might have happened. It is very difficult to defend yourself."
Other Lords wondered if the law would hamper libraries and cafes, who as subscribers would be liable for their users' actions. Lucas asked how a subscriber could prove that their connection had been hijacked.
They should use reasonable steps, such as a firewall, Davies replied. Then, overcome with an attack of the Carry Ons, added: "I am not going to attempt from this Dispatch Box to be fertile on the range of defences that might be erected."
Lucas also focused on the issue of proportion:
The concept of the threshold is important and we ought to take the opportunity in the Bill to say what we mean by it, rather than just leaving it as something which is mentioned at one point in the Bill and never returned to again.
Not all infringements were comparable, he said. And in the early days, the hardcore 24/7 downloaders would be singled out:
We will start this operation with millions of our own citizens being active transgressors. So, we are going to have to go through a process of education. Certainly to start with, and I hope to continue with, we are aiming at those who are causing a significant amount of damage. Those who are occasional transgressors are not going to find themselves picked up, because that level of misbehaviour is not doing any great damage to the industry and that level of enforcement would do a great deal of damage to polity. That is the position that I hope the Government are setting out to achieve.

It seems to me that has to be value. One film, one music track and some large piece of software do not add up to three, if you see what I mean.
Lord Birt responded that critics were kidding themselves that online file sharing wasn't a massive problem:
They are not sent to jail the next day, but go through a long, complex and well-considered process, at the end of which the main sanction is that they are cut off from the internet. That is a proportionate response to a massive problem.
Surprisingly nobody was interested in the freedom of speech argument - where access is a fundamental human right. To continue to engage in Free Speech on the internet, somebody who has been cut off need only wander down to the Library - nobody's stopping them - or change ISP (there is no Hadopi style database of offenders) or buy a Pay As You Go dongle and carry on using the internet.
Maybe it's a weak argument, or maybe it struck legislators who have discussed how the poor get their heating disconnected in cold weather as being in poor taste to give home internet connections a special place. Either way, it was a dog that didn't bark.
Mandy's Concessions
On Tuesday evening Mandelson tabled his own responses to the Lordships' concerns, and his Amendments make significant procedural concessions.
The Secretary will need to present future changes to Parliament, there will be a 60 day consultation period, and Parliament must vote on each resolution.
Almost unnoticed, Mandelson has proposed adding wording to discourage claims against casual sharing: "the infringement is having a serious adverse effect on businesses or consumers" a new Amendment notes. That's designed to address the fairness issue. Lords Razzall and Clement Jones have also tabled an amendment calling for the maximum penalty to be reduced from £250,000 to £10,000.
The cost of the letter writing/suspension campaign remain unresolved. The labels and the ISPs have been haggling about this for months in private.
So at this stage, the biggest threats to the Bill are an early election or some incredibly stupid and overreaching demands from one corner of the music business. An early election would result in a free-for-all. Earlier this week we saw the BPI propose an Instamatic, backdoor DMCA. Any similar capers would prompt the Lords to throw the whole lot out, with prejudice. ®