Original URL: https://www.theregister.co.uk/2010/01/14/review_phone_sony_ericsson_aino/
Sony Ericsson Aino
The must-have PS3 accessory?
Posted in Personal Tech, 14th January 2010 13:02 GMT
Review Sony Ericsson's latest marketing wheeze is to release a slew of new handsets with seemingly meaningless names. Satio, Yari, Naite and the handset currently under scrutiny, Aino, are models the company has lined up to compete with Apple and Android. The Aino is meant to be a media fan's handset first and foremost. It also has a fairly strong set of general specifications, including an 8Mp camera, Wi-Fi and GPS.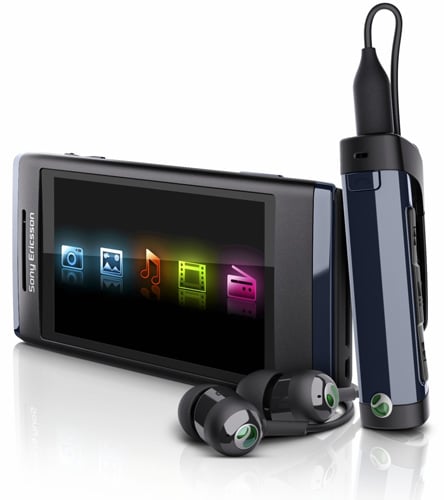 PS3 Go? Sony Ericsson's Aino
If you have a PlayStation 3, you can control it from a distance with Aino's Remote Play feature. The phone will pick up video and audio streamed from the PS3, and you can use the console's Play TV DVR add-on to watch, pause and record live TV if you live in Italy, France, Spain, Germany or the UK – more on this later.
Overall, it sounds like quite a lot of innovation is going on with the Aino, but in reality it doesn't hang together that well. Things can be clunky and Sony Ericsson may well be trying to do too much fancy stuff without getting the basics right. This is a chunky slider phone. It has to be to accommodate its 3in screen. But with dimensions of 104mm x 50mm x 15.5mm when closed, it isn't ideal for slim-fit pockets. It weighs 134g and extends to 150mm with the slide opened.
Underneath the smooth and responsive slide, is the relatively cramped number pad. The overall balance of the handset doesn't sit comfortably under the fingers and feels as though the phone might topple forwards when tapping out numbers. The navpad and function keys are based around Sony Ericsson's classic circular design. Visually, it's fine but, again, all buttons, bar the navpad, are a bit small. And yet there's a 4mm of empty space to left and right of this area, which could have utilised to allow for larger keys.
The screen delivers 432 x 240 pixels. Sony Ericsson knows how to do screens, and this one is sharp and bright. Movies stored on the handset were crisp, though those we streamed over Wi-Fi and 3G using the built in YouTube and iPlayer apps were jerky and less fun to watch.

Operation combines both touchscreen and keypad functions
The screen is touch sensitive, but only when the slide is closed. In this configuration you tap the unlock key and then the screen lights up in wide format. Slide the giant arrow upwards and you are presented with touch-responsive media control buttons to start the camera running, open the photo album, let you listen to music, watch videos and access the FM radio.
Touchscreen functions are restricted though. For instance, with music playback, using the touch interface you can choose to play newly added tracks, albums and playlists, or resume something you've paused. For other tasks such as listen to all tracks by an artist, choose a particular track, or add to a playlist you have to slide the phone open and use the standard Sony Ericsson interface.

A bit on the bulky side
Furthermore, it wasn't exactly obvious where to tap or stroke the screen to get out of submenus. Just dabbing away from icons doesn't do it – you have to stroke the minimised main icons row. You get used to it, but it's far from intuitive. But the real problem with this semi-touchscreen system is you want more touch control than offered. When web browsing it's easy to assume you can sweep around the screen, pinch to zoom, tap on links and suchlike, but you're stuck with the navpad to move around, so you need the slide open.
Close the slide mid-browse and, abruptly, you are taken back to the closed position home screen' the one with the arrow graphic that lets you access those media capabilities. Thank goodness for the redeeming feature of an accelerometer which – with Web browsing as in some other applications – flips the screen into wide mode as you turn the phone in your hand.
On the plus side, movie playback is vibrant and with good sound quality. Sony Ericsson's Media Go software converts it and video on the fly. You can, incidentally, connect with this application to either a wired link or with Wi-Fi. If you've movies in mind, there's 55MB on board and an 8GB micro SD card included. Yes, micro SD. Sony Ericsson has, at last, abandoned its Memory Stick Micro.
You get a bundled Bluetooth headset. It is a rather large beastie with multiple flashing lights and you are cajoled into using it because the provided earbuds have a 3.5mm connector to link them to the Bluetooth receiver but there is no 3.5mm connector on the handset. We also tested a headset using the standard horrible Sony Ericsson proprietary connector, which worked fine. The Bluetooth headset is paired by default and ours connected as soon as we switched it on.

Open in the hand, the phone lacks balance
The headset charges from the docking cradle and this is also what you use to link to a PC. The Aino sits sideways on and the arrangement looks rather cool. There's a huge amount of software crammed into the Aino, though like the GPS using tracker app and NearMe we've seen much of it on other Sony Ericsson handsets.
Sample Shots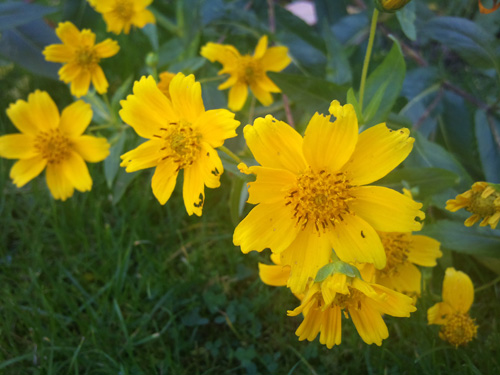 Click for a full-resolution crop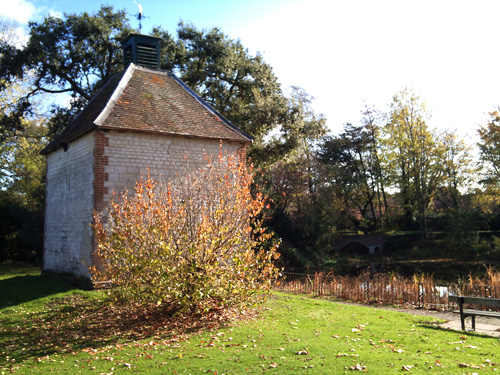 Click for a full-resolution crop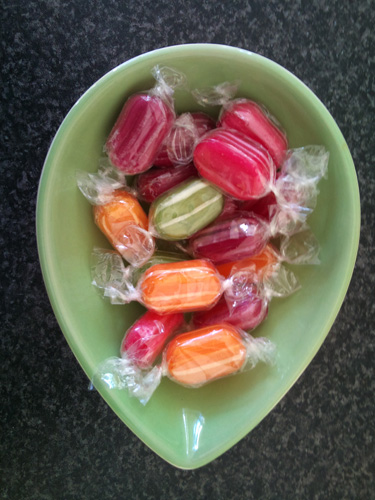 Click for a full-resolution crop
The company clearly doesn't know much about organisation. Video Call, Torch (turns the photo light on and off) and Media Home (which gives Wi-Fi access to Media Go) are stuck in the Organiser folder, while a rather neat Facebook app can be found by choosing Media, then Photo. You are certainly going to have to root around to get familiar with things.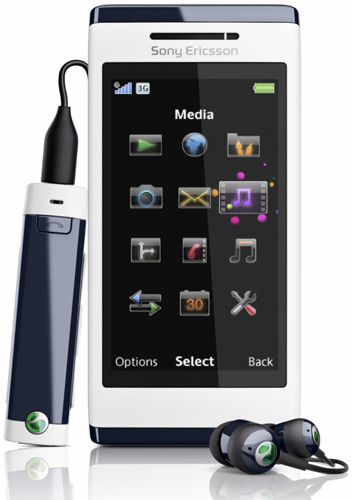 The chunky Bluetooth receiver features a 3.5mm jack for use with any standard headset
Despite having an 8.1 megapixel sensor the camera lacks panache. Yes, it'll geotag, send photos to Facebook, and there is face detection. The macro mode worked well – the yellow flowers sample image is a close-up example. However, the camera didn't cope well in situations with lots of light and shade, it took an age to save images, and the shutter takes a moment to kick in. If you don't have a steady hand shots can easily be blurred.
Also, indoors, despite the LED light, images were dull and grainy. Finally, what is the point of a maximum of 16x digital zoom when all you get is increased granularity? See for yourself. The clock tower images were photographed once on no zoom, once half way up the slide, and then on full zoom.
The Aino promises wireless control of your PS3's user interface as well as most of the applications centred around the console's Xross Media Bar (XMB); such as messaging your friends, browsing the Internet and accessing your music and photos – basically using all the media related functions of the PS3 through your phone.
Yet, upon release of the Sony Ericsson Aino, the phone was blighted by reports of touchscreen issues and, for those who had tried it, the Remote Play feature was found to be wanting in just about every respect. Our out-of-the-box experience was an okay touchscreen, but Remote Play was painful.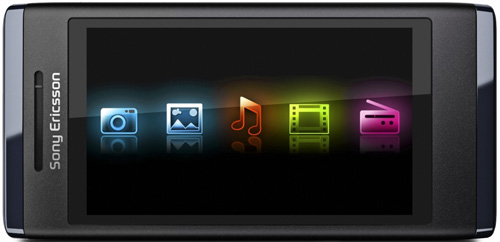 A limited media menu is easily accessed from the touchscreen
Connecting to the PS3 is fairly straightforward using the Aino's Wi-Fi connectivity, but it can present unexpected behaviour. This is a nice way of saying it stops working – for an unpredictable period of time. It's quite frustrating, especially if you are sitting in the same room as the PS3 and the controller is within easy reach.
Navigating the user interface is relatively smooth and problem-free, but can seem less impressive the more you start to explore the features of the PS3. For instance, the BBC iPlayer works fine from the PS3, but when accessed with Remote Play on the Aino, the picture freezes, and nothing happens. Freezing issues also occurred with music and video playback and the reliability of its Wi-Fi connection would change from day-to-day.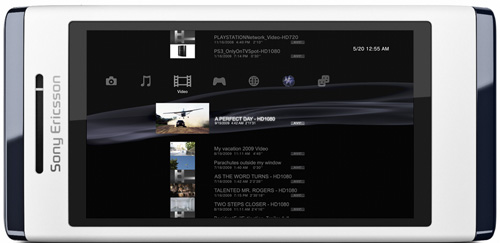 The PS3's Xross Media Bar interface handles console navigation on Remote Play
Get the idea? Thankfully, Sony Ericsson recently released an update for the Aino to improve the Wi-Fi connectivity and other performance issues. A problem for some is that you'll need a Windows PC to instal it. Despite being poised to give the Aino's Remote Play features a kicking, Sony Ericsson appears to have redeemed itself, once we explored the post-update experience.
Initially, the updated Aino refused to connect to our wireless router saying, 'Out of range, try again', Curious. This router gave us no problems at all prior to the update. On/off/on failed with both phone and router, so we made sure the Aino's battery was fully charged and then took battery out of the phone for a while before replacing it and trying again. Success.
Within the first few minutes of testing Remote Play after the update, we were finally struck by the entertainment value that the Aino promised. Non-DRM video content saved on the PS3's HD was running smoothly during tests of all supported file types. Fast-forward and rewind worked perfectly and it was generally an enjoyable experience. The exception is the BBC iPlayer, which still refused to work for us, despite it trying harder and getting closer in the process to actually playing a video or radio station; what a shame.
The Aino has the capability to purchase and download films from the Playstation Store. Unfortunately, the Aino prohibits DRM video file playback. So, although you can purchase and download video for the PS3 from your Aino, you wont be able to watch it from the phone. However, if you have a PlayTV tuner for your PS3 you can view these recordings, although they are slightly more pixellated than other video content. Also, sound/picture sync could occasionally drift by half a second, but the Aino would quickly rectify this.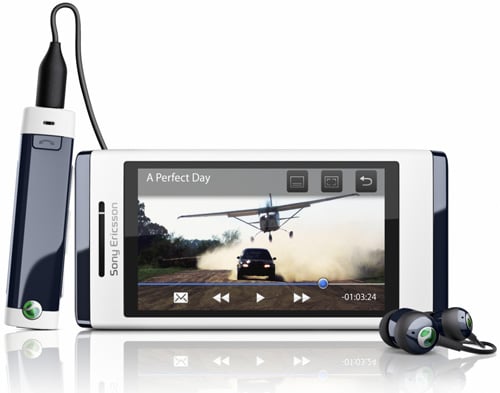 Non-DRM movies and even live TV can be viewed using Remote Play
Setting up the Play TV Tuner to record using Remote Play is easy, but does require some dexterity. Accidentally press too many buttons or the wrong one and you may have to wait for up to 20 seconds before Remote Play control is re-established. Although this side-effect of using Remote Play is frustrating, we noticed that unexplained waiting time is much less of a problem, since the update.
Thanks to the fixes, getting familiar with Remote Play's navigation and transport functions is now the most irritating aspect. The PS3 controller has quite a few buttons and discovering the corresponding buttons on the Aino takes some learning. One tip, if you're having to wait for long periods whilst the Aino sorts its life out, try pressing 0 twice, as this translates to the circle on the PS3 controller. It can quite often cancel the 'freeze', so you can resume doing something that actually works.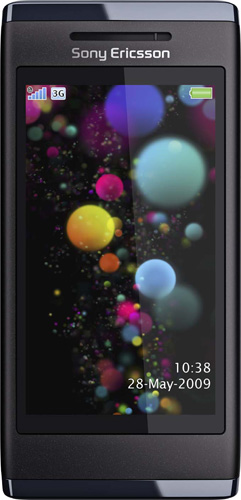 Room for improvement – and don't forget the update
As a mobile, we can't fault call quality, which was excellent, and battery life is good. Sony Ericsson quotes 8hrs 30mins of talk on GSM, 300hrs on standby. We easily managed two days between charging, though heavy users of Wi-Fi and GPS or music/movie fans might find daily power boosts a must. Yet for such a complex phone it is appalling that Sony Ericsson delivers a slim folded paper manual and doesn't bother to provide PC Suite or Media Go. These could so easily have been on the 8GB micro SD card, as could a full manual.
Verdict
We entirely see the point of a user interface offering quick access to media features, but surely this could have been coupled with full touchscreen access for all remaining features. Being neither fully touch nor fully non-touch is just irritating. The Aino is a good idea in theory, with enormous appeal to PS3 owners but, overall, the execution leaves a fair bit to be desired. ®
More Slider Phone Reviews...

Motorola
Milestone

Nokia
N86 8MP

Palm
Pre

LG GD900
Crystal