Original URL: http://www.theregister.co.uk/2010/01/13/review_storage_seagate_barracuda_xt/
Seagate Barracuda XT 2TB Sata 3.0 HDD
The first hard drive with the new bus standard
Posted in Personal Tech, 13th January 2010 08:02 GMT
Review The Seagate Barracuda XT is the latest 2TB hard drive to land on our test bench, following on from the WD Caviar Black and Green and the Hitachi Ultrastar. It's the largest capacity Seagate we have seen since the 1.5TB Barracuda 7200.11 so you may think that Seagate was as keen as mustard to scatter review samples to the waiting world.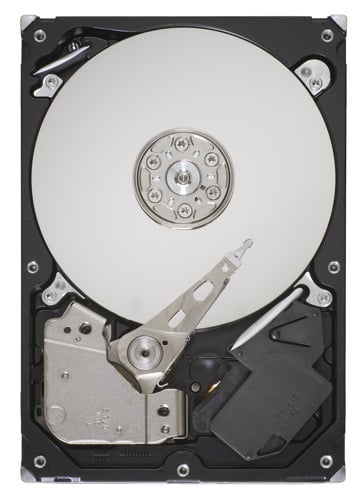 Seagate's Barracuda XT: Sata 3.0 supported
In fact, our Barracuda XT came from an unusual source. It was sent to us by Gigabyte, the manufacturer of motherboards and graphics cards. The explanation for this unusual state of affairs is that the Barracuda XT is the first hard drive that supports 6Gb/s Sata 3.0.
Sata initially had a nominal bandwidth of 1.5Gb/s which was increased to 3.0Gb/s with Sata 2.0. Now we have Sata 3.0 and a further doubling of bandwidth. There's potential for confusion as Sata encodes eight bits of data as a ten-bit symbol so the 'true' bandwidths for those SATA standards are 150MB/s, 300MB/s and 600MB/s, respectively.
Naturally enough, you need a suitable controller to support the new Sata standard and this is where Gigabyte enters the equation. There is no system-logic chipset at present that natively supports Sata 3.0 and we don't expect to see native support until 2011. In the meantime, we have to rely on motherboards from the likes of Gigabyte that have been updated with a discrete Sata 3.0 controller.
The Gigabyte P55A-UD6 incorporates a Marvell 9128 Sata 3.0 chip, along with an NEC USB 3.0 SuperSpeed controller to deliver the features that will be coming our way in 2010. The P55A-UD6 is an impressive piece of hardware that packs in stacks of features such as 24-phase power for the LGA1156 CPU socket, all of which goes some way towards explaining the whopping £205 price tag.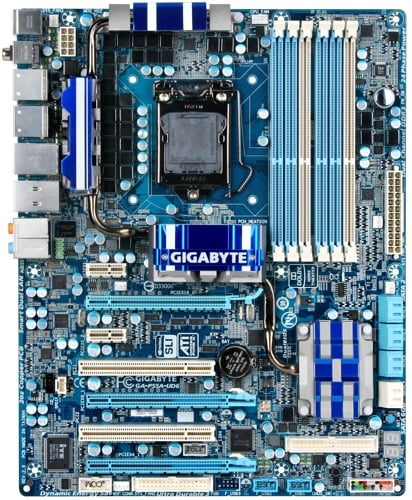 Gigabyte's P55A-UD6: Marvell Sata 3.0 controller on board
With a 2.93GHz Core i7-940 plugged in the P55A-UD6 and Windows 7 installed on an Intel SSD we took a closer look at the Seagate Barracuda XT.
It's a four-platter model with eight heads, a spin speed of 7200rpm and 64MB cache, just like the WD Caviar Black. The acoustic figures of 28dBA (idle) and 32dBA (typical) are higher than the WD and effectively identical to the Hitachi Ultrastar's numbers, which means it's a touch too noisy for our taste.
The Barracuda XT range consists solely of this 2TB model so there are no variations that use fewer platters to create a lower capacity drive, so if you want a Barracuda XT you'll pay a princely £225-245 for the full 2TB.
We tested the Barracuda XT using a native Sata 2.0 port on the P55 chipset and found that the performance was less impressive than we might have hoped. Although the Seagate shares a number of technical features with the WD Caviar Black, it was unable to match it in CrystalDiskMark or, more importantly, in Iometer.
HDTach Readouts
Sata 2.0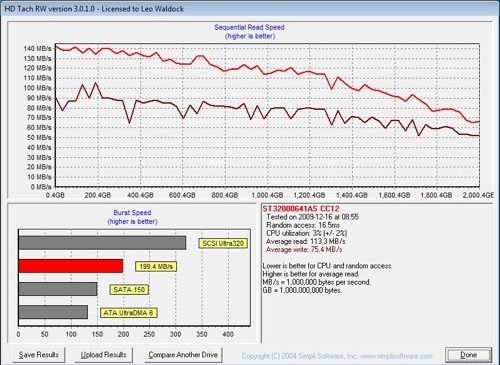 Sata 3.0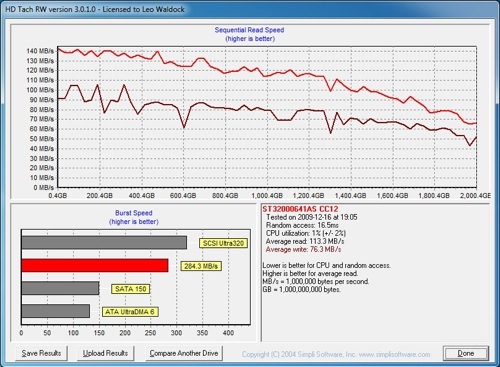 Not to worry, the Sata 2.0 tests were merely the hors d'œuvres before the Sata 3.0 meat and veg. We moved the Sata cable to the Marvell controller and found it made a noticeable difference in just one regard. In HD Tach 3, the burst speed figure jumped from 199.4MB/s to 284.3MB/s, which answered our concerns that the new interface was working correctly.
The problem, in case you haven't guessed, is that a hard drive doesn't saturate the bandwidth of Sata 2.0 so Sata 3.0 doesn't have much scope to show its inherent advantage.
File Transfer Test
2GB of Music Files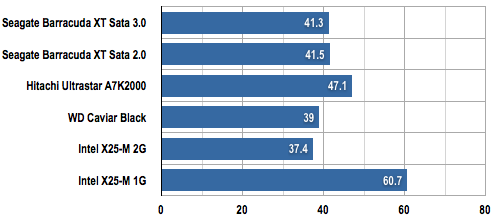 Time in Seconds (s)
Shorter bars are better
HDTach Results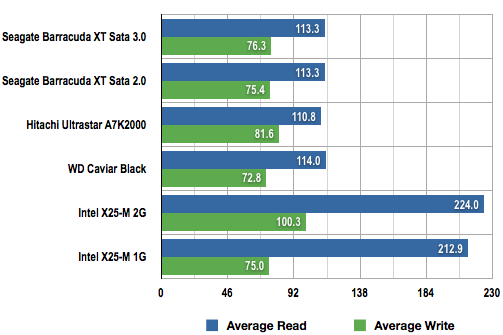 Bandwidth in Megabytes per Second (MB/s)
Longer bars are better
CrystalDiskMark Results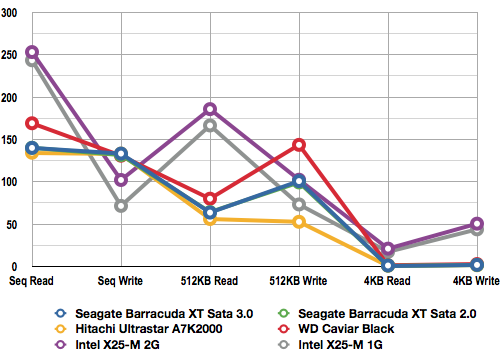 Bandwidth in Megabytes per Second (MB/s)
Longer bars are better
There's an irony that we have to resort to using the HD Tach burst speed results as this is a figure that we stopped using in our reviews of SSD drives. The fastest SSDs have a burst speed of 250MB/s. The slower 128GB Kingston SSDNow V has a burst speed of a mere 125MB/s yet it is no slouch. We have previously concluded that burst speed gives little indication about the ultimate performance of a drive yet this is exactly where Sata 3.0 has an effect with the Barracuda XT.
Iometer Results
With SSD Data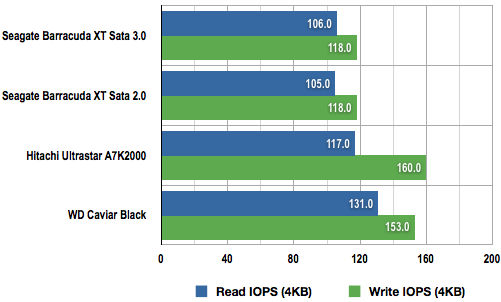 Without SSD Data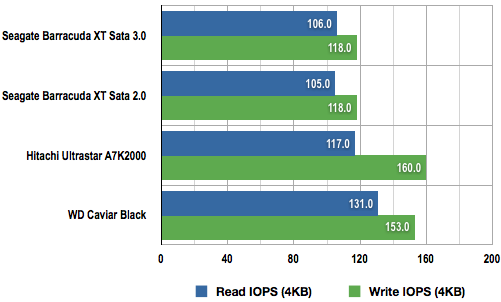 I/O Operations per Second
Longer bars are better
Strip out the 6Gb/s feature and the underlying performance of the Barracuda XT puts it head-to-head with the Hitachi Ultrastar. This makes the Seagate look rather expensive and relatively unattractive.
But if a 7200rpm hard drive seems to be incapable of stretching Sata 2.0 to the limit, SSD is a different story and we are keen to see the first solid-state drive with a Sata 3.0 interface.
Verdict
Seagate's Barracuda XT may be the first hard drive to use the new 6Gb/s Sata 3.0 interface, but the new technology doesn't deliver any obvious benefit. Two terabytes of storage is welcome, but Seagate is charging a very high price. There are cheaper - and more quiet - drives out there. ®
More HDD Reviews...

Toshiba
MK6465GSX

Hitachi
Ultrastar
A7K2000

WD Caviar
Black

WD Caviar
Green