Original URL: http://www.theregister.co.uk/2010/01/12/review_netbook_nokia_booklet_3g/
Nokia Booklet 3G
Mobile maker's netbook debut
Posted in Personal Tech, 12th January 2010 13:02 GMT
Review Given its unparalleled success in the mobile phone market, it was only a matter of time before Nokia tried its hand at creating a laptop. The Finnish manufacturer isn't keen on its Booklet 3G being called a netbook, though. Instead, 'mini laptop' is the preferred term. But with features such as 10.1in screen and Intel Atom processor, it sure looks like a netbook to us.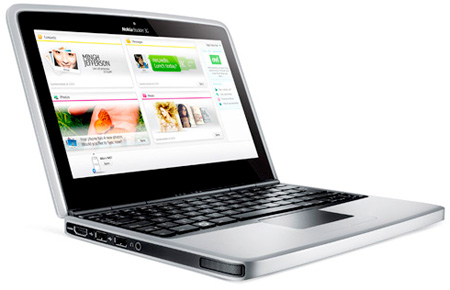 Nokia's Booklet 3G: it's a mini laptop, got it?
A common complaint with netbooks (not least from Reg readers) is that prices have crept up and up ever since Asus started the whole thing off back in 2007 with its £220 Eee PC 701. Given the Booklet 3G's price tag is nearly three times this figure, we're fairly confident a large proportion of you will instantly dismiss it. Before we deliver our judgment, though, we'll take a closer look at exactly what that £649 gets you.
At 264 x 185 x 19.9mm and weighing 1.25kg, it's on a par with other 10in netbooks in terms of portability. And were it not for the Nokia logo on the glossy lid (it's available in black, ice and azure flavours), you'd be forgiven for thinking this netbook had crept out of Apple's labs. Indeed, with its aluminium chassis and minimalistic design, it has a certain mini-MacBook feel to it.
The display is attached to the main body via a pair of well-made hinges, although our review sample did have a slight creak to it when the lid was opened. You won't find any creaking elsewhere. Make no mistake: this is one sturdily designed netbook that puts the current crop of plastic-clad models to shame.
Flip the Booklet 3G on its belly and the less-is-more approach continues. With no screws in sight, the aluminium base is marred only by four rubber footrests and a pair of catches for the battery. Despite being a 16-cell, 3840mAh monster, the battery doesn't jut out from the rear. Instead, it fits snugly into the confines of the chassis.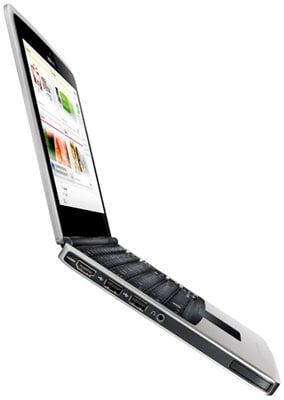 Dimensions are in line with rival 10in netbooks
On the left of the netbook sits an HDMI output along with a pair of USB ports and a headphone socket, while a further USB port is located on the right side. The right is also home to the power connector and a flap that hides both the SD and SIM card slots. A small, recessed power button is here too, which, when feeling for it along the edge, can be difficult to locate and fiddly to operate.
There's no LAN port, but in terms of wireless connectivity the Booklet 3G isn't left wanting – 802.11n WiFi, Bluetooth and 3G (including HSDPA) are all supported. Nokia supplied our review sample with a Vodafone Sim, which provided decent throughput when out and about. Of course, the speeds you achieve will depend on your network, signal strength and contention. The 3G module is also data only, so voice calls are a no-no.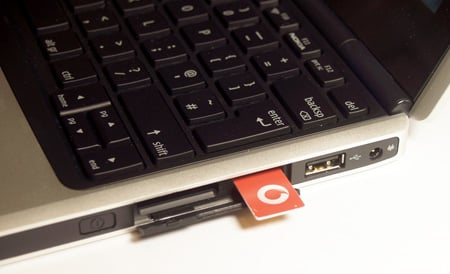 Mobile broadband at the ready
GPS is also bundled into the package, and Nokia pre-installs its Ovi Maps application to make use of it. It also features A-GPS, so when you've an active mobile broadband connection it will make a decent fist of pin-pointing your location without the need for a clear view of the sky.
The 10.1in display has a higher-than-average resolution of 1280 x 720. Colours are given a boost thanks to the glossy coating, but we were a little disappointed to notice a slight mottled effect to the screen – the kind we'd usually expect to see on touch-sensitive displays. It's most noticeable on images with white backgrounds, with sharpness taking a hit as a result. Sat between the display's hinges is a small black bar with a series of blue LEDs that indicate the status of features such as WiFi and 3G.
The keen-eyed amongst you will notice the lack of air vents on the Booklet 3G. The reason for this is that there isn't a single fan housed within the chassis, making the netbook whisper quiet – the only noise you'll hear is that of the hard drive ticking away. And thanks to the aluminium chassis acting like a giant heat sink, it doesn't get noticeably hot even when under duress.
Nokia's gone for a chiclet-style keyboard and, in general, has done a very good job with the design. As with all netbooks, compromises have been made in order to fit everything in, but disruptions are kept to a minimum. The small arrow keys can be a bit fiddly as they all on a single row and the Enter key has been slimmed down, but otherwise it's extremely usable. As far as key placement goes, the only oddity is the Function key, which sits where most people would expect to find the Control key.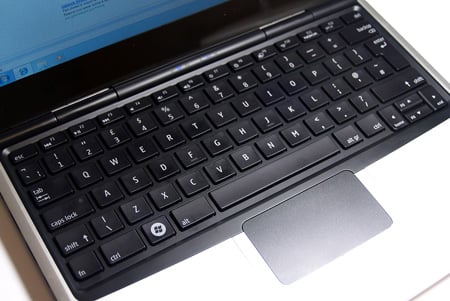 Watch out for that sliver of an Enter key
The keyboard also scores highly in terms of comfort. Each key has a decent amount of travel and they're not crammed in too close together. There's also very little flexing to the keyboard. Yet, when using the bottom row of keys you may find your fingers hit the ridge that separates the keyboard from the wrist rest – Nokia would have done well to smooth this out. The trackpad is responsive and supports multi-touch gestures. It also benefits from a pair of large buttons beneath it, but they could do with just a little more travel to them.
So how does the Booklet 3G perform? Well, like all netbooks it has fairly limited resources. The Atom Z530 CPU runs at 1.6GHz and has just 1GB of DDR2 memory, with an Intel GMA 500 graphics chip. During testing, we found the pre-installed Windows 7 Starter edition to be a little sluggish, especially when attempting to multi-task. It's also worth noting that Windows 7 Starter lacks luxuries such as Windows Media Center and Microsoft's fancy Aero interface.
Benchmark Tests
PCMark05 Results
CPU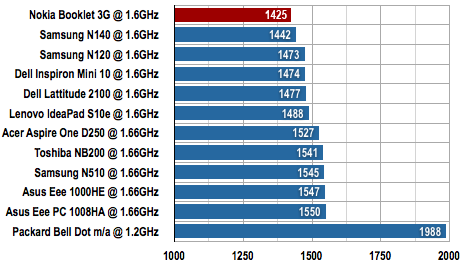 Longer bars are better
Memory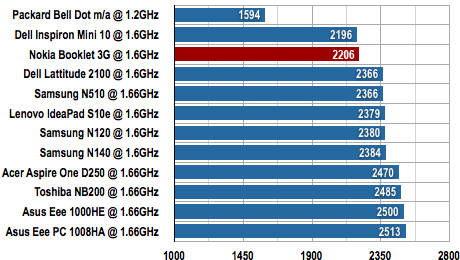 Longer bars are better
HDD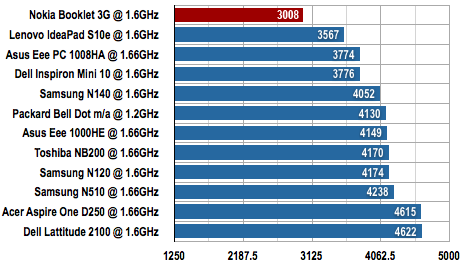 Longer bars are better
Battery Life Results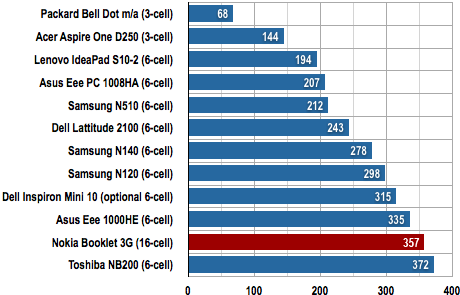 Battery life in Minutes
Longer bars are better
In PCMark05, its CPU score of 1425 is a lower than the majority of N270- and N280-powered netbooks, but only by a little. The HDD score of 3008, however, was way behind the pack – closer inspection reveals this is due to the 120GB drive having a relatively slow speed of 4,200rpm compared to the netbook-norm of 5,400rpm.
A slower hard drive helps out with battery life, though, and the Booklet 3G has no problem taking long excursions away from the mains. Running our standard PCMark05 loop test with WiFi on and brightness at full whack, it whizzed along for just under six hours. Take things a little easier, and you can expect eight or even nine hours out of it. Nokia reckons 12 hours is possible, but you'd have to be barely using it to get anywhere near this figure.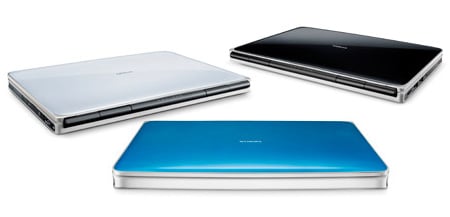 Black, ice or azure – the choice is yours
Its excellent design, long battery life, 3G and GPS are all big plus points for the Booklet 3G, but there's no getting away from that colossal price tag. Nokia's clearly hoping it will soon be available at a subsidised rate from one or more of the UK's mobile operators, but you'll most likely still have to shell out a fair wedge of cash, as well as sign up to an expensive monthly contract.
Verdict
Nokia won't be best pleased that not a single UK mobile operator has taken up the Booklet 3G at launch, leaving it with something of an unpalatable price tag. It might be marketed as a mini laptop but, to all intents and purposes, it's a netbook, and it was the affordable nature of netbooks that made them such an instant hit. If money's no object the Booklet 3G well worth considering but, compared to the competition, it's just too darn expensive. ®
More Netbook Reviews...

Samsung
N140

Lenovo
IdeaPad
S10-2

Fujitsu
M2010

Dell
Latitude
2100