Original URL: https://www.theregister.co.uk/2010/01/12/honda_crz/
Honda beats rivals to hybrid coupé launch
Take that, Peugeot and VW
Posted in Science, 12th January 2010 15:51 GMT
Leccy Tech Peugeot and Volkswagen each demoed concept hybrid coupés recently, but Honda has trumped both with a soon-to-launch model of its own.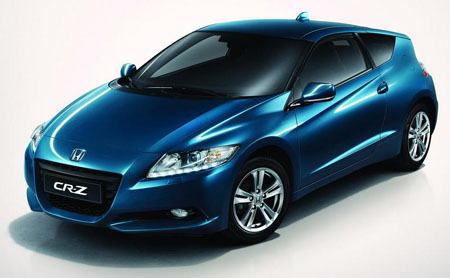 Honda's hybrid CR-Z coupé: will arrive in Blighty this summer
First seen last year and formally unveiled at the ongoing Detroit Motor Show, Honda's CR-Z - it stands for Compact Renaissance Zero, in case you were wondering - is essentially a sporty two-door version of the firm's Insight five-door hatchback - reviewed by Register Hardware last year.
The CR-Z draws its power from a 1.5l i-Vtec four-cylinder petrol engine – a slight improvement on the 1.3l fitted to the Insight – but has been combined with the same and rather puny 13.8bhp (10.3kW) electric motor.
Honda's Integrated Motor Assist hybrid arrangement joins the two motors together, which means no low-speed leccy-only motoring. Travelling at full speed - a CR-Z performance figure Honda has yet to release — the arrangement produces 122bhp and 128lb/ft of torque, figures that do not lend themselves to a scorching performance.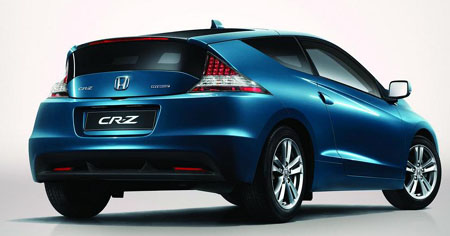 Honda's keeping mum about performance figures
The only other CR-Z performance figures Honda has been willing to release are the car's average fuel consumption and CO2 emissions: 56.4mpg and 117g/km, respectively. Both lead us to conclude that the CR-Z's 0-60mph speed will be pretty similar to the Insight's leisurely 12.5 seconds.
On the upside, rather than stick with the Insight's automatic gearbox, Honda has fitted the CR-Z with a six speed manual – a first for a hybrid, according to the firm.
A UK summer 2010 release date has been inked in for the CR-Z, though pricing hasn't been revealed. ®