Original URL: https://www.theregister.co.uk/2010/01/12/acer_arrandale_laptops/
Acer announces 'Arrandale' laptops
3D-ready model included
Posted in The Channel, 12th January 2010 12:27 GMT
Acer has introduced a pair of new notebooks each equipped with an array of Intel Core i3, i5 and i7 processor options and the new HM55 chipset.
The two machines are the Aspire 5740, a 15.6in model, and its 17.3in sibling, the 7740. The 5740 and 7740 use the Intel GMA graphics built into the various processors they come with. That said, Acer is also offering a variant, the 7740G, which relies on discreet GPUs from AMD: the Mobility Radeon HD 5650 or Mobility Radeon HD 5470, depending on model.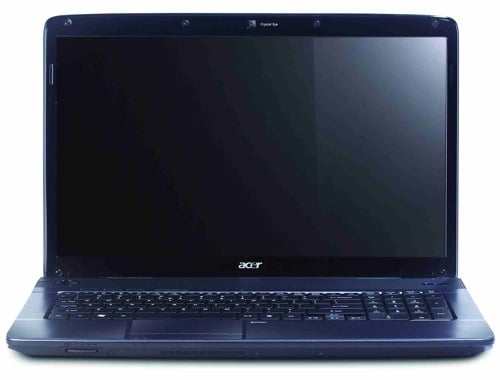 Acer's Aspire 5740: graphics built into the CPU
The 7740's display is a 1600 x 900 glossy job, while the 5740 makes do with a 1366 x 768 panel.
However, the latter's display is compatible with TriDef's 3D software, capable of converting a raft of images, videos and games into stereoscopic 3D. You'll need glasses to view 3D material, of course, which Acer acknowledged but didn't confirm whether a pair comes bundled or not. Check before you buy, if you're keen on using this feature.
The 5740 kicks off with 2GB of 1066MHz DDR 3 memory but can be expanded to 8GB, as can the 7740, though it comes pre-installed with 4GB. Each machine will be offered with a range of hard drive capacities, and both have Blu-ray Disc optical drive options.
802.11n Wi-Fi and Gigabit Ethernet complete the notebooks' networking options, and each brings a stack of ports, including HDMI, but no DisplayPort, eSata or USB 3.0, alas.
As ever with Acer, don't necessarily expect to see all the possible variations of 5740 and 7740 on sale in the UK. There's no word yet on pricing. ®