Original URL: https://www.theregister.co.uk/2010/01/11/review_phone_samsung_omnia_ii/
Samsung Omnia II
Dazzling display?
Posted in Personal Tech, 11th January 2010 13:02 GMT
Review Samsung's original Omnia created a bit of a stir amid its accompanying hype when it first appeared a year or so ago. While the general consensus was that it was clever and different, it didn't quite have the X-factor to take on the very best of the touch screen smartphone brigade, which still has the iPhone as its enduring Joe McElderry.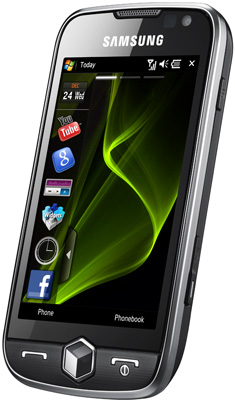 Great view: Samsung's Omnia II
Undaunted, Samsung has pushed ahead with the Omnia II, which has an improved screen, Windows Mobile 6.5 and a host of other new features. The screen size has been bumped by a full half inch to 3.7in, which takes it just over the iPhone mark, though you'd be hard pressed to tell without a ruler. More importantly though, the original Omnia's LCD has been replaced with brighter, more efficient OLED technology.
Beneath the screen are call start and stop buttons flanking a hexagonal button which takes you to the configurable menu, which you can view as a list of icons or as the Samsung TouchWiz UI's spinning cube. A long press also opens the task manager. Around the sides are a volume rocker, plus screen lock, return and camera shutter buttons. The micro USB power/sync slot and 3.5mm headphone jack are on top.
It's fairly lightweight for its size at 130g and measuring 118x16x12mm, though this is partly due to the rather cheap-feeling glossy black plastic casing. Not everyone will mind this, but it doesn't really feel like the heavy duty bit of kit that its spec sheet suggests. Despite the impressive visuals of the screen though, it's resistive, rather than capacitive, which is increasingly looking like an opportunity missed with higher end smartphones.
Happily, it's far from the worst we've seen, and while it certainly isn't as sensitive as the capacitive screen on, oh let's see, the iPhone, it does a reasonable job of distinguishing between taps and presses, though we occasionally found we had to make a few double taps to make our presence felt.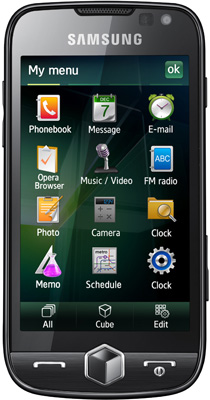 The Touchwiz UI enhances the WinMo 6.5 OS
The marriage of Windows Mobile 6.5 with Samsung's own TouchWiz user interface is well implemented with the two complementing each other, much in the way HTC successfully integrated the two with its TouchPro.
There are three home screens, each of which can be customised with a different background pic and you can populate each with the widgets from the bar on the left. Only one per screen though and – as with other TouchWiz phones – there isn't an icon for every app, though you can add any apps to the main menu.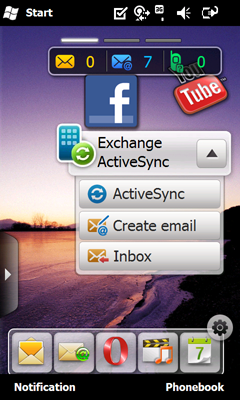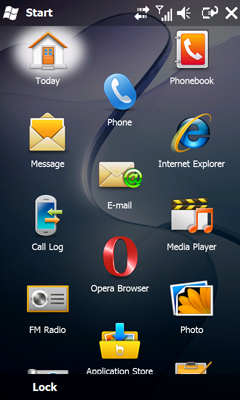 Home screen and main menu
Nice to see a Facebook app preloaded, though the Youtube widget turned out to simply provide a shortcut to the website, which seemed like a bit of a cheat compared to the mobile-optimised Youtube apps we've seen on Windows Mobile phones from HTC, for instance.
Slightly worryingly, it comes with one of those awkward strap-on styli, which are neither fish nor fowl. Fortunately, we never felt the need to use it, since all menu options appeared to be easily accessible with the finger. Indeed, it just goes to show how much the Windows Mobile operating system has come on since its predecessors.
The Omnia II features an 800MHz processor and for the most part it seemed to be a reasonably speedy phone, although it would lag occasionally when opening apps if we already had a few on the go. The keyboard's easily accessed by pressing the call start button and has nice, big thumb-friendly buttons. Call quality was perfectly fine, with the speaker offering a well-rounded tone to voice calls.
Configuring e-mail accounts was easy, with most requiring just an address and password. There's support for MS Exchange too, which will make it handy for many business networks. The onscreen Qwerty keyboard is nicely spaced, but suffered a bit from the screen's lack of sensitivity at the edges, and we regularly had difficulty hitting the right keys first time.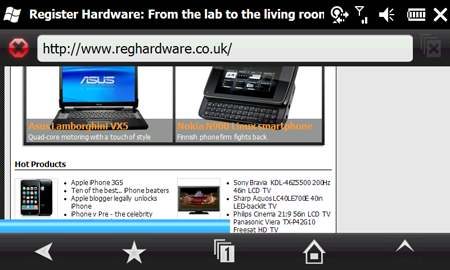 The default browser is Opera, with IE on-board too
For Internet browsing there's Opera as the default and Internet Explorer on board, plus HSDPA 3G and Wi-Fi (easy to set up) for fast access, and the accelerometer flips the screen into landscape mode when you turn it on its side. There are lots of options to help speed up browsing – such as blocking pop-ups and managing cache size – and support for Flash video, which is always welcome. There's also word search and while there's no multi-touch pinch-to-zoom option, you can double tap or hold the screen to access zoom functions.
The Omnia II has the same 5Mp camera as its predecessor, which means it's actually pretty good. With a maximum resolution of 2560 x 1920 pixels, it loads in around three seconds, snapping quickly too, in under two seconds, which isn't bad at all considering it's has autofocus too. It has a dual LCD flash and there are also macro and face and smile detection options, six-pic multishot, as well as a range of scene modes including a user-friendly panorama option that automatically snaps eight pics as you move.
Sample Shots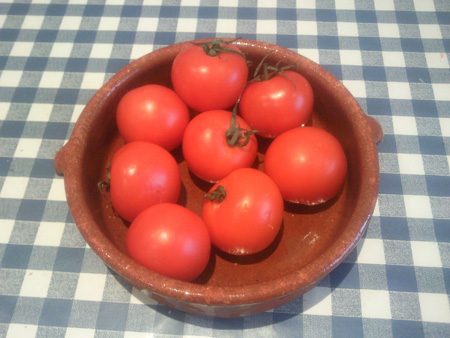 Click for a full-resolution image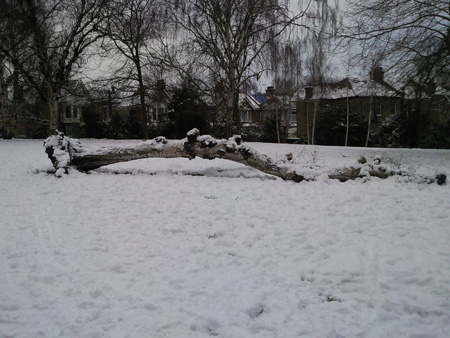 Click for a full-resolution image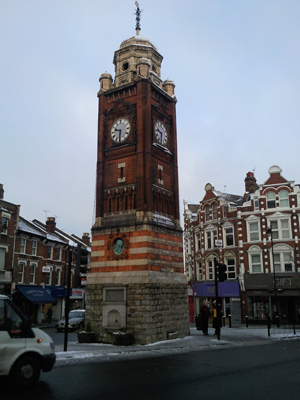 Click for a full-resolution image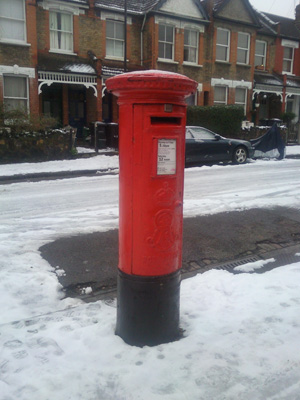 Click for a full-resolution image

Click for a full-resolution image
Photo quality is among the better camphones we've seen with this sort of spec, which means it's not without problems, such as slightly faded colours and an occasional tendency towards lens flare issues, but edges are generally sharp, and there isn't much in the way of purple fringing. You can upload pics directly to your blog and there's geo-tagging too thanks to the onboard GPS.
Watching video is a joy, with its bright, sharp rendering of a good variety of movie formats, including MPEG4, WMV, H.263, H.264, DivX and XviD. There are a couple of audio playback options for video too, including 'Wow HD', though this just seemed to make the sound a little louder.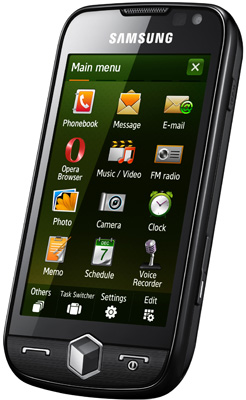 A few rough edges, but pretty good overall
For music it will play MP3, AAC, AAC+ and WMA files, which covers the basics, and the sound quality with the supplied headphones isn't bad at all. It's also easy to upgrade using the 3.5mm headphone jack or A2DP Bluetooth. Usefully, the headphone lead includes an adaptor so you can still have inline control of your phone while you're listening and there's an FM radio with automatic scanning and room for half a dozen preset channels.
There's also Connected Home, an option that allows you to stream audio or video from other devices on your home network. It sounds like a great idea in theory, but we couldn't get it to work on our system. There are a couple of apps options on board, with Windows Marketplace and Samsung's own Application Store, which features a couple of hundred apps, many of them free, yet around a third of them are games. Office Mobile comes as standard too, allowing you to create and edit Word and Excel files, as well as view PowerPoint and PDF files.
Battery life proved to be decent rather than spectacular, giving us a good day and a half of fairly heavy use and though we didn't measure it directly against its predecessor, the specs promise an extra couple of hours of talk time.
Verdict
The Omnia II is a jump ahead of its predecessor and very definitely in the Premier League of Windows Mobile devices. Although the Connected Home option needs work, the media playing facilities are all very good with browsing and camera also scoring well. Messaging and social networking are OK, but perhaps not in the very first rank, and if only that gorgeous OLED screen was just a tad more sensitive, we might have been able to love this phone. As it is, we just like it an awful lot. ®
More Windows Mobile Phone Reviews...

LG
GM750

Acer
beTouch E101

Samsung
GT-C6625

HTC
Touch HD2