Original URL: https://www.theregister.co.uk/2010/01/08/review_storage_iocell_netdisk_351une_ndas/
Iocell NetDisk
Fast, secure and versatile, apparently
Posted in Personal Tech, 8th January 2010 08:02 GMT
Review Offered either as a shell or in capacities up to 2TB and designed with small businesses in mind, Iocell Networks utilises Network Direct Attached Storage (NDAS) to pitch its drives above and beyond other comparable single-disk Nas solutions. With claims of ultra-tight security, Raid configurability with multiple drives and blazing fast transfer speeds, can the NetDisk 351UNE really live up to its billing?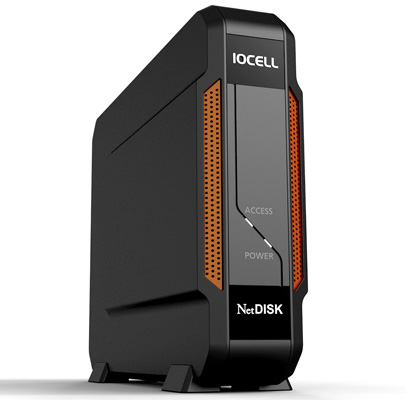 Fast and flexible: Iocell's NetDisk 351UNE
Measuring up at 161.3 x 213.5 x 48mm and weighing in at 567.5g the NetDisk is light, but sturdy. The case features some intriguing orange vents and two simple LEDs, one for power, the other for disk activity. It should be noted that there are no fans or heat sinks, so the device does run warm, but not hot by any means. If that makes you a tad nervous, Iocell does offer a two-year warranty as standard in the UK.
The NetDisk features Ethernet, USB and eSata interfacing. The implementations of USB and eSATA are standard, with the exception in that the drive appears to the host as being internally mounted rather than as a removable disk. This feature Iocell refers to as 'File System Tolerance'. LAN connectivity is another story.
Apparently, security is what the NetDisk is all about. Iocell has implemented a system of hardware unique registration codes, which must be used with the NDAS Device Management software on the host computer in order to access a remote NetDisk on a network. This involves entering a 20-character serial number and a 5-character write key to mount the NetDisk in read/write mode. The registration processes must be completed on each computer requiring access to the drive.
Yet during installation, it appeared that the NetDisk was a bit too secure, as we experienced extreme difficulty accessing the drive. The ensuing frustration eventually led to NetDisk's dissection and the discovery that the hard drive had shifted during transit due to unsecured mounting screws and simply needed re-seating. At this point, the included screwdriver proved very handy indeed.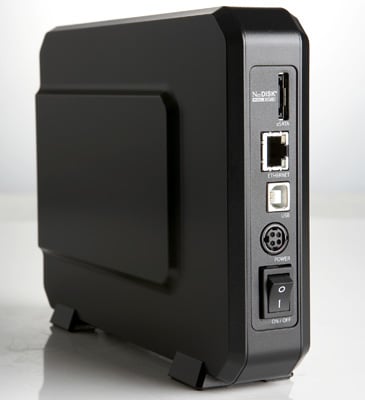 Multiple interfacing options plus drivers for Mac, Windows and Linux
In addition to the registration codes, another security feature is that the NetDisk doesn't require any TCP/IP settings and, according to Iocell, the unit is "invisible and safe from hackers." Given this locked-down approach to security, the NetDisk does not offer remote access beyond the local network.
After security, comes Raid support. Iocell has provisioned for those wishing to build large Raid arrays using lots of individual enclosures by allowing many NetDisks to be configured in Raid 0 and Raid 1 using the included NDAS Bind Management Tool.
In addition to Raid, it is possible to aggregate multiple NetDisks into one spanned disk. Aggregation and Raid 0 support allow up to 8 devices to be used, whilst Raid 1 is limited to mirroring single disks (two NetDisks required). One shortcoming to all of this is that the NetDisk needs to be used vertically and is non-stackable.
So, how fast is the device that the company refers to as "The New Fast?" It's fast. Over eSata, this thing blazes away like there's no tomorrow. Achieving nearly 100MB/s as stated on the box, the NetDisk is fully saturating the internal bus of its single 1TB Western Digital WD10EADS Caviar Green disk.
Ethernet performance is also remarkable, pitting it up there amongst the likes of the considerably more expensive Synology DS409 in terms of read speeds, and far exceeding the DS409 in sustained write performance.
In comparison to the impressive eSata and Ethernet figures, the USB 2.0 data rates almost seem irrelevant. However, with USB it performs well and its presence is undeniably invaluable in a world of compatibility concerns. In use, the unit only draws around 12W tops.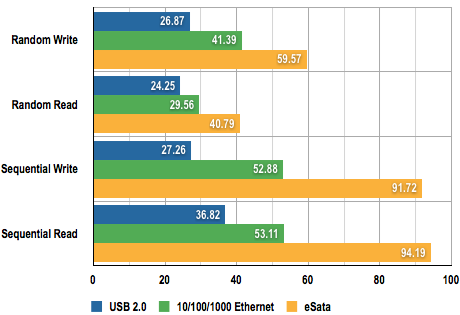 Data transfer rates (MB/sec)
Longer bars are better
It's not surprising that the NetDisk is user-upgradable, seeing as Iocell also markets the empty NetDisk enclosure to those with their own existing disks. Along with the free screwdriver, drive screws are included allowing an easy upgrade in less than two minutes. With only 10 screws to remove for a full drive replacement, the process is simple and straightforward enough even for a novice user. USB, eSata and Ethernet cables are also supplied along with an external PSU.
Fantastic, so it's fast, secure and relatively inexpensive – should you get one to use at home? Well, with specs like this, the NetDisk should be an ideal media storage solution with great streaming speeds and even the ability to take it on the go and use other interfaces. Well, maybe. Sure, you'd be fine with music streaming and some SDTV, but playback of HDTV content is jerky and certainly far from an enjoyable experience. In our opinion, leave the NetDisk at the office; it's not a multimedia solution.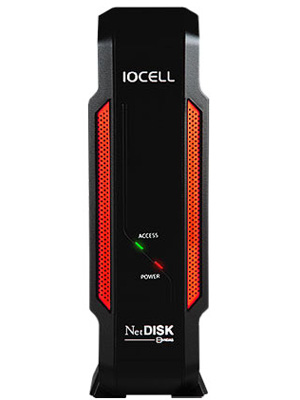 Multiple configuration options allow for a wide range of uses
Also missing from the NetDisk are other features, which come standard with many Nas devices such as web servers, FTP servers and Bittorent clients. Additionally, there is no support for USB peripherals.
The behaviour of an NDAS device may also be something of a "culture shock" to those more used to typical Nas type devices, which involve the use of web-based configuration interfaces. NDAS does away with all this nonsense and mounts the drive directly, along with other local disks. This allows the drive to be configured and utilised in the same manner as any other hard drive in the system, including formatting and partitioning. For some this may be a blessing, but others may struggle without the familiar separation of internal and external disks.
Verdict
If you are looking to securely expand the storage capability of your small business or home office at incredible speed with the option of aggregation or Raid then the NetDisk is the obvious choice, just don't go looking for it to replace your old media streaming Nas box just yet. ®
More Network Storage Reviews

Buffalo
LinkStation Pro

LaCie
d2 Network

Freecom
MediaPlayer II

EZY Technologies
MyXerver MX3600