Original URL: https://www.theregister.co.uk/2010/01/08/ces_plastic_logic_que/
Plastic Logic unveils executive e-book reader
Swish but pricey
Posted in Personal Tech, 8th January 2010 16:57 GMT
CES 2010 We first encountered UK-based Plastic Logic when it demo'd its prototype e-book reader at CES 2009 - you can watch a video demo here. Now the company has launched the product.
Dubbed the Que, it's being pitched as the executive's e-book reader, thanks to a big, clear, "shatterproof" display. At 10.7in, it's bigger than the one in the Samsung E101. The whole Que measures 275 x 212.5 x 7.5mm.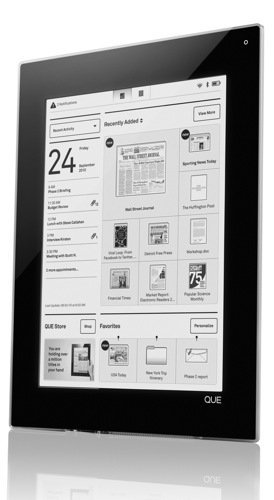 Plastic Logic's Que: impressive but expensive
The screen uses E Ink technology, but is made using PL's own "plastic electronics" printing-style production process.
The Que supports ePub, PDF, Office documents and more, and you can copy files from over from Windows machines, Macs and even BlackBerry smartphones, Plastic Logic said. It has 4GB of Flash storage, though PL will also offer a more capacious, 8GB model too. Wi-Fi and 3G connectivity are part of the package too, though the latter is limited to the 8GB version.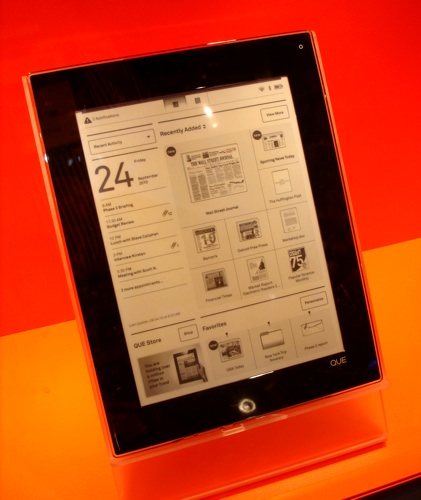 In the flesh
In the States, PL has partnered with Barnes & Noble for books and many of the better known serious newspaper and magazines for periodical content: Wall Street Journal, Barron's and Forbes, for example, and you can expect content of that kind when Que crosses the Pond.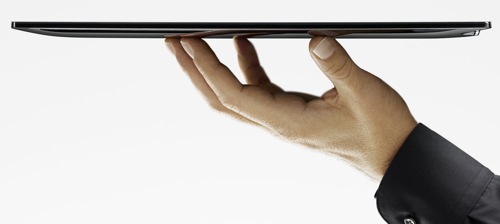 Thin
There's no word yet on UK availability or pricing but, as a guide, the 4GB model will cost $649 (£406) and the 8GB version $799 (£500) when it ships in the US. ®