Original URL: https://www.theregister.co.uk/2010/01/07/volt_smartphone_app/
Volt switches to smartphone maintenance
Remotely charge, but not drive
Posted in Science, 7th January 2010 09:02 GMT
Leccy Tech General Motors (GM) has released a free smartphone application to help Chevrolet Volt owners get the most from the e-car's battery.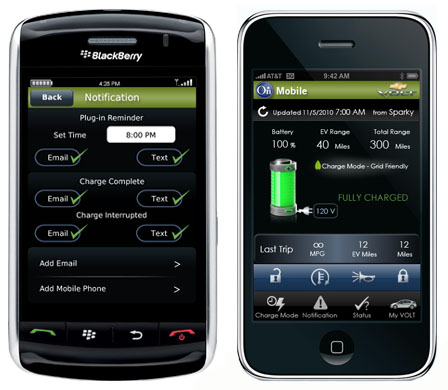 The Volt's smartphone app offers remote battery management features
The OnStar Mobile Experience app is available for the Blackberry Storm, iPhone and Motorola Droid. GM also plans to roll the app out to other Android-based smartphones, provided early users take to it.
Communicating with the Volt over the subscription-based OnStar cellular network, the app can remind you to plug the vehicle in, alert you if it has become unplugged during a charge and even time re-charges with cheap electricity periods.
Smartphone-clad Volt owners can also use the app to 'prep' the lithium-ion battery pack for motoring use - essentially warming it up before on-road use.
Unlock the car and switch on the air-con from your Droid
Such pre-conditioning is apparently rather important if GM is to meet the Volt's 10 year/150,000 mile battery life guarantee.
The application's other more mundane features include switching on the Volt's air-conditioning, locking and unlocking its doors and informing you how many miles the battery has left in its current state of charge.
The OnStar cellular network currently only operates in North America and Canada. Storm and Droid users if those regions can download the app from GM's website, while overseas iPhone owners should find it in the App Store. ®