Original URL: https://www.theregister.co.uk/2010/01/07/review_media_player_popcorn_hour_c200_networked_media_tank/
Popcorn Hour C-200
DIY media centre, anyone?
Posted in Personal Tech, 7th January 2010 08:02 GMT
Review Popcorn Hour made its name with the rather fine, if also rather expensive A100 and A110 media streamers, but now it has cooked up something strange and new that promises to redefine the breed by offering some unique hardware expansion possibilities.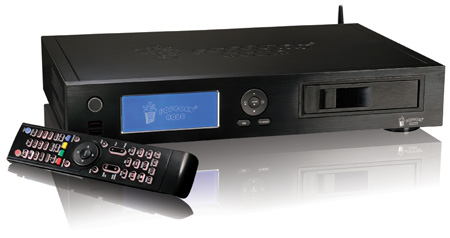 Popcorn Hour's C-200 Networked Media Tank
While most media streamers tend towards the small and dainty, at 425 x 290 x 80mm the C-200 Networked Media Tank is a full-sized lump of a device. Aesthetically, it relates more to the hand-assembled British hi-fi components of the 1990s, rather than the latest generation of painfully sleek and modern TVs or Blu-ray players. In short, it's big, black, bluff and yells 'bloke'. External controls are scarce, further enhancing the retro feel with the front only housing a four way navpad for basic menu navigation, buttons to control the screen brightness and TV signal output, a standby button - the C-200 has a proper on/off switch around the back - and a rather strange looking door about which more below.
The 4.25in display on the front of the C-200 is a pretty dismal 192 x 62 white-on-blue LCD affair which is illegible from much more than a metre away and at any angle above 20 degrees. The only use we could see for it was if you wanted to listen to music and couldn't be bothered turning your TV on to navigate your music library, assuming your AV system is wired up accordingly.
The remote control on the other hand is a lovely thing. It's RF rather than IR, so you can tuck the C-200 out of sight and still use it and its a well made unit with nicely sized, spaced and weighted backlit buttons and oodles of functionality.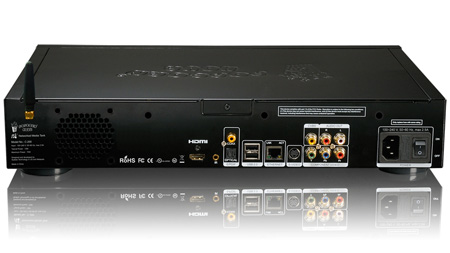 AV connectivity and Ethernet networking with an optional 802.11n Wi-Fi card
The C-200 does well in the connectivity stakes, having five USB ports: one internal, two at the front, two at the back. It also has an HDMI 1.3a socket, component, S and composite video, stereo analog, S/PDIF optical and coaxial digital audio and Gigabit Ethernet. If you want wireless then Popcorn will sell you a 802.11n miniPCI card but, out of the box, you will need to make sure your C-200 is within an Ethernet cable's reach of your router.
There is one problem with the layouts of the USB ports though - they are too close together, especially the ones round the back. Sure you can fit two USB sticks at the same time, but only if they are thin. Plug in a more bulky unit such as the Corsair 32GB we were using and the adjacent slot is partly obscured.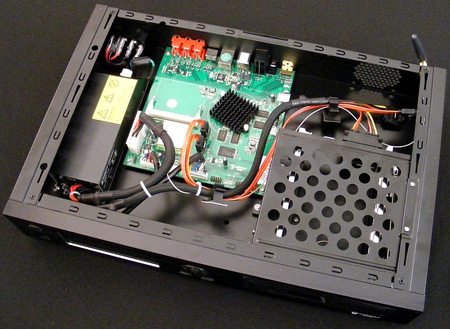 Upgrades are easily performed – the lid comes off by removing a single screw
Open up the box and you will find the connectors for two SATA devices which neatly brings us onto what separates the C-200 from the rest of the media streamer herd - its ability to accept third party Blu-ray disc players and hard drives. Fitting a standard 3.5" PC hard drive is simplicity itself - just open that door on the front of the unit and slip it into the caddy.
To install a PC Blu-ray drive you need to take the top off the box - a one screw job - and remove the caddy. If you want storage and Blu-ray then you can fit a 2.5" lap-top hard drive beneath the disc drive. You can't actually buy a C-200 with an HDD or disc drive pre-installed but the installation is very straightforward and Popcorn maintains a user-supported list of all the drives that do - or don't - work here.
During our test we didn't go as far as fitting a Blu-ray player as any conclusions we drew would have been specific to the type of drive we fitted but the 500GB Samsung SATA disc we slotted in worked a treat and showed up on our network with no problems. When fitted with a hard drive the C-200 can support FTP, SMB and NFS file sharing – plus news groups and a torrent client add-on – turning it into a handy little network drive.
If you don't want to go to the expense of fitting a hard drive you can use the internal USB port for a memory stick of 2GB capacity or more for persistent storage to take advantage of Blu-ray Live content. Just to be clear, once you have fitted your C-200 with a hard drive and disc player you still won't be able to use it to rip discs or record TV. The C-200 is a media player not recorder.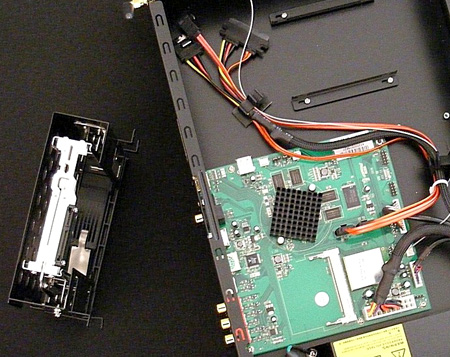 The caddy accommodates both a Blu-ray drive and a 2.5in hard disk
When it comes to streaming media, the C-200 will handle near enough any format known to man and you can find a complete list of all the compatible formats on the Popcorn web site. During two solid days of testing we didn't manage to find a single quoted format type that wasn't supported by the C-200. However, we did encounter the odd problem with some VOB and WMV files that simply would not run despite working perfectly well when played with VLC on a PC. DRM support only extends to Windows Media DRM, but that's better than nothing.
We have absolutely no complaints about the quality of the pictures or sounds that the C-200 generates. HD video looked wonderfully crisp and clear on the 42in plasma we tested the unit with, and we have never seen our SD video library look so good on a telly either.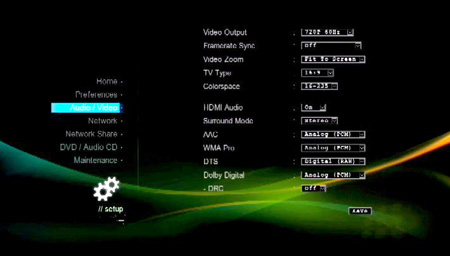 Comprehensive AV set-up options
Depending on how you have your AV system set up the C-200 can decode Dolby Digital and DTS surround sound or if you want to hear DTS-HD and Dolby TrueHD the C-200 will pass this audio au naturel using HDMI. Connect things together with component and the C-200 can also down-mix HD audio tracks to stereo without any problems.
The C-200's UI is pretty straightforward, not to say downright basic. The central menu screen provides access to media present on the USB port, your network and the Blu-ray or HDD, if fitted. Two further icons allow you to access the settings menu and web services. Since the C-200 supports Flash, the latter includes a YouTube client as well as ShoutCAST Internet radio and photographic applications such as Flickr and Photobucket. We wouldn't be at all surprised if a future firmware update emerges with a web browser of some sort.
If you instal Popcorn's recommended myiHome UPnP server software, the UI will present you with image thumbnails and an optional, but rather half-baked, iTunes interface. Stick with Windows Media Server and you have to put up with plain old folder icons and a tendency to ignore some file formats. If you really can't live with the basic UI, new ones can be dowloaded from Popcorn's network media tank wiki.
Menu navigation is both slick and fast, benefiting from the system being driven by a 667MHz Sigma CPU with 512MB Ram. We were a little disappointed by the video fast-forward and re-wind facility though. To start with the maximum speed is limited to x16 rather than the Hisense's x32 but, more to the point, the x8 and x16 selections often don't actually give you anything like those speeds and some video files flat refused to FF or RWD at all. Fortunately, the system can multi-task, so you can listen to music and run a slide show at the same time.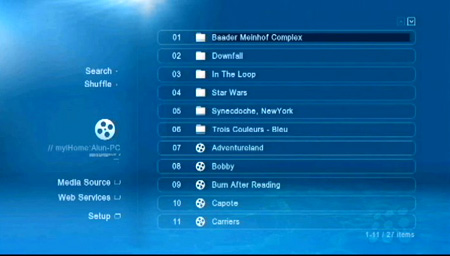 Media listings are more functional than fancy
Like previous Popcorn products the C-200's firmware does have the slight whiff of work in progress. Once in a while we would get the odd bit of stutter when streaming large hi-def MKV files, but this would then stop as mysteriously as it had started. Also, if the device was left alone for an hour or so after finishing playback, it would sometimes suffer a mild nervous breakdown when we came back to it and refuse to allow access to the main menu.
A quick visit to the on/off switch always rectified matters but this does explain why the relevant forums are busy with debate about Popcorn firmware issues. Happily firmware revisions come thick and fast from Popcorn – they have appeared every month since the C-200 was first released in the US in September – so issues are likely to be addressed sooner rather than later.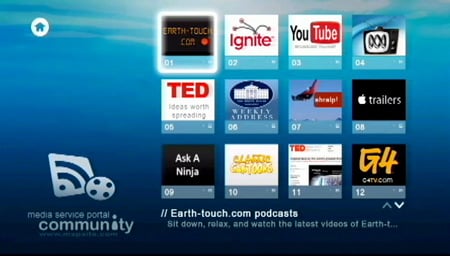 On-line content is easily accessed
Whether or not the C-200 represents value for money depends on which side of the Atlantic you live on. In the US the basic unit costs $299 (£187) but adding the RF remote control and wireless card ups that figure to $361 (£225). Popcorn will ship the C-200 to Blighty for $50 but you will still have to pay the relevant VAT and import duty which will get you pretty close to the UK price which is currently in the region of £310 including the remote, but not the wireless card.
If buy your C-200 in the UK and then cough up for a Blu-ray drive and high capacity 2.5in HDD, you will be looking at a total spend in the region of £450 and that's a lot when you consider that a decent Blu-ray player, such as LG's BD390, will set you back less than £250 and a Hisense 1080p can be picked up for under £60. If you want the external storage facility, then a fully fledged NAS box like EZY Technologies' MyXerver MX3600 will cost less than £150 with 1TB of storage. Go figure.
Verdict
The C-200 is a powerful, competent if sometimes temperamental media streamer with plenty of expansion opportunities and if it came fully loaded with a wireless card, Blu-ray drive and a 250GB hard drive for around £350 we'd say it was a sure-fire winner. As it stands, it's just too darned expensive in the UK and many will baulk at buying a device with firmware that will always feel like a work-in-progress. ®
Thanks to AdvancedMP3Players for the loan of our review unit.
More Network Media Player Reviews...

Western Digital
WD TV Live

LaCie LaCinema
Black MAX

Freecom
MediaPlayer II

Wyplay
Wyplayer