Original URL: https://www.theregister.co.uk/2010/01/06/review_hd_sony_bdp_s760_blu_ray_player/
Sony BDP-S760 Blu-ray disc player
Best in class?
Posted in Personal Tech, 6th January 2010 08:02 GMT
Review Sony recently updated its range of Blu-ray players with the entry-level BDP-S560, which is listed at around £300 on Sony's UK web site, and the BDP-S760 for £400. Shop around online though and both models can be picked up for £80 less.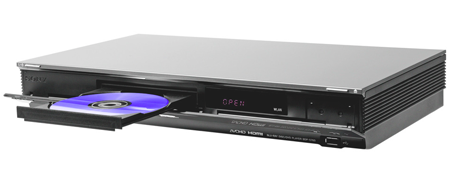 Top gear: Sony's BDP-S760
Yet, despite the mid-range price-tag, Sony describes the S760 as its new 'top of the line' model, claiming that it provides video quality and features previously only found in high-end Sony models such as the BDP-S5000Es, which comes in at over £1000. That's quite a claim, but we have to admit that the S760 really did deliver the goods.
The player makes a good first impression as you lift it out of its box. The unit measures a compact 70 x 430 x 240mm, and is finished off with a neat silvery-grey upper panel and glossy black faceplate. In some ways though, it's the back of the unit that is most impressive – crowded as it is with a plethora of audio and video connectors.
There's HDMI of course, along with composite, component and S-video, stereo audio, optical and coax digital audio interfaces and full 7.1 analogue output as well. That lot should allow you to hook it up to most TVs and audio systems, and includes Dolby TrueHD and DTS HD Master Audio decoding too.
The unit supports BD Profile 2.0, with its Ethernet port accommodating downloads of updates and additional Blu-ray content. It doesn't have any built-in hard disk storage but there's a USB port on the back that allows you to plug in a memory stick or hard disk, as well as a second USB port on the front panel for playing photo slideshows.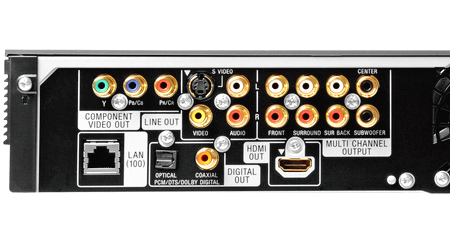 Comprehensive AV interfacing and Ethernet networking
One last connectivity option that isn't obvious from looking at the back panel is the S760's built-in Wireless-N networking, which will be very handy if you don't want a long Ethernet cable trailing from your router to the Blu-ray player in your front room. Yet it's disappointing that the S760 doesn't support playback of digital music and video file formats other than the obvious audio CD, DVD and Blu-ray. Even its DLNA support is limited to displaying photos, which might deter people who have a lot of content stored on a networked media server.
After starting up for the first time, the S760 presents you with its Easy Setup menu. This simply asks for details such as the language you want to use, the type of video cable, and whether or not to allow an Internet connection. Once the initial set-up process is complete the player's Quick Start feature subsequently turns it on and goes straight into the 'XrossMediaBar' graphical interface in just six seconds. Loading up our Close Encounters Of The Third Kind Blu-ray disk packed with extras took another 15 seconds, which is certainly snappier than some other BD players that we've seen in the past.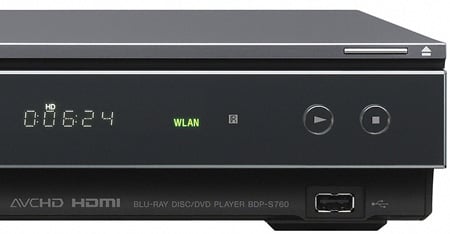 Image playback is possible from USB storage media
Sony does say that the S760 consumes more power when left in standby mode with Quick Start activated, as the fan may continue to run if the room temperature requires the player to be kept cool. You can therefore turn Quick Start off if you want to, which seemed to roughly double the start-up and loading times. Power-consumption with Quick Start activated varies, depending on how much fan cooling is required, but standby mode consumes 0.19W without Quick Start, while power consumption is 32W while playing disks.
We decided to start by checking the upscaling of standard-definition DVDs, and were pleased to see that the S760 did manage to add a noticeable sharpness and clarity to the image on our Spiderman and Brokeback Mountain DVDs – although it's certainly not equivalent to true 1080p, as the spec sheet on Sony's web site seems to imply.
We're not fans of Sony's XrossMediaBar interface but, thankfully, there's a secondary 'options' menu that can be activated from the remote control. This menu is overlaid over the video image and allows you to quickly select important settings such as the various image presets. We also like the backlight option on the remote itself, which will come in handy if you're watching in a darkened room.
Some Blu-ray disks were next – although the spec sheet for the S760 degenerates into a kind of alphabet soup at this point, throwing around terms such as 'Deep Colour' which is supposed to produce "more colour variation" and 'Advanced Super Bit Mapping' which also produces "more colour variation".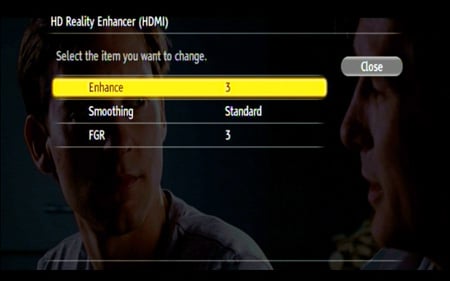 The Reality Enhancer emphasises image details while avoiding colour tweaks
However, the standout feature of the S760 is the 'Reality Enhancer', which leaves the colour alone and just concentrates on fine-tuning the detail within a scene. This works particularly well with films such as Terminator Salvation where there's a lot of gleaming metal to catch the eye, and explosions that allow you to admire the tiny falling fragments of dust and metal.
Mind you, some of the enhanced detail is so fine that you really do need to lean forward and examine the picture quite carefully to appreciate it. Even so, there's no denying that the Reality Enhancer produces the most finely detailed image we've seen from a Blu-ray player in the sub-£500 category.

A few missed tricks, but an impressive viewing experience
And if you're going to get up close to admire all that detail, then you could plug a set of headphones into the socket on the front panel too. That's not too unusual, but we were interested to see that there's a separate volume control for the headphones on the remote control, along with a button that activates a 'headphone surround sound' option.
This certainly doesn't match the output from a true surround sound speaker system – 'virtual' surround sound never does – but it creates a kind of ambient sound that hovers around your head and can be quite effective for explosive sound effects or swirling orchestral soundtracks.
Verdict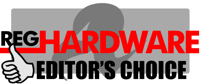 The visual improvements provided by the BDP-S760's 'reality enhancer' and other image processing technologies can sometimes seem rather subtle, and casual viewers who are just looking to upgrade their existing DVD player will probably be happy with prefer to stick with less expensive alternatives such as the S560 model. However, HD aficionados will find that the BDP-S760 allows them to get the very best out of both their DVD and Blu-ray collections without having to take out a second mortgage. ®
More Blu-ray Gear Reviews...

Philips BDP3000
Blu-ray player

Panasonic DMR-BS850
Freesat Blu-ray recorder

Pioneer BDP-51FD
Blu-ray player

Group test:
Blu-ray players