Original URL: https://www.theregister.co.uk/2010/01/05/wd_cartoon_3/
Western Digital goes cartoon crazy
Ladies seemingly in short supply in the storage world
Posted in The Channel, 5th January 2010 11:04 GMT
Meet Brent, Gus and Blake - WD's cartoon personifications of its blue, green and black disk drives.
We're told by WD's media partner, MediaFreaks, a Singapore-based animation agency, that Brent represents the Blue hard drive which is built for reliability and steadiness for everyday computing. Gus represents the Green hard drive which is built to be cool, quiet and eco-friendly for reducing carbon footprint and saving Planet Earth. Blake represents the Black hard drive, which is built to be fast and powerful for gaming enthusiasts and overclocker fans, who want speed at their fingertips.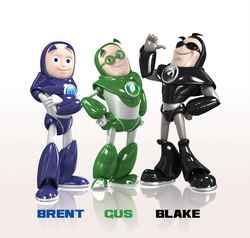 MediaFreaks is running a campaign in Asia featuring the three little geek-like cartoon monsters. It has given two of the three personalities: blue "Brent is a stand up guy that everyone can count on. He's going well at work, in life, but unfortunately, not in love." Black "Blake is an in-your-face, life-in-the-fast-lane, loud, brash, uber-confident (some say over-confident) braggart. He's the best and he knows it! An undisputed, undefeated winner on the race track Blake however, just does not seem to be winning at one thing – love."
Green Gus doesn't have any similar personality yet, but judging by the picture above he's going to be unlucky in love too. The message seems clear: buy a Western Digital hard drive and your love life crumbles; you'll seek in vain (sorry). ®