Original URL: https://www.theregister.co.uk/2010/01/05/storage_seven/
Starting positions for next decade's external storage race
EMC rises as Sun sets
Posted in The Channel, 5th January 2010 07:02 GMT
Comment EMC enjoys nearly 24 per cent of the external disk storage market, and has almost twice the revenue share of IBM, its nearest competitor. After HP, every other supplier is trailing EMC with single digit percentage shares.
The chart below shows the 2010 starting positions for the top seven suppliers. It shows EMC gaining share on the back of growing Symmetrix V-Max sales, helped by its FAST auto-tiering technology. IBM and HP have around half the EMC share, at 12 per cent or so.
Then there is a group of three - Dell, NetApp, and Hitachi - hovering at the 9 per cent level. Sun Microsystems, soon to be Oracle, has a 2 to 3 per cent share. Sun's vision of commodity hardware, open software storage systems blasting away expensive proprietary drive arrays does not have much traction at the moment, notwithstanding accelerating sales of its 7000 product line.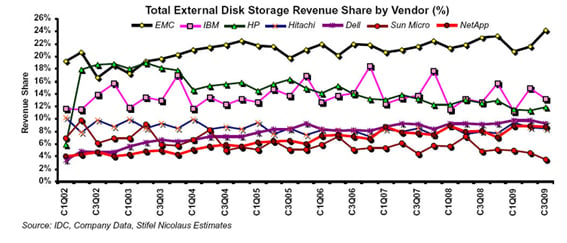 An obvious question is, can anyone catch EMC? Since the end of 2005, the two main competitors to EMC - IBM and HP - have exhibited a general decline in their external disk storage revenues, whilst EMC's have risen. In the next group, NetApp has shown a gentle and steady rise, which has flattened over the past seven quarters, while Dell has followed a similar course. HDS has shown a slight rise but it, like Sun, has still lost ground since 2002.
Sun, unfortunately, is trailing everybody else with its two or three per cent share. This is one indication of its relative failure to capitalise on the disk storage side of its StorageTek acquisition. Let's hope that the 7000 line and focussed Oracle management can turn the Sun line on this chart upwards.
Based on the graph, we could essay a prediction that neither HP nor IBM will catch up with EMC this year. It also looks unlikely, again based on trend extrapolation, that Dell, Hitachi or NetApp will catch up with IBM or HP, although they would need less growth to do this than HP or IBM would need to catch EMC.
Could a new supplier enter the chart by the end of the year? That would probably mean 3PAR, Compellent, Isilon, LSI, Pillar Data or Xiotech growing strongly. In fact, that is where the action is likely to be on the chart. Oracle could end Sun volume external storage sales, and sales growth from one or more of the six storage hopefuls could then be enough to overtake those of Sun.
Let that be our prediction. The relative positions of all suppliers in the chart, except Sun, will stay the same. Sun, however, could be overtaken by at least one member of the chasing pack. ®