Original URL: https://www.theregister.co.uk/2010/01/05/skiff_launch/
Newspaper e-reader launched
Evolution of the printed word?
Posted in Personal Tech, 5th January 2010 11:17 GMT
Forget reading novels on your e-book viewer, because the first e-reader supposedly optimised for newspaper and magazine content has been unveiled.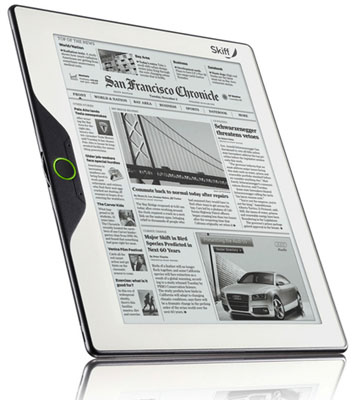 Skiff is optimised for reading newspapers and magazines on
The Skiff Reader has an 11.5in touchscreen with 1200 x 1600 resolution, allowing users to interact with newspapers, magazines, e-books and other digital content – such as personal and work documents.
The device, which weighs in at just over 450 grams, is – according to manufacturer Skiff – the first consumer product to feature a "next-generation…e-paper display" based on a "non-glass" thin and flexible sheet of stainless steel foil.
You won't actually be able to bend Skiff by very much becuase the flexible screen is encased within a rigid shell. But the manufacturer at least hinted that the device's screen – based on technology developed by LG – should prove more resilient than the "fragile glass" screens found on most e-book viewers, such as Amazon's Kindle.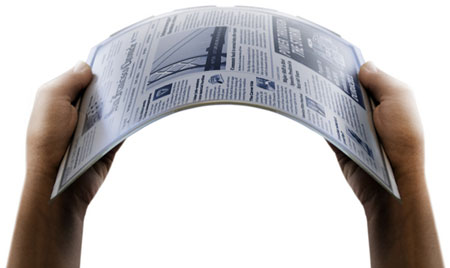 Next-gen e-paper display technology lets Skiff's screen flex
In North America Skiff has signed an agreement with network provider Sprint to bring 3G connectivity to the device, allowing users to download newspapers, magazines, books, blogs and more from a dedicated online store.

Skiff supports Wi-Fi connections
A UK launch date or price for Skiff hasn't been confirmed, though the device will be available both online and in more than 1000 Sprint retail stores across North America from later this year.