Original URL: https://www.theregister.co.uk/2010/01/05/review_phone_lg_gm750/
LG GM750
Jack of all trades?
Posted in Personal Tech, 5th January 2010 13:02 GMT
Review LG has produced a slew of good-looking handsets recently, not least with its sleek 'n' smooth Chocolate series. With its S-class UI it's also got a snappy icon-based interface which gets a little bit of an update with the LG GM750.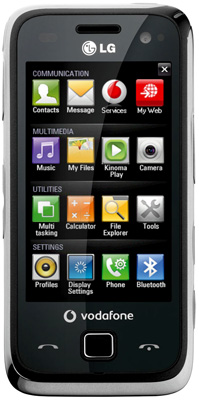 LG's GM750: all the trimmings, but lacks finesse
The phone is exclusive to Vodafone and echoes the good looks of LG's higher end smart phones as well as much of their specs, including a 3in touchscreen, Windows Mobile 6.5, a 5Mp camera, Wi-Fi and HSDPA 3G with downloads up to 7.2 Mbps. Even so, actually using it turned out to be a bit of a pain
Looking not hugely different from other LG touch screen phones such as the Arena and Cookie, the GM750 is fairly chunky at 110x54x13mm and 120g but it has slick bevelled sides and corners to lessen the effect.
Above the touchscreen is a VGA camera for video calls, light sensor and speaker, with touch-sensitive call start and stop buttons below with a navpad in-between. This is nicely sensitive by the way, and often proved preferable to using the screen itself, as we'll see.
On the sides are a volume rocker, micro USB power/sync slot and microSD memory card slot (none supplied), both covered by plastic grommets, a camera shutter button and a 'multitasking' button, which shows all your open apps at once, plus a power button on top. Peeping out from the rather flimsy plastic back panel is the camera lens with a self-portrait mirror but no flash.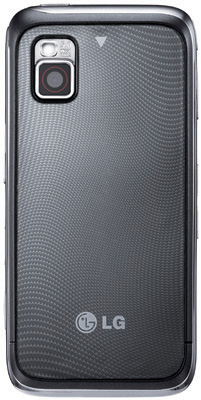 No flash, but the 5Mp camera features autofocus
The 240 x 440-pixel, resistive touchscreen turned out to be an odd fish and it took a little time for us to get our heads around it. At first we thought it was just plain bad, and incapable of reliably distinguishing between our brushes and pushes, resulting in a consistently frustrating experience. But with further use, we realised that there's a knack to it.
Pressing the screen with a thumbnail proved to be a very reliable way of accessing functions, making the distinction between brushes and presses more pronounced. While we can see the reasoning for this, it's still not a patch on the sensitivity and ease of use shown by Apple's iPhone or HTC's WinMo handsets.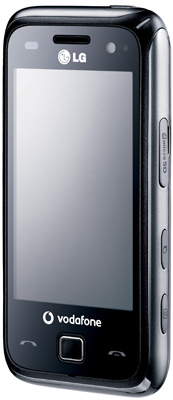 Stylus control is an option
To compound the problem, LG provides a stylus but there's no slot to include it in the phone – you can attach it by a lanyard or carry it in your pocket, though neither option appeals to us.
The GM750 has LG's S-class UI with its rows of icons along the bottom which you can brush across to reveal more, or brush across the middle of the screen to reveal the sides of the S-class cube. The cube now has five sides – best not to think about it too literally – and, as well as the home page, media, contacts and widgets, there's now an extra page for adding shortcuts to any of the phone's apps. If you're not an S-class fan, however, you can press the Windows key in the top left-hand corner to access the Windows Mobile Start menu.
Speed doesn't appear to be one of the GM750's attributes and we found browsing the menus, never mind the Internet, to be something of a drag, quite literally, since there was often a notable gap between pressing to access something and it coming through. This led to the suspicion that the processor wasn't quite up to the task demanded of it.
Call quality was a little on the shrill side, with voices often sounding unpleasantly brittle, without the lower end tones that would deliver a more rounded sound overall. The speaker goes quite loud though, and the slightly shrill tone certainly helps to cut through any background noise.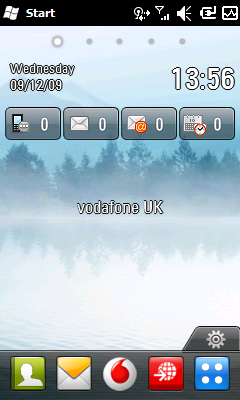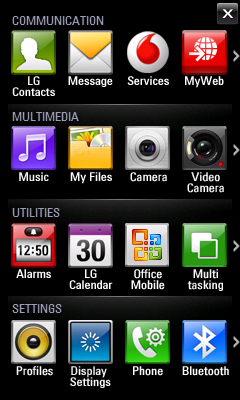 Home page and main menu options
E-mail is easy to set up, with most accounts requiring just address and password to get going for push e-mail for up to ten addresses. When you open an e-mail you're offered the option to reply or to phone the sender if they're already in your contacts – a handy shortcut.
Sample Shots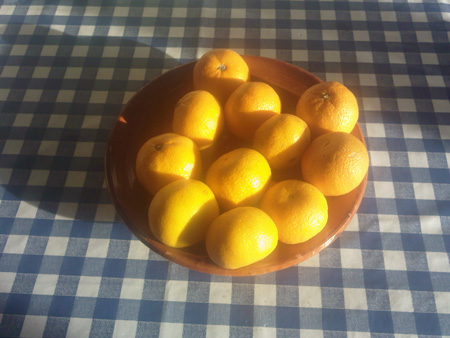 Click for a full-resolution image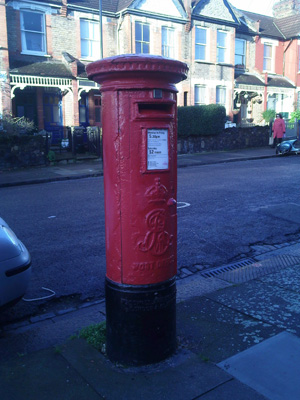 Click for a full-resolution image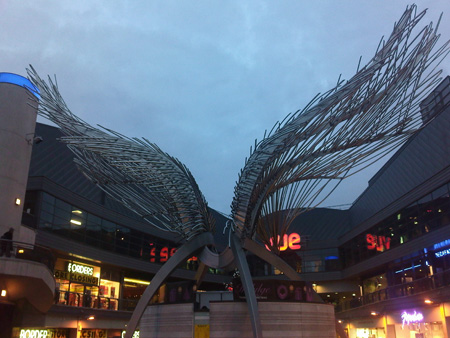 Click for a full-resolution image

Click for a full-resolution image
The Windows Mobile 6.5 browser is OK, but no world-beater. The GM750's accelerometer works in browser mode – and with the onscreen Qwerty keyboard, but not a lot else – so you can flip the phone on its side to browse in landscape.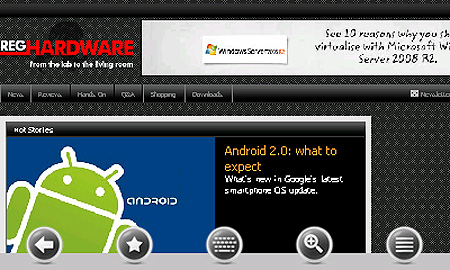 Internet Explorer is on-board for web browsing
You can double tap for a quick zoom, but otherwise the process is a little fiddly, since you'll need to press on the menu button in the corner, then the zoom button, then adjust the slider that appears on screen. You can also use the touchpad to control a cursor, which comes in handy for activating those small point links.
The camera is lacking the Schneider-Kreuznach optics to be found on the likes of the LG Arena, but there is autofocus, and it still manages to produce a reasonable performance. It launches in about three seconds and takes around the same to take a snap – not the slowest we've seen, but certainly not the fastest.
Options include 6 shot continuous capture, a choice of frames and panorama mode that stitches three images together pretty well. The digital zoom won't work at the full 5Mp 2560 x 1920 resolution, and it can only magnify by 1.2 at 3Mp, which begs the question: what's the point?
Video drops the quality to VGA level and tends to blur very quickly with any sort of movement. It'll suffice for emergencies, but don't expect anything approaching respectable video quality.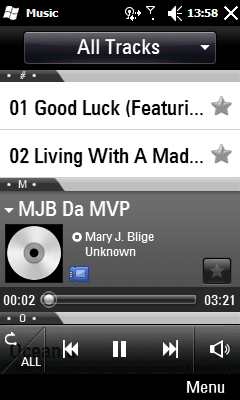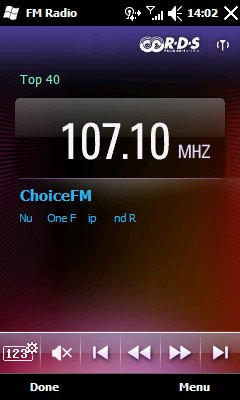 Music and radio playback options
Viewing movies was a little less exciting than we'd hoped. Windows Media Player is the default player and since the accelerometer doesn't work with it, you'll need to go through the menu to switch to landscape mode for viewing. It can display 262,000 colours but even so, pictures weren't particularly sharp and subject to striping and blurring when the picture gets busy.
The music player is functional but not much fun, with a blocky interface that's reasonably easy to work with your thumb, yet looks rather cramped. The sound through the supplied speakers is tinny and lacking in body and there's no graphic equaliser on board.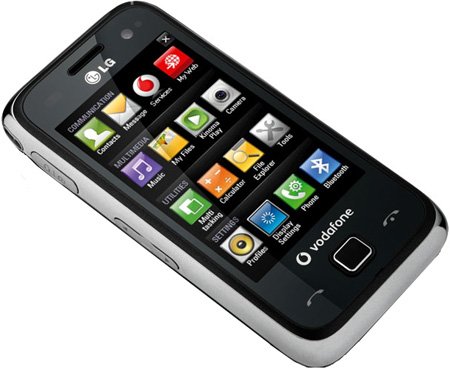 Plenty of niggles, but a good battery life
At least LG offers the chance to upgrade the headphones – they connect to the phone using the micro USB socket, but there's a 3.5mm jack at the end of a dongle adaptor. One saving grace for the GM750 is battery life. It gave us close to two days of moderate to heavy use – not bad at all for a smart phone with an extensive spec list.
Verdict
The LG GM750 looks pretty good on paper but we found it to be a frustrating device in practice, largely because of its unresponsive screen. Even once we'd figured out how to get it working reliably, we still didn't feel comfortable having to use our thumbnails. The camera is OK, the browser is more than capable, but the GM750 doesn't quite seem to know whether it wants to be a high-end smart phone or a do-it-all workhorse, and falls somewhere between the two. So despite a high-ish spec list LG's GM750 never quite lives up to its promise. ®
More Windows Mobile Phone Reviews...

Acer
beTouch E101

Samsung
GT-C6625

HTC
Touch HD2

Acer
Tempo M900