Original URL: https://www.theregister.co.uk/2010/01/05/review_notepad_mintpass_mintpad/
Mintpass Mintpad
Small screen stick notes, anyone?
Posted in Personal Tech, 5th January 2010 08:02 GMT
Review Do you really need an electronic notepad and portable media player, but have tiny pockets in all your clothes? If so, the Mintpad could be the answer. This compact device majors on its touchscreen notepad, but also has multimedia features and Wi-Fi Internet connectivity, in a player less than 80 x 65mm.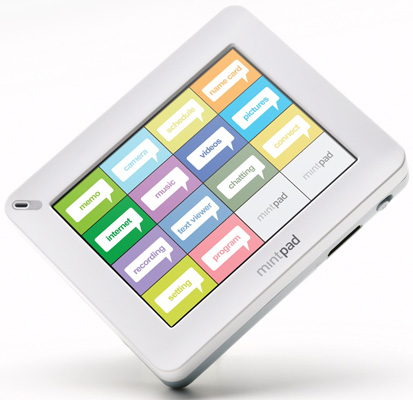 Small wonder: the Mintpass Mintpad
Some media players lead on their video playback, some on their audio prowess, but few, as yet, shout about their note-taking abilities. Mintpass, a South Korean company that gets its gear made by iRiver, has put together a little player called the Mintpad which does just this, though it also includes audio and video playback, a camera, stereo audio recording and wireless Internet access.
The Mintpad is small, with just a 2.86in LCD touchscreen as its display and main input. Around the edges there are power and status buttons and a hold switch to lock the display, plus a 3.5mm headphone socket a USB connector and a slot for the stylus.
The 320 x 240 screen is bright and clear and the touchscreen is sensitive and easy-to-use. It supports simple gestures, mainly the flick, with other controls from on-screen buttons. Flicking up and down switches between functions, which include Chatting – more correctly messaging – Schedule, Name card for contact details, Text viewer and Recording, as well as the more obvious Video, Audio and Memo.
The Memo function is better implemented than we've seen on other PMPs. Memo is a bit of a misnomer, though, as each screen is a small canvas for handwritten notes. The smooth working of the stylus and full anti-aliasing of each keystroke is a big bonus here, as even fairly scrappy handwriting remains readable.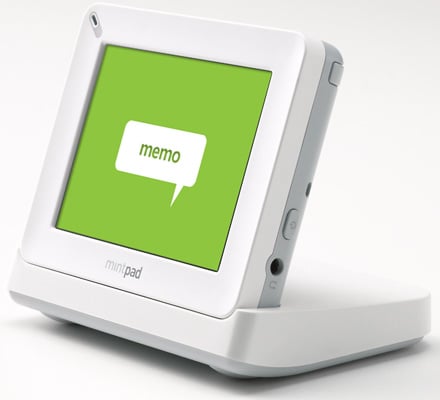 The Mintpad makes a stand with this optional extra
The function is much more like a Post-It note than a true memo, as there are no facilities for handwriting recognition and no way to add printed text to a memo, but as a quick aid for taking down brief notes, it works well. While we hesitate to call it an e-Reader, it can display .txt files and the text is bookmarkable too.
On the back of the player is a camera lens, for the 1.3Mp camera. This may seem low-res in comparison with cameras on most mobiles, and it is, but if you're taking shots to view on the Mintpad itself, or to send to other Mintpad owners, a higher resolution wouldn't be of much benefit. The photos we took looked natural – thanks to good colour rendition in the player – and are fine for everyday snapping.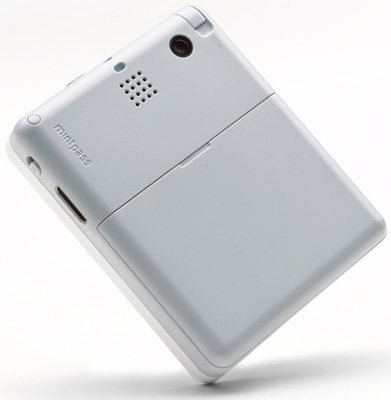 The relatively low-res 1.3Mp camera is good enough for snapshots
Wireless networking discovers WLANs within range and can handle both WPA and WEP security. Yet, alarmingly, it displays the passcode of any network it connects to on the settings screen, which is a bit of a security blunder.
The device comes in two versions, with 4GB or 20GB of memory, though the 20GB version is the 4GB one with an 'official Mintpad MicroSD card' fitted. There's only around £30 between the two, so the higher-capacity model is better value.
While the much-vaunted Sapphire file transfer software appears as vapourware on the web, loading up the Mintpad with video or audio files is best achieved using the supplied USB cable, which also provides a charging connection all the time you have the Mintpad linked up. The device handles a good range of formats, including AVI, WMV and MPEG 4 on the video side and MP3, WMA, OGG, WAV, APE and FLAC for audio. There's a 12-band graphic equaliser included, as well as 12 presets for different music genres.
While there is an adequate 500mW mono speaker, no headphones are supplied with the device, which is annoying if it's your first player, but does give you the option to carry forward a favourite set or to buy something rather better than the freebie ones often supplied with players in this price range. Using a good set of Sennheiser's, we found sound playback to be lively and bright on pop and rock tracks, but still with sufficient depth to handle orchestral music and spoken word.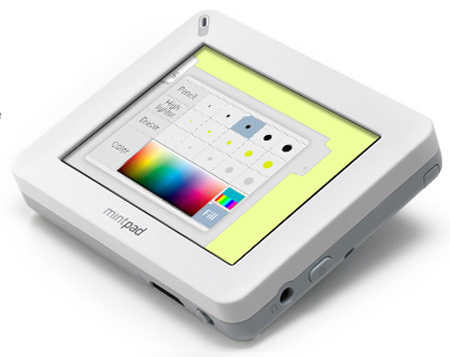 The Memo function features a palette for drawing as well as scribbled notes
Video playback is clean, with no noticeable artefacts and battery life, measured at 4hrs 18mins playing looping video, should be good enough for a couple of movies. There's no conversion app provided to create 320 x 240 versions for the Mintpad, though, so you'll need third-party software, such as AVS Video Converter, to prepare content.
Internet access with either the Logic Plant custom browser or Internet Explorer, which is supplied as part of Windows CE 5, is marred by the size of the screen. Although you can zoom in to see areas of a page, by the time you get anywhere near 1:1, the area you're looking at is small, so you'll be panning around it constantly.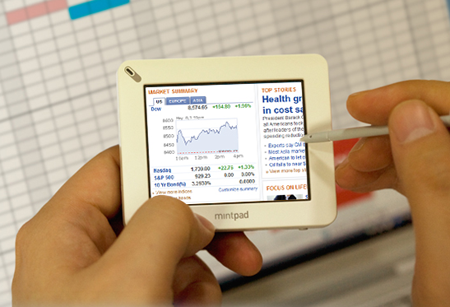 Small screen browsing requires a lot of panning around
The screen layout and operation of the many functions on the Mintpad is well conceived and stylus response from the touchscreen is positive. Time and again, though, we came back to being frustrated with the size of the screen. For video playback and particularly for Web access, it really is too small. You're forever zooming in and out for even the most basic information.
Verdict
The Mintpad has an excellent feature-set and is easy to use, but that screen really is small. The focus on the notepad facility, which is more developed than in other PMPs, is a clever differentiator. Indeed, a Mintpad with an iPhone-sized screen would be hard to ignore. ®
More Touchscreen PMP Reviews...

Samsung
YP-R1

Apple
iPod Touch

Archos
5

O2
Joggler