Original URL: http://www.theregister.co.uk/2010/01/04/review_laptop_asus_lamborghini_vx5/
Asus Lamborghini VX5
Quad-core motoring with a touch of style
Posted in Laptops, 4th January 2010 13:02 GMT
Review It's hard to see who Asus's supercar laptop tie-ups are aimed at. If you have the money to buy a Ferrari, a Porsche or, in this case, a Lamborghini, will you really be going for a £1,700 portable to remind you what's in the garage. If you drive a lowered Golf with blue neons underneath, wouldn't you want a VW laptop? We guess the Asus VX5 is all about aspiration.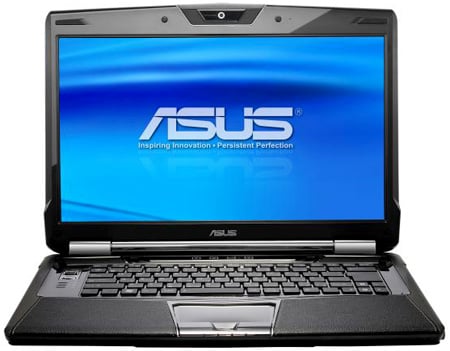 Asus' Lamborghini VX5: more bling than luxury?
A big, desktop-replacement laptop should be able to handle anything you would throw at its not-so-portable predecessor but, above all, it should remind you of a sports car you're never likely to afford. Acer dreamt up the idea of supercar tie-ins with its Ferrari laptop and Asus has taken up the challenge with the VX5, which is tied in with another renowned Italian marque, Lamborghini – the Lamborghini Reventon, in particular.
The VX5 comes in black or white and declares its heritage with a Lambo bull badge in the middle of the lid and shallow louvres behind. Open it up and there are a number of other trim tweaks, such as leather covers to the wrist rests in front of the keyboard and metal trim around the edges. There's a smooth ceramic touchpad and a conspicuous button to the left of the keys, marked 'speed'.
The button switches between ordinary 'Entertainment Mode' and 'Twin Turbo Mode', which overclocks the FSB by 100Hz and the video chip by 25MHz, but only when the VX5 is plugged into the mains. It didn't seem to make much difference during testing, but the machine ran pleasantly cool in both modes, though it's one for the desktop, not the lap.
The spec of the VX5 is perhaps more Mazda RX8 than Lamborghini Reventon, even by Asus standards. Based around a quad-core Q9000 processor running at a reasonable 2GHz, with 4GB of DDR 3 memory and twin 500GB, 5,400rpm hard drives, graphics are geared more to 2D than 3D. The 1GB GeForce GT130M is fast for a mobile GPU, but not as quick as the 8700M and GTX260M, found in more athletic games vehicles, like the Asus G70 and G71Gx.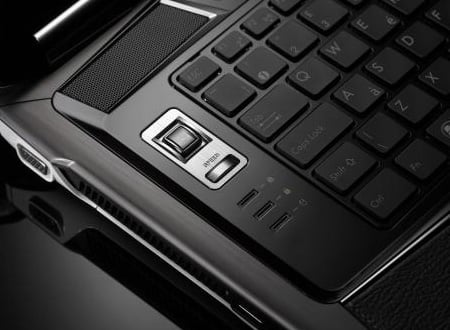 The speed button: so when would you want it running slowly?
The VX5 aims more at the video enthusiast, with a fully 1080p HD display from its 16in, 1920 x 1080 panel. This is sharp, clear display, but would benefit from being a bit brighter, particularly at its corners. Above the screen is a 2Mp webcam. That's the description of our review sample, but machines are now shipping with 1368 x 768 screens, which aren't nearly as nice and are, of course, not full HD. We had to instal Windows 7, too, as the machine arrived with Vista.
To make good use of the screen, the VX5 has a Blu-ray drive as standard, so can play BD movies without problem. Even in fast-action sequences of the movies we tried, it showed no signs of jitter, though some of the PC Mark Vantage video-over-video sequences caused breaks in the audio. You wouldn't hit this in normal playback, though.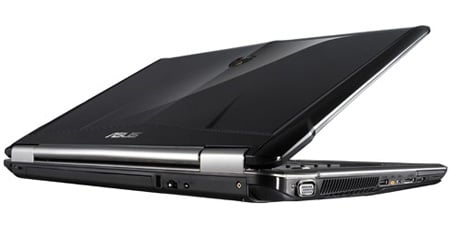 The bonnet/lid louvres break up more conventional lines
Audio isn't bad, as mobile sound goes. The two speakers positioned behind the keyboard give a reasonably clear treble and mid-range but, as usual, bass is well under-emphasised. The suspicious-looking circular grille on the underside of the machine is supposed to be a bass speaker, but makes little difference that we could detect.
The machine includes a Realtek sound chip and, as always, much better sound is available through headphones or a decent set of external speakers. Standard headphone, mic and line out jacks are fitted in front of the Blu-ray drive.
The keyboard – looking vaguely like a set of Travel Scrabble tiles, but without the scores – is backlit with white LEDs. The keys have a reasonably positive feel and are better supported in the body of the VX5 than in some other Asus machines that share the same keyboard but with limited travel. The lighting of both screen and keyboard is controlled automatically, so it dims as the ambient light drops. The ultra-smooth touchpad is sensitive and has the usual scroll bar down the right-hand side, but no gesture support.
Moving round the edges of the VX5 shows a good range of connections. As well as four USB 2 sockets, distributed on three sides, there's a single Firewire, an eSATA, external VGA and HDMI. At the back is a Gigabit Ethernet socket and on the left is an antenna socket, which doesn't do anything unless you fit the optional TV and radio tuner card.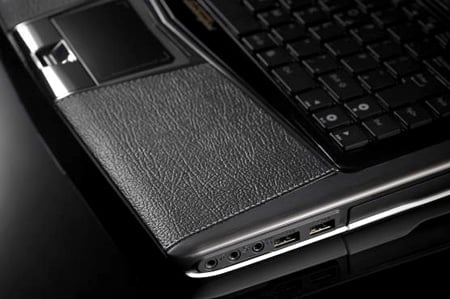 Well you wouldn't want to rest your wrists on cheap plastic, would you?
The machine has both 802.11n wireless and Bluetooth and each can be switched on and off independently, to conserve power using a slide switch under the front lip. Both PC Express and twin-card slots are provided, with the twin-card slot supporting SD and Memory Stick in several varieties.
Test Results
PCMark Vantage Results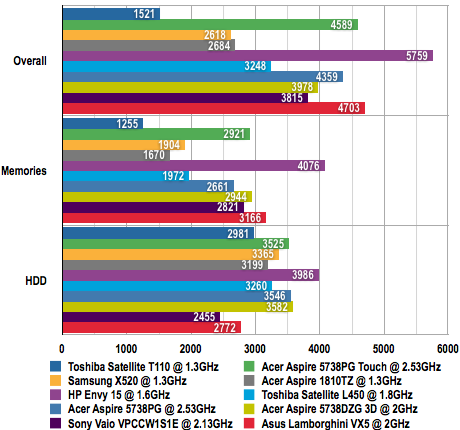 Longer bars are better
Memory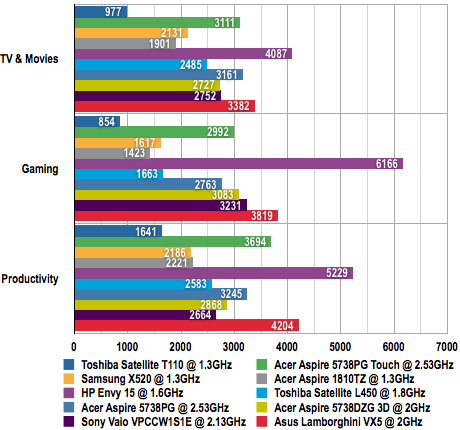 Longer bars are better
HDD
Video Playback Battery Test Results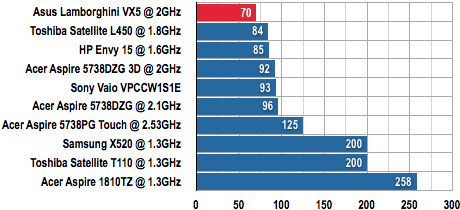 Battery life in Minutes
Longer bars are better
Under test, PCMark Vantage gave the VX5 an overall score of 4,703, which places it well up the league of recent laptop testees, beaten only by the HP Envy 15, with its impressive 5,759. When you break this combined score down, you can see that the Asus machine scores well in most of the benchmark sub-sets, with Memories, TV & Movies, Gaming and Productivity scores again only second to the HP Envy.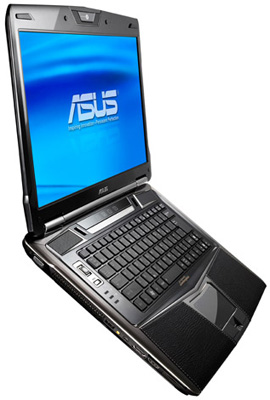 Overall performance is hit by the ample, but sluggish storage
The one place where it's let down is in its hard drive performance. The two 5,200rpm devices, from Seagate in our review sample, only scored 2,772 under PCMark Vantage, over fifteen percent down on any of the other machines in our recent tests. It's a shame this one component should let down the overall performance, but portable drives of this capacity aren't noted for blistering throughput.
Life from the six-cell battery is miserable and we recorded just 68 and 72 minutes on two runs, looping PCMark Vantage. On batteries, you could watch a complete episode of The Wire, but not an old Poirot rerun. Running office software, you might see one and a half hours away from the mains.
Currently, there are VX5s still available with Vista pre-installed, but you can get it with Windows 7 from some suppliers and at the same price, so push for this. Other software is mainly Asus' own utilities, including the bizarrely-named Splendid utility, which introduces different video presets for vivid, soft and theatre colours. More to the point, you'll want to disable the default screen saver, which sees the VX5 competing with the Reventon in a blaze of squealing tyres and a theme tune worthy of a Transformers thriller.
Verdict
If you want a desktop replacement laptop with good video playback facilities, there are other machines with similar performance available for less than the VX5. The same is no doubt true of the Reventon, so you have to decide if the extras in this Asus machine warrant the £200 or so premium demanded by the little bull badge. ®
More Nifty Notebook Reviews...

Apple
MacBook
Pro

Rock
Xtreme
X790-i7-950

HP
Envy
15-1060

Acer
Aspire
5935