Original URL: https://www.theregister.co.uk/2010/01/04/extreme_slim_lg/
LG drops inches with Extreme Slim
Designs world's slimmest LCD
Posted in Personal Tech, 4th January 2010 14:33 GMT
We are only four days into 2010 and LG is already shedding the inches, unveiling what it has claimed is the world's slimmest LCD TV so far.
Gone are the days when 'portly' LCDs, such as Samsung's Needle, measured a 'chubby' 3mm from front to back. LG's aptly named Extreme Slim is just 2.6mm deep and weighs in at under 4000g.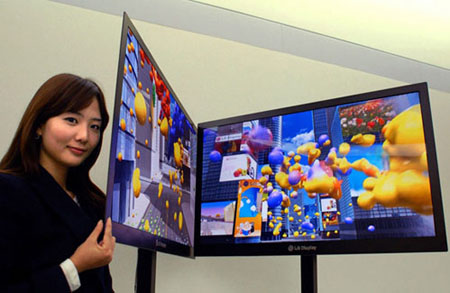 LG's Extreme Slim: just 2.6mm deep
Admittedly, the sets from Samsung and LG differ by less than a millimetre, but LG has promised that its Extreme Slim will be based on the firm's Seamless TV design which provides the viewer with the feeling of a frameless picture by using a single sheet of glass across the set's entire user-facing area.
Though LG is keeping mum about most of Extreme Slim's juicy features until CES, the company said both 42in and 42in models will offer a 1080p resolution and 120Hz refresh rate. ®