Original URL: https://www.theregister.co.uk/2010/01/02/review_hd_projector_aiptek_mobilecinema_d10/
Aiptek MobileCinema D10
Looks like a toy, performs like one too
Posted in Personal Tech, 2nd January 2010 10:02 GMT
Review Remember those rugged plastic 'singalong' cassette players you could buy for pre-school children? The Aiptek MobileCinema D10 looks a projector version of the same kind of thing. Encased in tough, nursery-blue plastic, it is the least fragile projector we have ever tested, and the only one that required absolutely no warmup or setup whatsoever.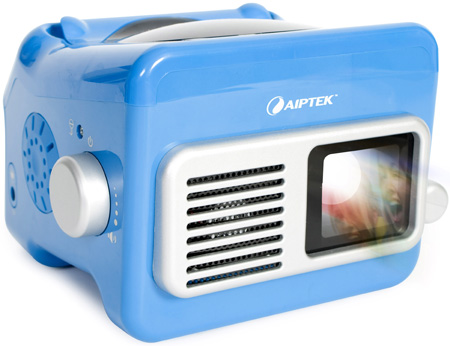 Cute or hideous? Aiptek's MobileCinema
However, the MobileCinema D10 is not a home cinema as you might understand it. If you are looking for a quality image and surround sound, keep looking. This product is a toy, an amusing gadget, a £160 spent for a bit of a laugh.
The 222 x 150 x 192mm unit comprises a low-resolution TFT LCD projector and built-in DVD player with stereo speakers with a few chunky controls designed for clumsy hands. You do not have to plug it in to a computer – in fact, you can't – and apart from the need for main power, it is entirely self-contained. Just pop in a DVD, point the unit at a white wall and watch the show.
The lens is encased behind a square window at the front, alongside the fan vent, protecting it from harm. Focus is adjusted using an unfeasibly large lever on the side. There is no zoom function: simply move the projector physically nearer to or further away from the wall in order to change the projection size.
On the opposite side of the case, a large dial knob adjusts the audio volume and allows you to switch the unit on or off. Incidentally, there is no cool-down wait after turning the projector off: the MobileCinema D10 uses an LED-based lamp that barely gets warm, let alone hot.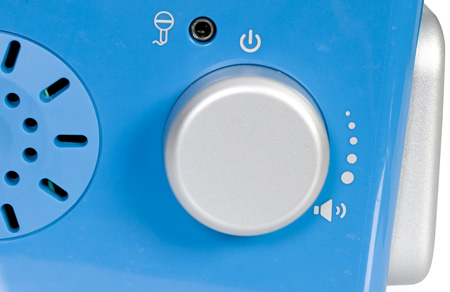 Turn the dial to switch on and adjust the audio volume
You can pick up the device and move it around while watching a film without any risk of burning your fingers, hence the lack of a carry handle. Even so, the projector makes conventional use of a fan to remove heat, and this fan is quite noisy and distracting in a living room.
At the back of the case – that is, the side facing you – four childishly chunky buttons let you Play/Pause, Stop, Rewind and Fast Forward. Obviously, these controls alone are not enough to operate most commercial DVDs, so they also double-up as buttons for navigating menu screens, enabling subtitles and switching language. This dual purpose is a bit fiddly, not least because the projector barely weighs a kilo and there are no rubber feet to prevent it from sliding across the table whenever you push a button.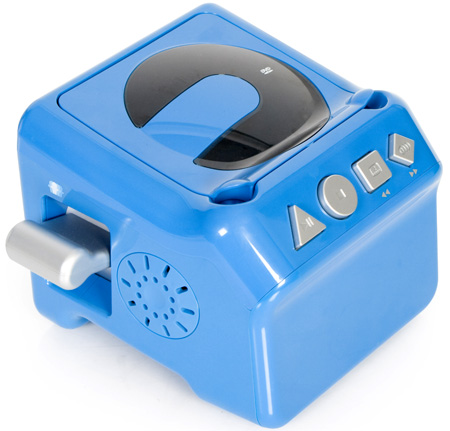 Adjust focus by lifting or lowering this childishly huge lever
Your DVD is placed directly onto a spindle under a hinged protective cover on the top. Then comes the disappointment: the quality of the projected image is woeful. It is not just a matter of the low resolution, though at 480 x 240 pixels it has 25 per cent fewer 'lines' than an Apple iPod Touch. Rather, the image is not so much blurry as granular, made up of large, distinct beads of colour. While other projector manufacturers are busting a gut to support HD, Aiptek is happy to provide resolution only marginally better than that of a kaleidoscope.
It was mildly amusing that although the unit allows you to change languages on the DVD, the on-screen notification of the language you have chosen is too small to be readable on the granular projection image. Subtitles are perfectly legible, however.
Another annoyance is that the lens points directly ahead, so you cannot really sit the projector on a coffee table unless you want to watch a movie at skirting-board height. Should you choose to tilt the unit upwards, note that there is no keystone adjustment function.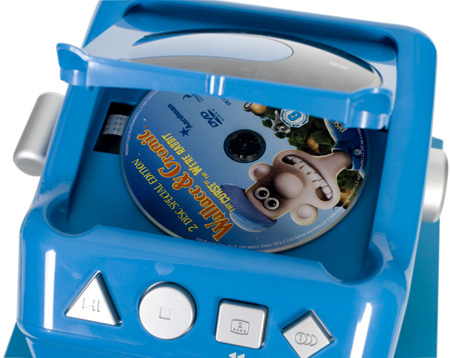 Only four buttons for simplicity, each doubled-up with other features for complexity
The pair of 1W built-in stereo speakers is adequate but the quality is inevitably a scratchy mass of mid-range frequencies. Unfortunately, you cannot attach external speakers nor even plug in a set of earphones. We should also mention the 1.7m power cable, which barely reaches from the floor to the projector in the centre of a tabletop, let alone across a room.
But perhaps we're missing the point. The MobileCinema D10 is not intended for your living room but for a child's bedroom, or for the occasional mucking about for a laugh. It provides a microphone socket in case you want to play a karaoke DVD, for example, and it will play a slideshow from any CD containing JPG images.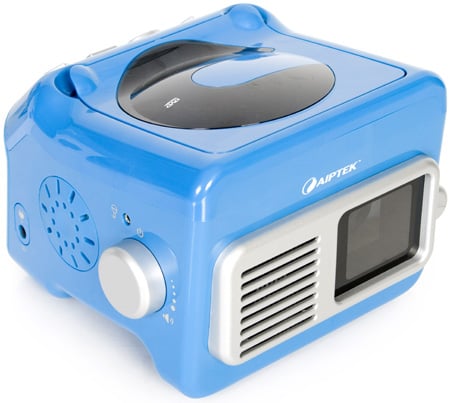 Child's play? Certainly a pricey toy
We actually tried it out as background entertainment, showing snowboarding DVDs on the wall during a pre-ski-holiday party. The only challenge was keeping the room lights dim enough not to blank out the projected image: the LED lamp is rated at a mere 13 lumens. Yes, 13. The lamp does not appear to be user-replaceable but we expect LED lamps to last a very long time: probably much longer than the 10,000 hours quoted by the manufacturer.
Verdict
As long as you understand that it is just a toy rather than a serious challenger to low-cost home cinema projectors, the Aiptek MobileCinema D10 makes a fine novelty gift. It would be great for youngsters watching cartoons in a bedroom during a sleepover, and its cool operation makes it safe for them too. But for anyone wanting an audio-visual treat, stick with your telly instead. ®
More Portable Projector Reviews...

BenQ Joybee GP1
mini projector

Hitachi CP-RX80

LG HS102
Ultra Mobile projector

Acer K10