Original URL: https://www.theregister.co.uk/2009/12/28/top_patent_applications_of_2009/
The best (of the worst) patent claims of 2009
Apple iGlove, IBM noise maker, and more
Posted in Bootnotes, 28th December 2009 22:37 GMT
Two thousand nine Anno Domini was a magical year for US technology patent applications. For each spin around old Sol we're consistently stunned by what major companies claim to have invented - but we dare say the bounty from this year will forever hold a special place in our hearts. (For another week or two, anyway. We've got priorities.)
While plenty of extremely questionable tech patents make it through the US Patent and Trademark Office approval process, a true insight into the horrors that await us comes from looking at patent applications. Herein lies the limbo where a company's mad machinations crash against the leaky dike that's the USPTO.
El Reg is always eager to lap up the sad, eerie, and unusual of the bunch as they fall into our sights. We've gathered up a few of our 2009 favorites published in honor of the year's end. Enjoy and despair.
Fig. 1: IBM workers battle their own boredom
Year after year, Big Blue tops the annual list of most patent-happy American tech companies. Which is saying a lot.
Judging by some of its applications, we reckon IBM employees have a major problem with being forced to attend endless waves of boring workday meetings. And either they're going to great pains to liven them up, or some of their patent filings are actually coded messages to the outside world for help.
[Note to IBM engineers: Shh, don't say anything. Just write "enhancement process" three times on your ridiculous patent if chief executive Palmisano has trapped you inside a conference room. We'll contact the authorities.]
One particularly suspicious application attempts to tackle the issue of "enlivening" dreaded conference calls.
The solution - as we're sure brighter minds have already surmised with cold, pure logic - is accomplished through injecting silly sound effects into the conversation. Always appropriate. WAKKA WAKKA HOOOOONK.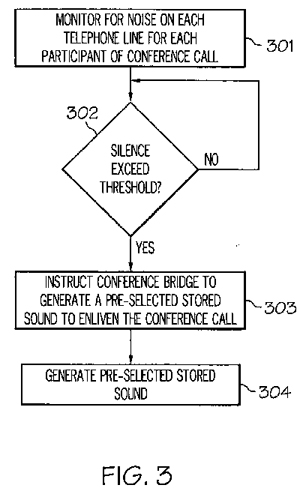 Awkward noise may result in infinite loop
The IBM device would use noise detectors to screen phone lines during a conference call for pre-determined periods of silence. When a conversational pause reaches an appropriate level of awkwardness, a novelty noise (such as laughs, cheers, farts, or whistles) would be played to the rollicking amusement of one and all. We can see it now:
"It is with great regret that I must tell you our company must lay off approximately 5,000 employees in order to avoid severe financial hardship."

…

CLAP CLAP CLAP CLAP — AWOOOGA!

"Damn it, who turned that….? Ahem, we have explored all our options and unfortunately…"
Our next piece of evidence is an IBM patent application seeking to eliminate the scourge of society's reliance on arranging business meetings based on "arbitrary hour-based scheduling paradigm." (And you probably didn't even know that a unit of measurement was oppressing you.)
According to the patent: "Meeting attendees will fill the full hour for which the meeting is scheduled regardless of whether the entire hour is necessary to address the business at hand. The result of this is that a meeting that could have taken less than an hour will end up wasting time due to the arbitrary hour-based scheduling paradigm."
What's a company to do? Schedule 45-minute meetings instead? Hold fewer meetings? Tell executives not to waste everyone's time? No! Time itself must be redefined!
"The observation is that if an hour were shorter, by a small amount, we would be more focused, and accomplish the same amount of work, but in less real time, thereby increasing productivity," the patent application states.
'Christ on a cracker!' you say. 'Has IBM invented a time-compression device?' Alas, no. What we have here is a company trying to claim it has invented scheduling meetings based on non-standard time intervals. And here we thought the minute hand of a watch could do that.
Fig. 2: Apple apparel: for cultists by cultists
Apple is another prolific patent filer with a good share of duds. (In Apple's case, we define 'dud' as a product that sounds absolutely ridiculous - even though we know it could still sell a million of them if it wanted to.) The company, however, doesn't share IBM's troubles with boredom. Sheer terror takes care of that.
Judging by the patent applications published this year, we'd say Apple is scheming to expand its clothing sundries to more than just iPod socks.
Back in January, the USPTO published Apple's patent for a special "glove system" made especially for caressing and fiddling with touchscreen devices.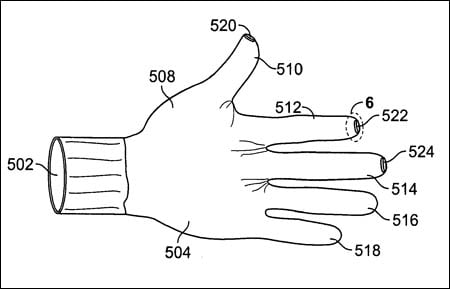 Yes, but can you use it to play Rad Racer?
The application states that "when users, in cold weather, wear thick or bulky gloves…the loss of tactile feedback to the user may prevent the user from properly operating the electronic device, and may lead to frustration."
Frustrating indeed. But then why - pray tell - can't the user simply remove the offending gloves for a moment? Aha! Apple has foreseen this attempted solution. You see, by performing such an impertinent action, "the user's hand may become cold and uncomfortable, which may also lead to user frustration."
Terrible, terrible frustration appears to have the glove-wearing individual cornered! Help us Steviwan Joboni, you're our only hope!
Apple's solution is a two-layer glove "system" that has both an outer insulating layer and an internal conductive layer. (Which actually sounds like a good way to replicate dark Jedi-force lightning with a bit of a static charge.) The glove's fingertips also sport "apertures" (read: holes) that allow fingers to get some tactile stroking done with a touch-screen device while remaining protected from Ma Nature's wrath.
Below the belt, Apple envisions giving the all-important shoe a touch of Cupertino magic as well. Shoes are wonderful things, Apple vigilantly explains in a patent filing published this December. In fact, judging by the application, it seems someone has a bit of shoe fetish:
Shoes (including sneakers or boots, for example) provide comfort and protection for feet. More importantly, shoes provide physical support for feet to reduce risk of foot injuries. A shoe is often necessary to provide support during intense physical activity, such as running, soccer and American football. As a shoe wears, physical support provided by the shoe decreases, thereby reducing associated protection from injury. When a critical wear level is reached, even if the shoe looks like it is not particularly worn, the shoe may not provide adequate support and may, in fact, cause damage to feet.
OK, OK, shoes are terrific already. But each holds a dark and terrible secret: they wear out after long periods of use! And there's no way of knowing when they do, short of tilting your head down 60 degrees and waiting patently for light rays to bounce off your footsies, travel through the eye, and ultimately focus on the retina. This entire process can take up to seconds away from your busy schedule.
But not if Apple's "Shoe Wear-Out Sensor, Body-Bar Sensing System, Unitless Activity Assessment and Associated Methods" patent application makes the cut at the USPTO. "In one embodiment," the filing reads, "a shoe wear out sensor includes at least one detector for sensing a physical metric that changes as the shoe wears out, a processor configured to process the physical metric, over time, to determine if the shoe is worn out, and an alarm for informing the user of the shoe when the sole is worn out."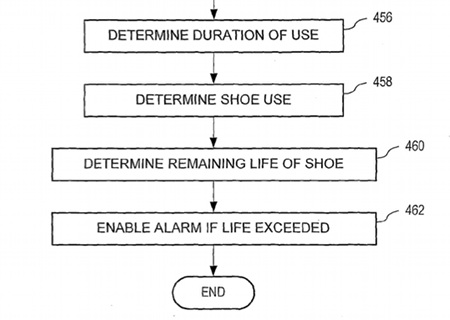 What if one shoe wears out before the other?
Because if you're wearing worn-out shoes, you definitely want an alarm calling attention to it. Now if only there were a way to let you know when there's a booger dangling from your nose…
Fig. 3: Sony wants to control cell phones with your face
While Apple strives to prevent us from moving our noggins too much, others hope to put the old grill to work.
Sony Ericcson takes this tact with a patent application published in May that describes how a cellphone could generate a song playlist based on the facial expression of the user.
By detecting specific facial features (smiles, frowns, tears, NRA-4-ever tattoos), the mobile device will generate a playlist to suit the mood.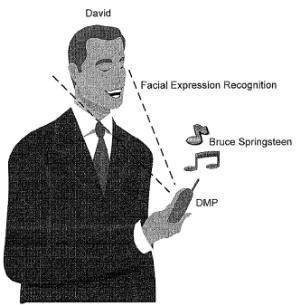 Bipolar disorder sets device to shuffle
As Sony describes it, the device would first play one song and then create a playlist based on the user's reaction gleaned from a camera on the device. Neat. But of course, that's assuming the user is an emotional wreck who's face contorts with passions after a few bars of MMMBop.
Fig. 4: Microsoft wants fat gamers shamed
Several of these patent applications propose ways to reduce movement, but Microsoft wants none of this.
Redmond rounds off the year's best with a patent application designed to make sure that every gamer knows the sexy elf ranger that's helping them slay dragons is in reality a fat troll living in their mother's basement.
The company's patent filing describes an "avatar generator" for a virtual environment that "reflects a physiological characteristic of the user, injecting a degree of reality into the capabilities or appearance." The patent reckons that exposing gamers to shame about their bodies will encourage exercise.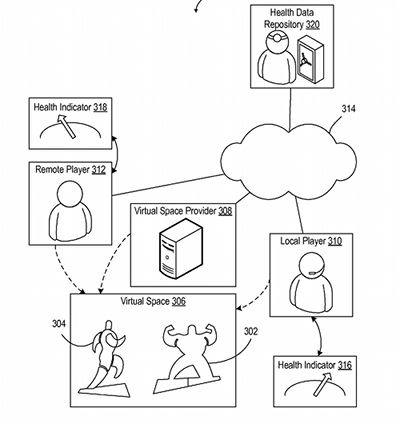 Guitar Fatso
From the patent:
In gaming environments, individuals are able to simulate stunts and performances through their avatar that the real person could not achieve. The challenges and virtual rewards presented reinforce interest in playing. Consequently, those engrossing virtual pastimes have substantially replaced real physical exertion for many people. Unfortunately, excessive amounts of time interactive with video gaming or other virtual programming environments have negative health ramifications. This sedentary outlet provides no avenue or incentive to exercise.
Well, if that ain't the drug dealer calling his customer a wreck. So how does Redmond know your fatty shame? The patent describes that physiological information about gamers could be gathered from third-party health data collection, a health care smart card, or even real-time sensors.
"Physical data that reflects a degree of health of the real person can be linked to rewards of capabilities of a gaming avatar, an amount budgeted to play, or a visible indication," it continues. "Thereby, people are encouraged to exercise." Microsoft says it also could be used to identify "hidden physical characteristics" in fellow gamers such as allergies and other chronic conditions - in case they wanted to form a club of exclusively runny-nosed geeks. And who wouldn't want Microsoft to have access to that kind of personal data?
There you have it folks, some of our favorite patent applications uncovered in 2009. Stay tuned for more terrifying and ridiculous patent claims on the other side of the holiday season. Thanks to the USPTO, wonders truly never cease. ®