Original URL: http://www.theregister.co.uk/2009/12/23/review_mobile_phone_lg_pop_gd510/
LG GD510 Pop
Missed opportunity
Posted in Personal Tech, 23rd December 2009 08:02 GMT
Review Less, they say, is more, and that's certainly a maxim LG believes in if the Pop - aka the GD510 - is anything to go by. This is one small phone, yet it presents a full touch-based user interface and simple, clear styling that will make some wonder if it's one answer to the long hoped for iPhone Nano.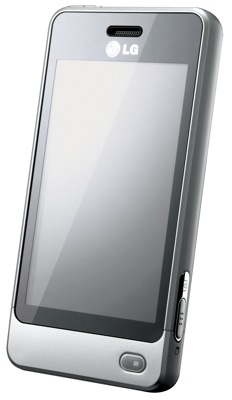 LG's Pop: nice and small
Should Jobs and co worry? Alas no, because as impressive as the Pop looks, it's let down by its key component: the touchscreen.
The phone we use every day has a capacitive screen, but we've been testing phones with resistive touchscreens for years - HTC offerings, mostly. After all that stabbing away with fingers and stylii, not triggering a tap unless we pushed really hard, here, thanks to capacitive touchscreen tech was a display that was never less than totally responsive.
Capacitive is, without question, the way all of today's touchscreens should be.
And LG's gone and put one of the old-style ones on the Pop. Right from the off, it makes using the phone more of a chore than it ought to be, simply because it slows you down. If a tap or a swipe of your fingertip doesn't work first time, you have to try again. And sometimes one or two times more. The Pop's display will respond eventually, but how much time will you have wasted?
It's not just the lack of response. More often than not the Pop's display does detect that you've touched the screen. But not what you're trying to do. Too often, we found our swipes - to scroll down a list, to flip from one of the three home screen panels to the next, to move a slider to answer or reject an incoming call - were picked up as simple taps with the result that the phone acted on the wrong instruction.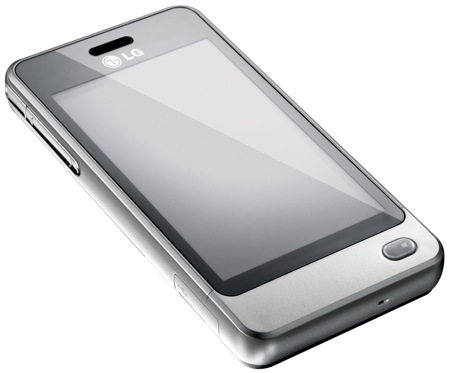 Begging for a decent, capacitive touchscreen...
You can probably get away with this if your phone's UI is simply about pressing buttons - like pre-6.5 Windows Mobile, for instance - but LG's S-class user interface requires swipes and other gestures too. The main UI comprises three screens and you switch from one to the other by swiping your finger across the display in either direction. This rarely worked first time for us, which isn't so bad when you're sitting at a desk, but is a pain when you're outside steering through crowds.
S Class' three screens are the widget panel; a cutesy display with little people on it who represent you and your chums; and a screen on which you place specific contacts for fast-access to their details. Four icons at the base of the UI provide single-tap access to the phone dial pad, the full contacts list, the messaging app and the full list of apps installed on the Pop.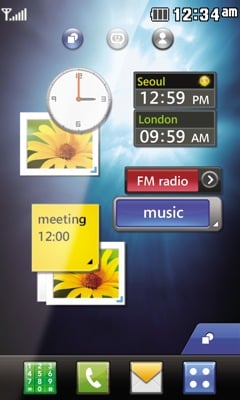 LG's S-Class UI needs a more responsive touchscreen than the Pop has
To go back to the widget screen, for a moment, at the bottom of the screen there's a side-scrolling line of widget icons you can tap and drag up to the main area to use. Scrolling involves swiping, and we've said how that's not as smooth as it could be, and the same is true of dragging the icons. It's easy to drop them by mistake and picking them up again doesn't always trigger. That said, there's a nice shake-to-align feature that makes use of the Pop's accelerometer.
Visually, the screen's not actually bad. It's a 3in, 240 x 400 job capable of displaying 262,000 colours. Even though the Pop is a lot smaller than the iPhone, it's screen is only slightler smaller than the one on the Apple product.
The display takes up a greater portion of the Pop's face than the screen in most touchphones do, showing that these kind of handsets don't need to be bulky. The Pop's diminutive 97.8 x 49.5 x 11.2mm frame holds a removable 900mAh battery, 3Mp camera, the screen and the phone's other gubbins. On board storage is limited to 42MB, so the Micro SDHC card slot under the back panel is essential if you want to use the Pop for multimedia.
Of course, a small phone means a lack of space for extras, and the Pop duly lacks Wi-Fi and GPS. It doesn't even have 3G connectivity, making do with quad-band GSM/GPRS/Edge for connectivity. Bluetooth is present for syncing and wireless audio.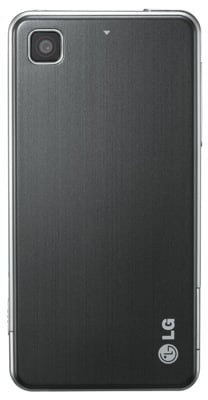 The 3Mp camera is flash-less and basic, but the snaps aren't bad for a phone
The 2.5G cellular capacity makes surfing a drag, but it's less of an issue for small bursts of data, which means users will probably want to make more use of the phone's widgets than its web browser. But even grabbing the local weather info can be slow, especially when the phone asks PAYG customers if they don't mind paying for the data first. It does this every time you tap on a widget to open it up.
The three-characters-per-key keypad is small, but not so much so that it's inherently difficult to use. No, what makes texting and emailing difficult is that resistive touchscreen. Mis-hits were common, we found, until we became used to making slow, deliberate pushes, which upped our accuracy considerably. No doubt, with more time we'd get faster, but as it stands we have a real sense that that the screen lacks speed.

Minimalist: the USB connector does for charging, data transfer and earphone connection
Typists will be please to know that rotating the Pop triggers a screen flip that replaces the TXTing keypad with a Qwerty layout. The accelerometer can be quirky, sometimes flipping quickly, sometimes so slowly, you flip the phone back and then get the layout you wanted. So you rotate the phone back that way and wait for the inevitable return to portrait mode and then the shift to landscape.
When you have the Qwerty layout before you, it's an improvement on the SMS-oriented portrait-mode keypad and, provided you push the buttons with some deliberation, you can enter text fairly quickly. And we have to say, it wasn't hard to use two-handed. Even our blobby thumbs could key in email, URLs and so forth reasonably accurately on the wee keys.
LG has provided all of the apps you could want out of the box, and most work reasonably well. The music player has the usual equaliser and playlist features, and supports album art and ID3 tags. You can rate songs with up to five stars, but there's no gapless playback which, of the two features, is the one we'd rather have.
The Music app also handles video playback, but while it recognised our H.264 footage as an MPEG 4 file, it wouldn't play it. Only 3GP, thank you very much, so no movie watching on this boy.

The camera button doubles up to also trigger the Pop's Task Manager
LG bundles a pair of earphones that are hardwired into the microphone blob and terminate in a micro USB connector that slips into a hatch-covered port on the side of the Pop. There's no 3.5mm jack, or even a 2.5mm one.
Sample Shots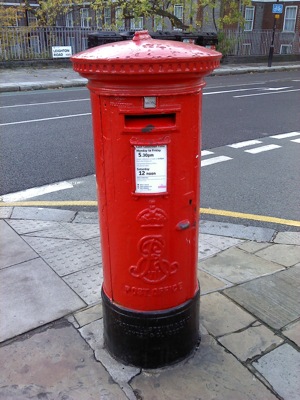 Click for full-size image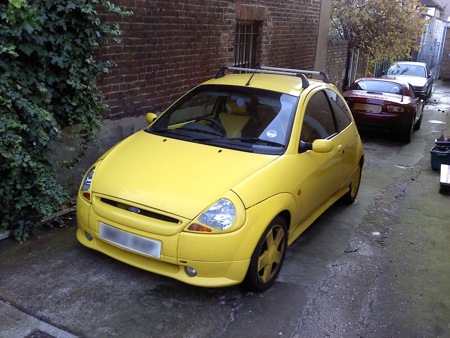 Click for full-size image
Shots taken outside aren't bad, even away from bright sunlight, but indoors, as the light level falls, so does the camera's value.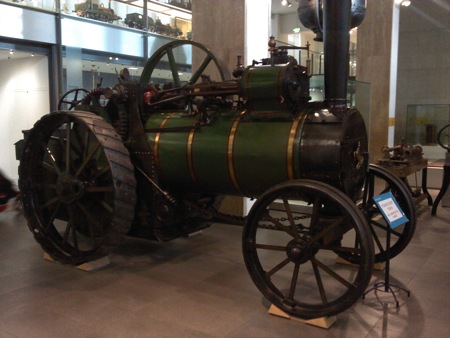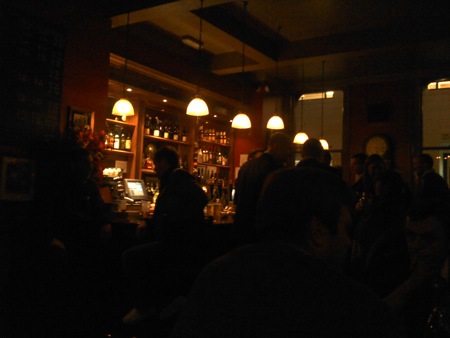 Indeed, the Pop is a bit Spartan when it comes to physical controls: just a volume rocker, camera key, and power button on the sides, and a context-sensitive call start/end key on the front.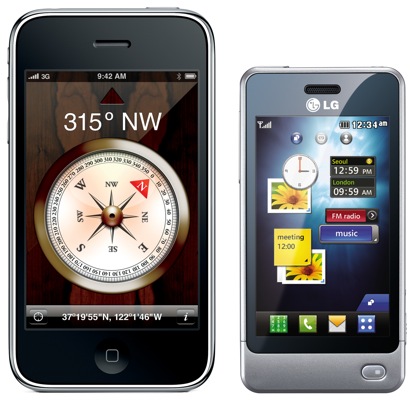 Rather more pocketable than a certain other touchphone
The camera's three million pixels and optics take a reasonably bright, colourful picture out of doors, though it unsurprisingly struggles indoors and in darker conditions. Video comes in at 320 x 240 and approximately 15p/s, so passable for YouTube but not much else.
What the Pop does do well is make and take phone calls, and we found conversations came through loud and clear. We didn't experience and drop-outs and the signal strength seemed decent throughout.
Likewise, battery life was reasonable too. With no 3G and Wi-Fi, you'd expect as much, but a 3in LCD can drain a battery too, and we kept the Pop's screen on 100 per cent brightness. That said, LG has notched it back so full brightness here isn't necessarily as glaring as it might be on other handsets. But we went a good three days before we had to recharge the battery.
Verdict
The Pop is another of LG's attempts to bring touchscreen technology to a more youthful, more cost-conscious audience. And it may well appeal to anyone fed up with the size of smartphones: it's about three-quarters the size of an iPhone, so much more pocket and palm friendly. But by focusing everyone's attention on the touchscreen and then using old, inferior technology to drive it, LG has missed a trick. So the Pop, in all other respects a capable 2.5G phone, ultimately disappoints. ®
More Budget Touchscreen Phone Reviews...

Samsung H1

T-Mobile
Pulse

Samsung
Tocco
Lite

Nokia
5530
XpressMusic