Original URL: https://www.theregister.co.uk/2009/12/23/expedition_22/
ISS crew don festive hats
Soyuz crew arrive aboard orbiting outpost
Posted in Science, 23rd December 2009 10:54 GMT
The crew of the International Space Station have posed with festive hats following a successful docking of the Soyuz TMA-17 spacecraft with the orbiting outpost yesterday.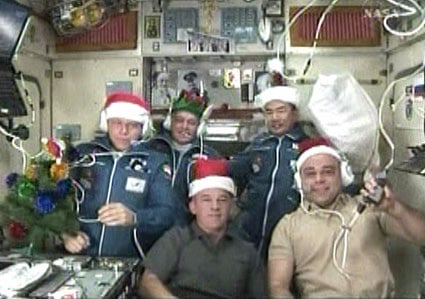 The Soyuz launched on Sunday from Baikonur Cosmodrome in Kazakhstan, carrying Russian cosmonaut Oleg Kotov, NASA astronaut TJ Creamer and Japan Aerospace Exploration Agency astronaut Soichi Noguchi (pictured back row, L-R)
The trio's vehicle mated with the ISS at 22:48 GMT, and they were greeted by Expedition 22 Commander Jeff Williams and Flight Engineer Maxim Suraev (front row, L and R).
Creamer is on his first space jaunt, having been selected as an astronaut in 1998. Kotov and Noguchi are both on their second spaceflights: the former "previously served six months aboard the station as an Expedition 15 flight engineer in 2007", while the latter "flew on the STS-114 return-to-flight mission of Discovery in 2005 and conducted three spacewalks, totalling more than 20 hours".
The three new arrivals will spend five months aboard the ISS. Suraev and Williams - who arrived in October aboard the Soyuz TMA-16 - will return to Earth in March 2010.
NASA has full Expedition 22 details here. ®