Original URL: https://www.theregister.co.uk/2009/12/21/review_storage_hdd_toshiba_mk6465gsx/
Toshiba MK6465GSX 640GB laptop hard drive
Notebook storage booster
Posted in Personal Tech, 21st December 2009 08:02 GMT
Review Toshiba is the first manufacturer to deliver a 2.5in laptop hard drive that packs more than 500GB of storage. Its new MK6465GSX sports 640GB on two platters, and while we are aware that the Western Digital Scorpio Blue and Seagate Momentus 5400.7 are also available in 640GB models we haven't seen either drive to date.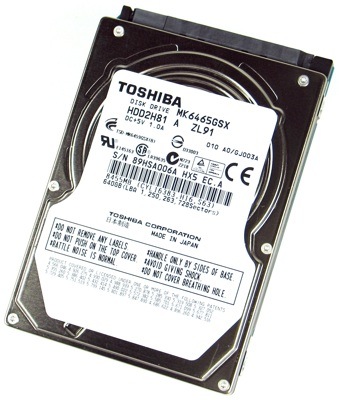 Toshiba's MK646GSX: storage boost for your notebook?
The Toshiba is, clearly, built around a 320GB platter and comes in five versions. The 640GB and 500GB models use two platters and four heads, although our maths suggests that the 500GB might use two platters and three heads. The 320GB and 250GB versions have a single platter and two heads, and the baby 160GB drive brings up the rear with a single platter and single head.
All five drives have the same physical form-factor and measure 9.5mm in thickness. They also share a 5400rpm spin speed, 8MB of cache and a 3Gb/s Sata interface that is compliant with the Sata 2.6 standard.
It's interesting to note that the single-platter models have an idle acoustic figure of 19dB and a seek figure of 20dB while the dual platter drives emit 25dB at idle and also while they are working for their living. While we were testing the 640GB drive, we were indeed impressed that the drive was very quiet. Realistically, though, that's true of most laptop drives.
A quiet desktop drive is typically rated at 27-29dB, while a more audible drive will break the 30dB mark. WD's 2TB Caviar Black is fairly noisy and is rated at 33dB, so Toshiba's figures of 25dB and 20dB look good to our eyes.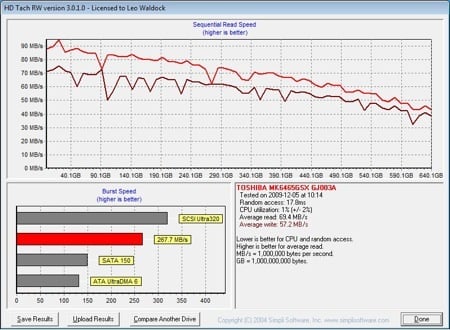 Click for full-size image
We tested the 640GB Toshiba on our regular Core i7 PC and generated a set of test results that compare fairly poorly to the hard drives and SSDs that we have reviewed in recent times.
The trouble, of course, is that we're not comparing apples with apples, so we reached for a Novatech laptop that we happened to have on the shelf. The Novatech uses a 120GB Fujitsu MHW2120BH Sata hard drive that has a specification that is reasonably similar to the Toshiba. The Fujitsu has a spin speed of 5400rpm, packs 8MB cache and has a noise rating of 24dB.
The obvious technical difference between the two drives is the areal density as the Fujitsu offers 80GB of data per platter while the Toshiba leaps to 320GB per platter.
2GB File Dupliction Test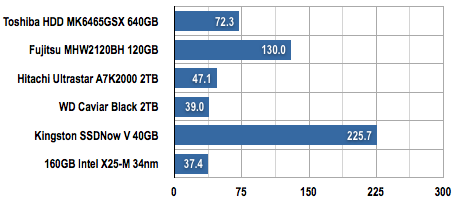 2GB of music files copied on the drive
Time in Seconds (s)
Shorter bars are better
This difference is apparent in our test results as the Toshiba delivers HD Tach average read and average write figures that are twice as fast as the Fujitsu. It's a similar story when we copied files within the disks as it took the Fujitsu a full minute extra to duplicate 2GB of files.
HDTach 3.0.1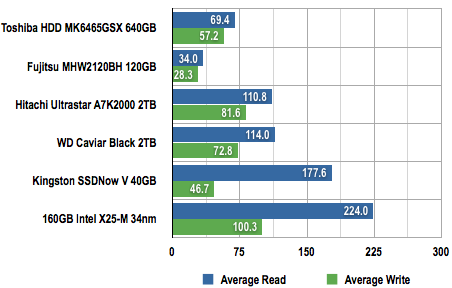 Average read and write speeds in Megabytes per Second (MB/s)
Longer bars are better
CrystalDiskMark also shows the Toshiba has a significant advantage over the Fujitsu.
CrystalDiskMark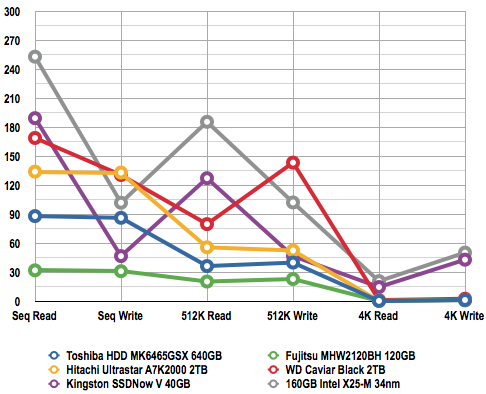 Throughput in Megabytes per Second (MB/s)
Longer bars are better
Iometer tells a more nuanced tale. The Read IOPS figures for the two drives are nearly identical, but in Write IOPS the Toshiba has an advantage of 22 per cent. That extra performance is worth having, but Iometer shows that the Hitachi doesn't perform at all badly when the drives are working hard.
Iometer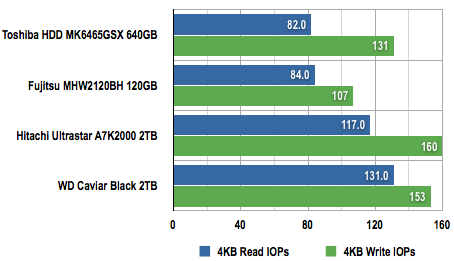 I/O operations per second
Longer bars are better
The Toshiba comes to the fore when the increased areal density can make its presence felt but we thought it worthwhile trying one final test.
The Novatech laptop runs Windows XP. We cloned the drive to the Toshiba and used a stop watch to time Windows startup and shutdown. The Fujitsu took 58 seconds to start and 23 seconds to stop while the Toshiba shaved three seconds off startup and five seconds off shut-down. That's time worth having, but it's not the life-changing experience that you get from an SSD.
Verdict
The £113 price of the 640GB Toshiba is quite steep and that seems like a hefty premium when you consider that a 500GB Toshiba MK5055GSX will set you back just £68. We're not talking about the sort of money that will break the bank, but it's unlikely that you feel a burning need to have 640GB of storage in your laptop rather than 500GB, so it's hard to see why you would pay the extra. Yes, the performance is good but not so much so that it's a 'must have' upgrade. ®
More Storage Reviews...

Hitachi
Ultrastar
A7K2000 2TB

Kingston
SSD Now V
40GB

WD Caviar
Black 2TB

Intel
X25-M
34nm