Original URL: https://www.theregister.co.uk/2009/12/18/saab_e_car_plan/
Neat two-motor soft-top first victim of GM Saab sale?
9-3 Convertible gets battery treatment
Posted in Science, 18th December 2009 15:02 GMT
Leccy Tech GM's decision to wind down Saab puts the subsidiary's e-car development plans in doubt. Which is a bugger, because Saab's effort looked rather good.
Rather than than cook up some dull-as-dishwater leccy city car, those crazy Swedes opted for a twin-motor 250kW (335bhp), 115mph two-door convertible that could hit 60mph in around 6.5 seconds.
That's the sort of thinking we like here at The Register.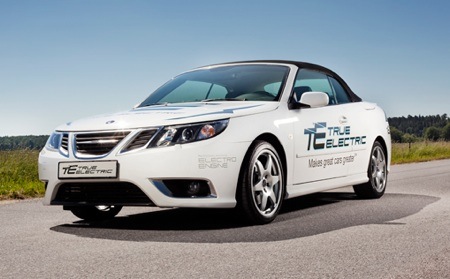 Saab's ZE 9-3: utterly lovely?
The car is called the ZE Saab 9-3 and is essentially an electric version of the ageing but still utterly lovely 9-3 Convertible.
The project is the work of group of companies including Saab, US battery maker Boston-Power, Swedish power train developer Electro Engine and Power Circle - Sweden's electric power industry trade organisation - who have come together to "fuel the advancement of zero-emission, high performance vehicles".
The fact that this isn't just a Saab project gives us hope the ZE may yet see light of day.
The development of the ZE is being funded to the tune of 86m Kroner (£7.4m/€8.2m/$12m) by a grant from the Swedish Energy Agency.
The first prototype is powered by a 26kWh li-ion battery pack giving it a range of around 150km (90m) but, according to Boston Power, future models will sport higher-capacity power packs giving a range closer to 185 miles.
Only 100 examples of the ZE 9-3 were planned to be produced for lease to selected customers. We hope they still will. ®