Original URL: http://www.theregister.co.uk/2009/12/18/review_laptop_sony_vaio_vpcx11s1e/
Sony Vaio X
Spectacularly slim – fat wallets only
Posted in Personal Tech, 18th December 2009 08:02 GMT
Review Sony discovered it had a major problem when the first round of netbooks hit the market in late 2007. Having spent years educating well-heeled consumers that small notebooks were expensive, shoppers were hit by a deluge of small, light laptops that did everything they wanted for a fraction of Sony's traditionally high prices.
Sony's Vaio X series: weight loss comes at a price
Sony finally caved, and produced the tempting, sub-£500 Mini W, which frankly only makes the admittedly beautiful X series even stranger. At £1200 in its cheapest incarnation, it's perhaps the most expensive Atom-powered machine available today - an odd contradiction, since spending more money on a laptop normally results in more power.
Hold the X between a thumb and forefinger, though, and it's clear where Sony's design priorities lie. Netbooks might be small and light, but the X is sensationally thin. It's 14mm thick, weighs under 800g and, internally, has precisely one moving part: a small, but occasionally annoying fan to keep the 1.86GHz Atom Z540 CPU cool.
The pictures really don't do it justice. 800g might not sound terribly impressive but coupled with the incredible thinness you barely hold the X - you pinch it. You'll certainly have no problems slipping it into a small bag and the tiny weight means you won't think twice about taking it everywhere. However, the light design does appear to have impacted on the screen's overall robustness, which feels like it needs to be handled with care to guarantee its survival.
The rest of the ergonomics are necessarily small, but well-formed. The chiclet keyboard has keys which are positively Lilliputian, but we soon got used to them, and the keyboard feels good and solid, which is impressive considering there's hardly anything beneath it. Likewise, the trackpad might only measure 5cm wide, but after our first hour with the X we had no complaints.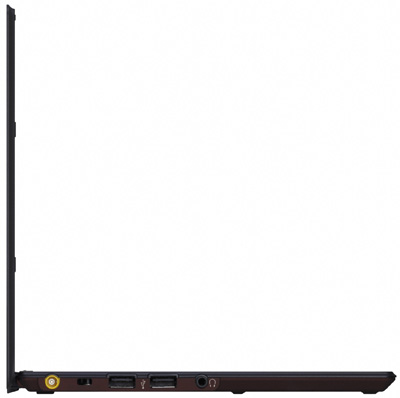 Solid body, but the slim screen seems a bit flimsy
The screen is a good one as well. The X doesn't go the usual Sony route of slapping a glossy finish on the 11.1in screen, and the result is an LCD you can use in almost all lighting conditions. Viewing angles are good as well, and the 1366 x 768 resolution is plenty for the odd bit of office work and - technically - makes the X HD compatible.
'Technically' is the operative word, there, because the one area the X-series really disappoints is performance. The 1.86GHz processor is complemented by 2GB of 533MHz RAM. Indeed, 2GB is the maximum the X can accommodate, and while that means most applications run fairly well, there are some multimedia bugbears to think about.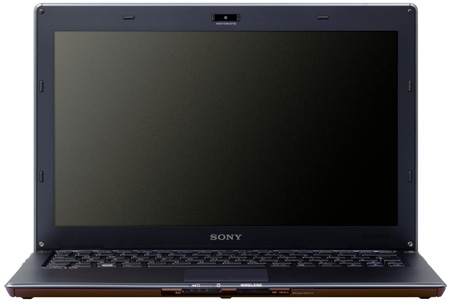 Mission impossible: HD video playback
For instance, we tried to watch a YouTube video in HD mode, and were rewarded with a stuttering, unwatchable slideshow. The same happened when we went to Vimeo.com. HD streaming on the X-series, it seems, is out. You can, of course, forget about gaming - the Intel GMA 500 graphics adapter isn't up to much.
Performance is otherwise okay. With Windows 7 Professional in Aero mode we experienced the odd slowdown - switching to the Windows Classic theme reduced bottlenecks. And, the hard disk is a Samsung SSD with a capacity of 128GB and some spectacular secondary specifications.
It's Sata II compatible, for a start, giving it a maximum theoretical transfer speed of 3Gb/s. It clocked up a PCMark Vantage score of 11,060, yet with an overall result of 1635 – the X is hardly Earth shattering, and is indicative of future performance frustrations for those who like to work with multiple webpage tabs open. Other category suite results were 848 for TV and Movies, 996 for Gaming, 2957 for Music, 1364 for Communications and 2065 for Productivity. Memory tests crashed and failed to deliver a result.
The lithium-ion battery takes up a fair bit of space under the X series' chassis. With its constraints on it thickness, it takes up nearly half the depth of the underside and virtually all the width.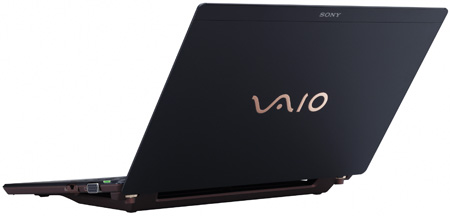 Fitted with VGP-BPX19 extended battery pack
The X series' tiny size and light weight prompted us to hope for great things, but a final battery life of a little over three hours isn't going to set many pulses racing and it's a shame that such a travel-friendly little machine couldn't muster a bit more.
In fairness, the tests – a constant running of PCMark until the battery dies – are strict. With the system simply set to sit idle with the screen on it ran for seven hours 56 minutes - impressively close to Sony's claim of eight hours.

Two USB ports and headphone output, but no mic input
There are a few concessions to portability. You'll find just a pair of USB ports, for instance, and - unusually - there's no microphone-in port, which could prove annoying for those who use VoIP services such as Skype, unless you've a USB audio option handy.
You still get video out, courtesy of a curiously oversized-looking VGA port, and there's even wired Gigabit Ethernet, although the port is too big for the X series' slim dimensions and needs to be folded out before use. The front of the system is host to a useful pair of memory card slots. Inevitably, one is a slot for Sony's Memory Stick format, the other for more popular SD cards.
Inside, there's some useful hardware. Complementing the 802.11n wireless is a 3G radio - the X comes with an Orange Sim card as part of Sony's Everywair package. Priding itself on looks and slimness, leaves little room for much else in the way of luxury.
A reasonable 0.3Mp webcam is built into the bezel of the monitor, but other niceties – a TPM chip or a fingerprint reader for security, or a row of media playback keys above the keyboard – are absent.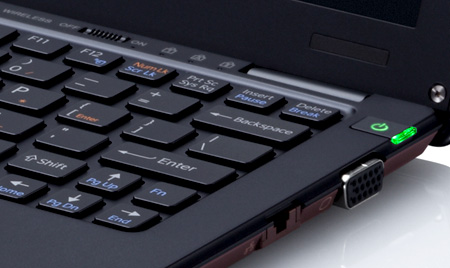 The seemingly huge VGA port gives an idea of the size of the unit
The X puts us in mind of an old adage. You can have your laptop fast, thin or cheap - pick any two. On this evidence the X might be an expensive - but gorgeous - misstep. It's the thinnest laptop we've ever seen, but it's not, say, twice as portable as netbooks such as the Dell Mini 10, despite costing well over twice as much.
Another way for it to justify its high price would be if it could offer decent performance - we'd love a notebook this thin that could cope with handling the odd RAW image on the road, for instance. Unfortunately, not only is its performance nothing special compared to the majority of netbooks, it's positively lacking when it comes to HD video streaming.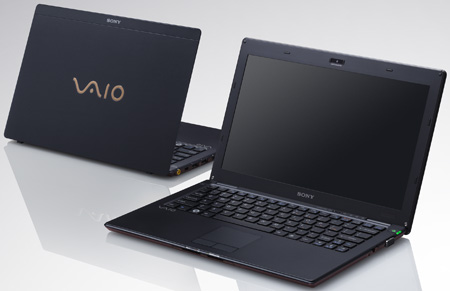 Lightweight, in more ways than one
Those with money to burn should also remember the oft-derided MacBook Air. At 1.3kg, it's the heavier of the two but you get a more powerful Core 2 Duo processor, taking HD video from a flight of fancy to reality. The larger 13.3in screen offers a 1280 x 800 resolution and the base model is £50 cheaper. For £150 more will see you walking home with a faster Air with a 128GB SSD like the Sony's.
Verdict
If size - or looks - mean a lot then we can't argue: the X series is jaw dropping. But mere good looks, unbolstered by good value or above par performance, can't take the unwelcome focus off that astronomical price. ®
More Skinny Notebook Reviews...

Toshiba
Satellite
110

MSI
X-Slim
X600

Apple
MacBook
Air

Acer
Aspire
1810TZ
Recommended