Original URL: https://www.theregister.co.uk/2009/12/18/greatest_moments_of_the_year_in_tech/
The year in tech lunacy - an El Reg guide
Eight moments to remember
Posted in Bootnotes, 18th December 2009 22:29 GMT
Yes, readers, it's that time of year again. Time to remember our favorite moments of the year in tech. No, we don't mean the debut of Windows 7. Or the arrival of the iPhone 3GS. We mean that moment when Vladimir Putin bitchslapped Michael Dell. Or when Eric Schmidt officially turned Google into public enemy number one.
Here's the entire list, including not one but two appearances from Michael Dell. We love you, Michael. We really do.
Michael Dell mauled by the Russian bear
When Michael Dell sat on a panel at Davos Economic Forum last January, he was joined by Russian Prime Minister Vladimir Putin. Under the ex-KGB man, Russia was riding a wave of boisterous nationalism buoyed by rising oil prices. Observers had talked of a new cold war, as Russia resumed flying bomber missions over western countries and invaded neighboring Georgia.

But Dell proceeded to exhibit a Sarah Palin-esque ignorance of current events. "How can we as an IT sector help you broaden the economy as you move out of a crisis and take advantage of that great scientific talent that you have?"
Putin didn't exactly like the question. On live TV, the PM told the PC maker: "We don't need any help. We are not invalids. We don't have limited capacity. People with limited capacity should be helped. Pensioners should be helped, developing countries should be helped."
Steve Jobs embraces his inner Joe Stalin
The thing about Joseph Stalin's show trials and purges in 1930s Soviet Union was that his victims never realized he had it in for them. The victims - especially in the higher echelons of the party - would go to their graves blaming others for their fate, continuing to believe the great leader still loved them. Little did they know it was papa Joe who had signed their death warrants as he stroked his bushy black mustache.
And so it was a painfully familiar moment when John Devor, chief executive of shareware developer The Little App Factory, wrote a lengthy appeal to the CEO of the decade. After Steve Jobs' goons demanded he change the name of his company's rather useful iPodRip application, even though it had been shipping since 2003, Devor targeted Jobs' sense of fair play and decency, his competitive spirit, and his belief in customer service before wrapping up.
"We are in desperate need of some assistance and we beseech you to help us to protect our product and our shareware company, both of which we have put thousands upon thousands of hours of work into," Devor said.
How did the CEO of the decade respond? "Change your apps name. Not that big of a deal. Steve"
Google scraps "steal-all-the-World's-boffins" plan
Among the many things to thank Google for, according to Google, is the fact that it's not robbing the industry of too many top technology minds. In December, Google vice president Bradley Horowitz painted a fairytale picture of flat management and gentlemanly behavior when he recounted the conversation he'd had with one of his engineers.
Horowitz came to the engineer with a handful of non-Googlers he wanted to hire. But the engineer would have none of it.
As Horowitz remembered: "[The engineer] stopped me and said: 'These people are actually important to have outside of Google. They're very Google people that have the right philosophies around these things, and it's important that we not hire these guys. It's better for the ecosystem to have an honest industry, as opposed to aggregating all this talent at Google.'"
No, really. That's what he said.
Super-salesman Dell does a netbook Ratner
"Doing a Ratner." It has now entered the popular lexicon as a way of describing someone who criticizes their own company with disastrous consequences. During a 1991 speech, Gerald Ratner - the chief exec of UK high-street outfit Ratners - dropped the company's value by £500m ($812m) when he said one of his products was "crap" and another was cheaper than an M&S prawn sandwich and probably wouldn't last as long.
Which brings us back to Michael Dell. This year, Dell veered perilously close to pulling a Ratner in the netbook market. Speaking at a Silicon Valley dinner event, the super-salesman actually went in reverse on the subject of his company's netbooks. According to Dell, the average buyer gets fed up with Dell netbooks after about 36 hours.
Dell's had a tough year. Not only has it lost PC market share, its position as the world's second largest PC manufacturer has passed to Taiwanese OEM Acer, known for its full lineup of, yes, netbooks. Shame, really. Netbook sales in 2009 more than doubled over last year, while sales of regular PCs and laptops remained relatively flat at two per cent.
Amazon goes Orwellian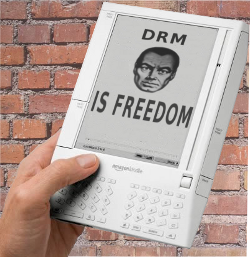 The tech industry doesn't "do" irony. It's too literal-minded. It believes too much in the power of, well, technology. But the irony is there nonetheless. Before surreptiously erasing George Orwell's 1984 from citizen Kindles, you'd think that Amazon would have thought twice. You'd think they would have seen the irony of silently removing the story of a bleak future where a large and faceless organization controls the lives of helpless individuals.
But no.
The problem was a dispute over copyright, but the incident showed Kindle users the limits of property ownership on the fledgling device. It proved that Amazon's private kindle wireless network has the power to claw back their books and libraries regardless of whether they paid for the content.
Amazon apologized and promised never to nationalize citizens' digital books again, but the law is the law. Now that Amazon has proven that it's got the tools, the courts can now force them to do so. But this seems to be lost on Amazon as well.
Microsoft evangelist: "Past, what past?"
They're called evangelists. They inhabit the netherworld between salesperson, marketing drone, and user. They're paid to proselytize, to trumpet their employer's philosophy and products. And you have to wonder if they really believe what they've saying.
So it was with Don Dodge, the Silicon Valley mover and shaker who was cut loose in Microsoft's latest round of layoffs. Dodge, a director of business development for Microsoft, was a veteran of countless startups - including AltaVista, Napster, and Ray Ozzie's Groove Networks. He was a kind of über-evangelist, selling Microsoft to hostile and skeptical developers and start-ups.
Almost immediately after Microsoft cut him lose, Dodge was wooed and hired by arch rival Google. He wasted no time blogging about the smoothness of the courtship and sticking the knife into the company that paid his salary for nearly five years.
First he dinged Microsoft for its "slow, secretive, bureaucracy". Then he cataloged how he's swapping Outlook for Gmail, Office for Google Docs, Windows Mobile for Android, and, yes, IE for Chrome. Then came the final one-two punch. First came the Office 2007 blow: "Hey, isn't this November of 2009? Why Word 2007?" he wrote. "One of the nice things about Google Docs, and all web based products, is that they can be updated continuously with no interruption to you." Then he hit Windows Mobile: "Now that I am no longer with Microsoft, I can admit I had iPhone envy. My Windows Mobile 'Smartphone' didn't measure up."
Eric Schmidt ratchets Google evil meter
2009 marked the end of a decade that had smiled upon Google. During the last 10 years, it has gone from wonder startup to becoming the internet's largest search engine and online ads company. It has kept fans and the public happy by dishing out endless free online applications.
In the closing days of a remarkable decade for Google, the company's chief executive was given the job of closing the game with a showboat performance. And then Eric Schmidt proceeded to do just the opposite.
Schmidt appeared in what should have been a by-the-numbers, Marlboro-and-a-length-of-hose-pipe-style interview conducted by sycophants and ingénues of CNBC who completely missed the expanding Sub-Prime Bubble. Pitched a softball question on Google and privacy, Schmidt piously laid it out: if you're worried about privacy on the internet, he said, then you're probably doing something wrong in the first place.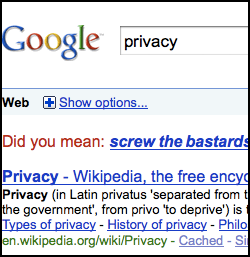 In an instant, Schmidt turned himself into Scott McNealy.
Never mind that Schmidt's haughty statement pitched everybody from people worried enough about their privacy to own a paper shredder to the lobbyists at Electronic Frontier Foundation into the same group as pedophiles and Al Qaeda. And forget the fact that Schmidt valued his own privacy so much that Google blacklisted CNET in 2005 for publishing information on the CEO such as his salary, where he lived, and his hobbies, cribbed from Google searches.
No, as privacy advocates seized on Schmidt's fumble, open-source project and on-time Google buddy Mozilla turned on the web giant. A ten-year veteran of the Mozilla project - which has driven millions towards Google in the last 10 years - advised Firefox users that they should dump Google for Microsoft's Bing, citing Schmidt's comments.
Photoshop crop backfires on Microsoft
Microsoft spends millions, possibly billions, of dollars each year researching and executing ad campaigns around the world. So why it let some Photoshop-wielding Muppet have a go at its Polish subsidiary's web site is anyone's guess. Netcitizens went ballistic after Microsoft Poland posted a stock photo on its web site of a black man and an Asian man and a Caucasian woman - only to swap the black's head for another Caucasian.
Here's the original: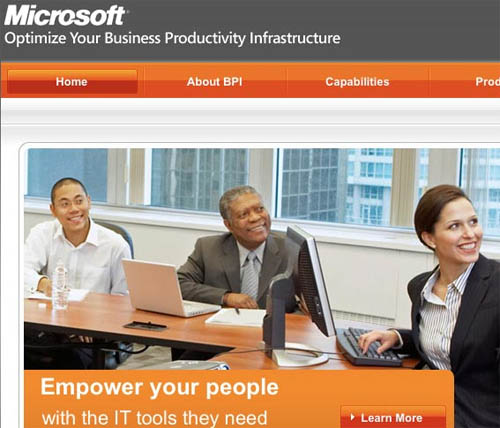 And here's the one with the new head: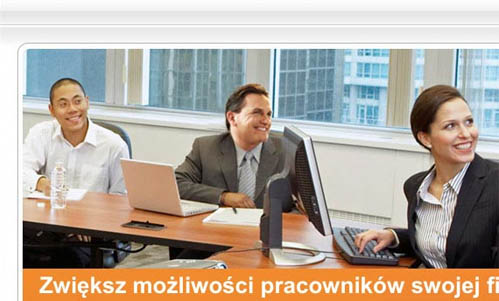 Little things gave the gig away: like the fact that the guy's hands didn't match his head. Microsoft took to Twitter to apologize and promised it was looking into the incident. It was too late, and in the wake of painful allegations of racism, the internet's army of Photoshoppers steamed in with their own take on the matter.
An Irish bookie actually laid odds on the racial makeup of the faces that would turn up in Redmond's global advertising campaign for Office 2010. The betting shop did not explore the possibility of a lizard: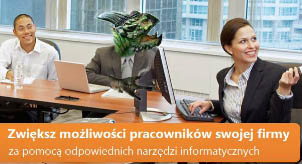 Or a Wookie: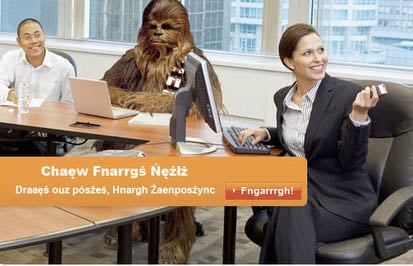 We love you, Microsoft. We really do. ®