Original URL: https://www.theregister.co.uk/2009/12/18/fujitsu_workers_strike_london_hq/
Fujitsu workers picket London HQ
'Paid a pittance' staff come out in force against services firm
Posted in The Channel, 18th December 2009 15:53 GMT
Disgruntled Fujitsu Services' employees protested at the firm's London headquarters today to mark the start of strike action by Unite union members - many of whom are disgusted at the management's stance on pay, pension and jobs.
The walkout signals the beginning of what could be a series of stoppages stretching into the New Year, if Fujitsu bosses fail to meet the demands of its unhappy workers.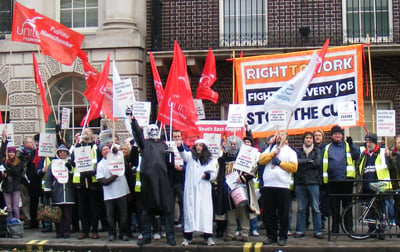 Fujitsu picket line in chilly London earlier today
Unite IT and communications national officer, Peter Skyte, told The Register that the union and its members hoped that today's action would be enough to convince Fujitsu management to rethink its position on pay, pensions and job cuts.
Speaking at the picket line outside Fujitsu's HQ in Baker Street, London, he said Unite wants the company to back away from its plans to axe 1,200 UK workers.
"Compulsory redundancy is simply unacceptable, especially considering that Fujitsu is expecting record earnings next year," he said.
Skyte added that union members at Fujitsu had a "great deal of support" from the company's 11,000 workers in the UK.
"Turnout has been strong around the country today, and this demonstrates how deep the feelings are against Fujitsu management," he said.
However, he didn't confirm how many people had joined the strike action at Fujitsu today.
The union is calling on Fujitsu to avoid compulsory lay-offs, improve pay for its workers and offer a decent pension, said Skyte.
Fujitsu employee Dave Seymour, who has worked at the company for nine years as a workstation assessor on the services' outfit's Home Office account, slammed Fujitsu management.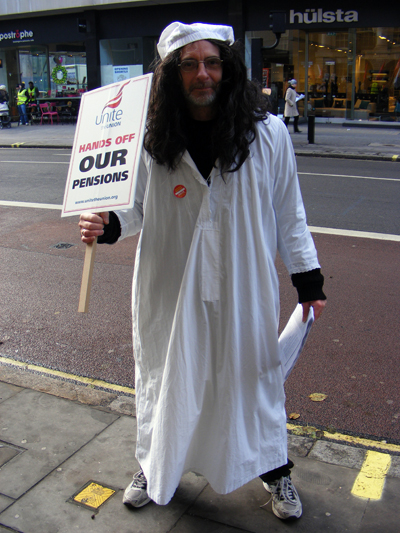 Fujitsu worker, Dave Seymour, adopts Scrooge outfit to bring home message to 'tight' bosses
"Roger Gilbert [Fujitsu CEO] is tight," he claimed.
"I'm paid a bloody pittance and have only had four crappy pay rises since I've been working here."
Seymour told El Reg that he currently earns £18,000 per year, and said he would continue to strike in the hope that Fujitsu bosses will eventually sit-up and listen to the firm's unhappy UK staff.
"I'm losing money standing here today, but I'm not going to give up," he said.
Fujitsu was concise in its response. "Fujitsu has taken prudent measures to ensure that service to its customers is maintained," said a company spokesman. ®