Original URL: https://www.theregister.co.uk/2009/12/18/adaptec_story/
Adaptec - the eternal wannabe
Serial acquisition FAIL
Posted in The Channel, 18th December 2009 17:19 GMT
Comment Adaptec always wanted to grow beyond its core adapter business - to be greater than the sum of its parts - but it only managed to serially underachieve, never fully breaking out of the adapter market in which it felt confined.
The company was founded by Larry Boucher in 1981 to speed I/O between computers and external devices. Boucher is an IT industry character who later went on to found NAS supplier Austek and TCP/IP offload supplier Alacritech. In the early 80s, Adaptec focussed on parallel I/O and built a business as SCSI (Small Computer Systems Interface) became popular alongside IDE disk drives. It had ramshackle financial controls and nearly crashed in 1984 when its finished goods inventory was worth more than its annual revenue.
Boucher brought in serious financial management and the company rescued itself. It carried on growing and became a listed company in 1986. Larry Boucher then went off to start up Auspex and Alacritech, and John Adler ran the Adaptec show. It chugged along at a steady $57m to $64m annual revenue level until 1990, when it suddenly jumped to $109m and started rocket-like growth. Revenues hit £150m in 1992 when there was a 2:1 stock split, $372m in 1994 when there was another 2:1 stock split.

Adaptec's annual revenue and net income history.
The next year, they soared to $466m and Adaptec bought Power I/O, a company founded by Robert Stephens, who will go on to play a bigger role. John Adler ceded the CEO position to Grant Saviers and the good times rolled. In 1996, revenues soared again to $659m, there was a third stock split. Then Adaptec bought Cogent Data Technologies and its Fast Ethernet adapter for $68m.
Nobody knew it then, but the foundations of the coming dot.com boom were being laid. Adaptec was doing business at giddy heights and had carved out a great role providing I/O adapters between PCs and servers and storage peripherals. It had Parallel ATA (ATA) and SCSI adapters, controller chips for target devices, and RAID controllers. It was into Ethernet NICS and had a Fibre Channel HBA business. It had CD authoring software and a satellite networking business, and it was selling external storage. After all, a RAID controller plus a bunch of disks (JBOD) was a storage array, and hard drives were becoming commodities so it made obvious marketing sense for Adaptec to expand along the adapter ribbon or cable and build the storage at the end of it too.
But this put it into competition with parts of its channel. It ignored this. The adapter world was its oyster and it was coining cash hand over fist and investing in what would surely become cash-generating pearls. Things went well, very well, and revenues rose up to a record height in 1997 of $933.9m, nearly a billion dollars. There were around 3,000 staff. The share price went past $50. Adaptec was set to become a billion dollar-plus company, but this heady level of business was not sustainable.
Dot com boom
The dot.com boom took off in 1998 but Adaptec missed the initial boat. It tried to buy Symbios Electronics for $775m, but the FTC stopped the deal on anti-trust concerns. Sales started falling and Saviers had no plan B. The CFO resigned and Saviers went a short while afterwards. Adaptec was in turmoil and Larry Boucher came back to stabilise the now listing ship. He acted quickly, making 850 layoffs, and selling off a Peripheral Technology Solutions division, which made hard disk drive controllers, to STMicroelectronics. Adaptec exited the satellite networking business, got out of Fibre Channel, the external storage business too, and cut its R&D spending.
The lesson here was that Adaptec's core competency and market strength was SCSI adapters and RAID controllers - focussed components, not Fibre Channel HBAs, and not storage drive arrays. This lesson was only partially learned. For now though, the focus was firmly back on SCSI I/O adapters, where it led the market, and RAID controllers, where it was also dominant. Revenues for the 1998 fiscal year were $965m, Adaptec's record high, although the share price dipped momentarily below $10 in the year.
The dot com boom was in full swing in 1999. A revitalised Adaptec, now led by the previously-mentioned Robert Stephens, was back on the acquisition trail and bought DPT for $235m to strengthen its RAID product line. Its share price recovered and passed $60 as 1999 transitioned to 2000. Adaptec's financial year ends on March 31 and the 1999 revenues were $642.4m with a loss of $13.3m, its first loss since the IPO, and time pretty well perfectly for the ending of the dot com bubble. It burst in March and Adaptec's stock price sank precipitously.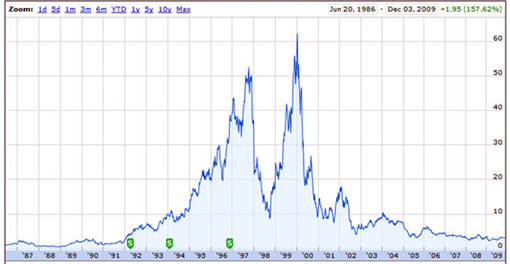 Adaptec stock price history (sourced from Google).
Dot.com bust
In 2001, revenues sank to $578.3m with a profit of $39.6m. Adaptec spun off its CD authoring software operation as Roxio. 2002 saw a revenue decline to $418.8m and a loss of $196.2m. Adaptec's fortunes were heading rapidly south. Stephens came up with an end-to-end block and file networked storage solution strategy. He went on a bit of an acquisition spree in 2003 to get the bits he needed, buying ICP Vortex for RAID hardware and software technology and EuroLogic for its external SAN storage.
Adaptec had DuraLAN Ethernet NIC products, a DuraStor external storage business. It found that SCSI storage was losing share at the low end to SATA and it launched SATA RAID Cards. IDE RAID controller sales were larger than SCSI ones as Adaptec failed to translate its strong non-serial RAID and adapter business position to the serial world. The 2003 revenues were $408m with a loss of $15.4.
The Eurologic acquisition soured as it delivered less than half the hoped-for revenues. Nevertheless Stephens continued buying in 2004. Adaptec bought Elipsan for storage virtualisation software, also some business continuity technology. Apparently there was the idea of morphing its RAID controllers into IP SAN controllers. In July, it bought a RAID technology business from IBM, IBM having bought the Mylex RAID Controller in 1999. There was a contract to supply RAID controllers to IBM for three years as part of the deal.
Adaptec also set up a chip design operation in India with a $25m 3-year investment plan. Lastly, Stephens made what became one of Adaptec's worst-ever acquisitions; he bought Snap Appliance, a successful supplier of low-end NAS arrays, for $100m.
Snap, bang, wallop
It was a steep price but NetApp was also in the running. Adaptec wanted to be a major storage box supplier to small and medium business (SMB) though not to enterprises, so it bought the leading, in a volume sense, NAS supplier to that market. Although it would be competing with its OEM channel it hoped that they would buy the Snap servers and resell them under their own brands, augmenting the other indirect channel sales. It proved to be a fatuous hope and a major mistake. But the immediate thing was that 2004 revenues rose significantly to $452.9m with profits of $62.9m. Things looked good enough at the time, two years of losses had ended and revenue falls had stopped.
In 2005, Adaptec renegotiated the RAID controller supply deal after poor results and received a $22m payout. Things were rapidly turning sour again. Although revenues climbed again, to $475m, there was a thumping great $145.1m loss. Stephens left the CEO job and, after Scott Mercer took the role on an interim basis, Sundi Sundaresh came in to do as Boucher had done seven years before; get rid of the storage box dross, cut costs, and concentrate on RAID controllers, this time SATA and SAS ones.
The trouble was no-one wanted to buy the Snap business, so Sundaresh decided to keep it and invest in it to make it a better product with new models and intentions to add replication, disk-to-disk backup and virtual tape library (VTL) capabilities. The 2006 revenue figure was a poor-ish $344.1m with another horror story of a loss, $148.4m. Sundaresh didn't know it but this was the start of a terminal decline. Adaptec's end game had started.
Enter Steel Partners
There were more new Snap servers in 2007, and the new capabilities were delivered. The improvements didn't work and the Snap server business was obviously dragging Adaptec down. Steel Partners, an activist investor in distressed companies took a holding in Adaptec, gained board representation and pushed for a company sale to return cash to the investors. The Adaptec board withstood this pressure but their and Sundaresh's minds were focussed on getting Adaptec profitable and growing once again.
They hoped that Adaptec's future was in front of it rather than behind it. Once again Sundaresh decided the Snap business had to go. Adaptec should focus on its core adapter technology once amore. You got the feeling that it was not because the company wanted to do this but that there was nowhere else for it to go. Its acquisitions off the adapter base had turned into dead-ends, one after the other.
The company brought out new unified SAS and SATA interface Series 3 RAID cards and recorded 2007 revenues of $255.2m with a profit of $30.8m the profit looked good and it made the revenue decline more acceptable. Next year saw a hammer blow. It started well enough with Sundaresh fashioning a new data conditioning RAID card strategy and managing to offload the Snap Server business to distressed Overland Storage who thought it saw a way to buy an $18m annual run-rate business for just $3.6m.
Adaptec brought out new Series 5 RAID cards and Series 2 RAID-on-chip (ROC) entry-level cards. It added a drive spin-down capability to the cards, playing to the green gallery, and bought Aristos and its RAID ASIC technology for $40m. The sheer cost of staying in the RAID business was proving too much to bear but then competitors like LSI were strengthening their products all the time. The 2008 headline financial numbers were $167.4m revenue and a $9.6m loss.
Baying for board room blood
Steel Partners board members began snapping at the heels of Adaptec's old guard board. The RAID controllers had NAND flash added to them to speed I/O but it was fruitless in terms of relieving the pressure on the company. Steel Partners pushed harder and harder for a proposal at the AGM that Adaptec should be sold. It wanted control of the board and Sundaresh off the board too. There was a battle of proposal and counter-proposal, with letters to shareholders and proxy vote casting. Steel Partners gained more than half these votes and won control of the company. It cemented control of a smaller board, forced Sundaresh off the board, and then came clean this week and had Sundaresh agree to resign and assist in a company sale.
Adaptec never recovered from the dot com boom and bust; neither its revenues nor its share price ever returned to those heady heights. Its failure to heed both lessons of the 1994 crisis, its failure to adapt, returned to haunt it as it fumbled the parallel to serial transition in controllers/adapters and embarked once again on the we-can-sell-storage-boxes-too road to ruin.
In a period when LeftHand Networks and EqualLogic made iSCSI SAN array fortunes for their venture capitalist backers, Adaptec flunked the IP SAN business and then flunked the NAS business too, very messily. The Snap Server acquisition, initial divestment failure, renewed investment, and then distress sale cost the company very much more than $100m in total. Arguably, this diversion of resources led to weaker and delayed adapter and RAID controller product too.
If you want to go there, don't start from here
Adaptec always wanted to be more than an adapter/RAID controller company, but found out the hard way that if you want to become a storage array producer the best way to get there is not from an adapter starting place. Other adapter companies, such as Emulex and QLogic, didn't make the mistakes that Adaptec did and fared better, overall, through the dot com bust and the recession. There wasn't as much competition in the Fibre Channel HBA space as there was in NAS where software TCP/IP and cheap Ethernet NICS made NAS product entry cheaper.
The NAS market is a cruel one. Boucher's Auspex was knocked off its perch by NetApp and, once EMC entered the market with Celerra and BlueArc introduced its hardware-accelerated high-end NAS products, there were only low-end scraps left to fight over, with nobody making serious money.
So, farewell Adaptec. You fought a good fight but not good enough, being out-classed every-which-way you turned as you tried and tried to build something sustainable and profitable on your adapter base instead of focussing on it alone.
Who will buy you? LSI might like some of your technology. Broadcom possibly too. ®