Original URL: http://www.theregister.co.uk/2009/12/17/bmw_activee/
BMW uncloaks ActiveE
The e-car with the mobile phone control system
Posted in Science, 17th December 2009 11:42 GMT
Leccy Tech BMW has revealed the next step in its leccy car development cycle - the ActiveE.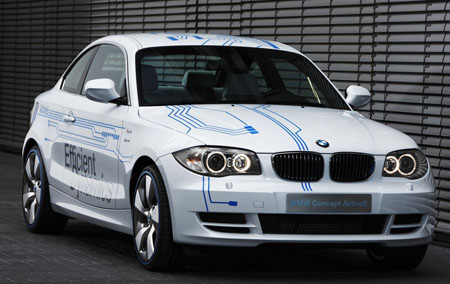 BMW's ActiveE electric car
Based on BMW's 1-Series Coupé, the ActiveE has a lithium-ion battery pack in the space previously occupied by the engine, fuel tank and drive train. This helps preserve the car's internal space and weight distribution.
Drive comes courtesy of a 125kW (170bhp) electric motor that develops 250Nm (184 lb/ft) of torque, while forming an integrated part of the rear axle assembly, BMW said.
ActiveE tips the scales at 1800Kg (3960lbs) and so is roughly 350Kg (773lbs) heavier than a diesel engine-powered 1-Series.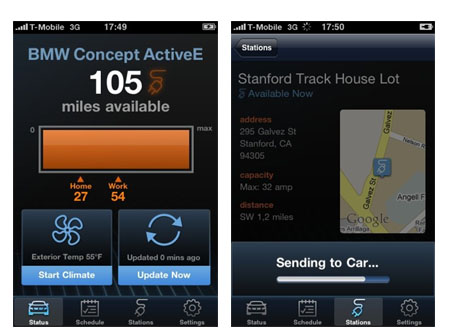 Contol the ActiveE via your iPhone? There's an app for that
Able to reach 62mph within nine seconds, ActiveE's top speed has been electronically limited to 90mph. The e-car's range from a full charge is said to be around 100 miles – the same distance as the e-Mini.
An "optimised ConnectedDrive" control system will let ActiveE drivers use a mobile phone to check the car's battery charge status, search for public charging stations and remotely activate the vehicle's auxiliary heating and air conditioning functions.
Though just a concept for now, the ActiveE seems closer than normal to a production-ready vehicle becuase BMW plans to lease limited numbers of the e-car out for use in test fleets.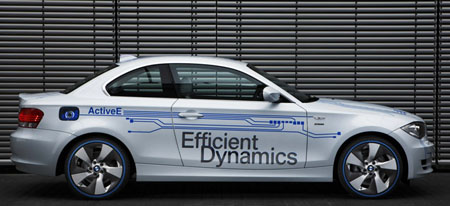 Production plans haven't been published
The car giant also said that the e-car's drive components have all been developed as part of "Project I" - BMW's hush-hush plan to develop its first production e-car under the suitably futuristic working title of the "Megacity Vehicle". ®