Original URL: http://www.theregister.co.uk/2009/12/16/review_phone_acer_a1_liquid/
Acer A1 Liquid Android smartphone
Niftiest touchscreen around?
Posted in Personal Tech, 16th December 2009 08:02 GMT
Review Over the last 12 months Acer has been spitting out smartphones like there is no tomorrow. Some of them, like the Tempo F900, have been quite good while others, like the beTouch E101, have been, ahem, less impressive. Yet none have really scored as a hit in our book, but that may be about to change with the release of the A1 Liquid, Acer's first Android phone.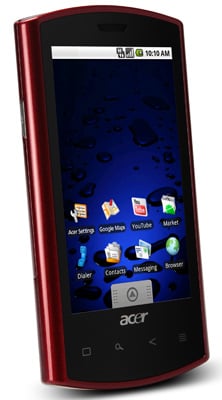 Fast and fuss-free: Acer's A1 Liquid
Just the basic specs are enough to make your ears prick up. A 3.5in 480 x 800 capacitive touch screen, Android 1.6 OS – that's Donut in Android's confectionery obsessed parlance – a Qualcomm Snapdragon 8250 CPU running at 768MHz, a 1350mAh battery, quad-band GSM, HSDPA good for 7.2Mbps downstream and HSUPA good for 2.0Mbps up, assisted GPS, Wi-Fi, Bluetooth and a 3.5mm headphone jack.
Available in either black, red or white – with rounded sides and slab ends design – embellishments have been kept to an absolute minimum. The end result is that the Liquid is handsome, but a bit dull. Considering its size and weight, the Liquid couldn't be more like Apple's iPhone if it tried. At 115 x 62.5 x 12.5mm and 135g, the two are near enough identical.
In the hand the Liquid feels a bit, well, plasticky, for want of a better word. The gloss plastic back and sides don't feel as solid in the hand as the matte-finished HTC Hero does. The Liquid is also a little more prone to squeaks and groans when given a good old twist about the axis. That said, all the exterior buttons are finished in an attractive silver and all have a nicely damped action.
Fascia controls are limited to four touch sensitive buttons for the home page, Google search, back a step and a contextual menu. Everything else – including all call functions – is managed from the touch screen. Scattered around the edge of the handset are an on/off button, a volume rocker and camera activation button. At the bottom is a covered mini USB port and, at the top, the audio socket - and that's your lot. Three concealed LEDs are embedded in the top of the handset which display information relating to charging, calls and messages.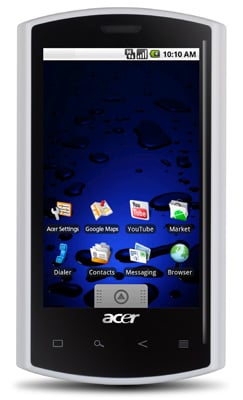 Big screen for movies, but alas, no Divx support
The TFT screen supports 256,000 colours rather than the iPhone's 16m. That said it's as bright, clear and colourful as you are ever going to want your phone's screen to be and made a more than decent job of playing back an H.264 video of the Avatar trailer at its native resolution. Acer hasn't seen fit to give the Liquid's screen the same oil-resistant coating that Apple gives the iPhone or HTC the Hero. Lay all three handsets side-by-side after use and you can clearly see the difference the coating makes.
The Liquid runs Android au naturel so you can forget about those fancy widgets that HTC supplies as part of its SenseMe UI overlay. That also means you only get the standard three home pages rather than the seven HTC offer, which is a more serious loss. What Acer does give users is a selection of media content widgets called Spinlets and built-in social networking integration with the phone's address book called – yes, you guessed it – Acer Social Networking.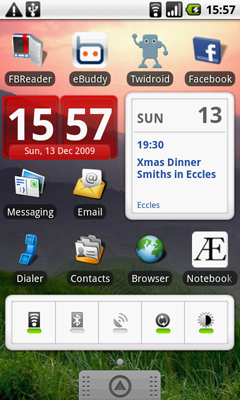 The unadorned Android UI
Neither feature is really up to much though. The social networking gubbins basically lets you tie in a contact's Facebook, Twitter, Picasa, YouTube and Flickr accounts to their address book page. Motoblur it most certainly is not.
More to the point, the system failed to match the majority of our Facebook friends to the relevant address book entries. Despite the names being identical, we were forced to match them up manually. Furthermore, the system won't let you assign Facebook images as address book images. To check for updates you have to open the address book and go look for them.
The Spinlets meanwhile are media-laden widgets which you can share with your social network, but the selection isn't much to shout about and much of the content was pretty dated – two tracks from Dido's Life for Rent, anyone? Despite some of Acer's documentation referring to video Spinlets, the only ones we could access were solely music-based.
While the basic Android UI may look a bit sparse it moves at a fair old clip on just about any handset. When combined with the Snapdragon CPU – even one clocked back a bit, presumably in the name of battery life and only having 256MB of RAM to frolic about in – it makes the Liquid go like a scalded cat.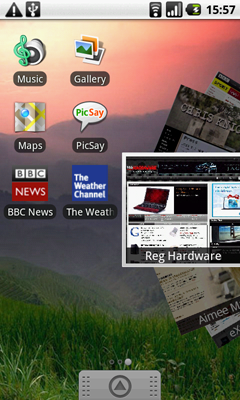 Browsing bookmarks fan out for easy access
Galloping about the Liquid's UI or browsing the web can be done at breathtaking speed and is completely devoid of the lag that the HTC Hero is often criticised for, especially in Android 1.5 guise. Open up an album of hi-res image files and the Liquid really shines, each full page of thumbnails appearing with barely a pause.
No matter how many apps you have running, a tap on the relevant button brings up the home speedily. Another advantage of a simple OS is start-up time. From hitting the on button to locking onto a cellular signal takes the Liquid just under 30 seconds while an HTC Hero running SenseMe takes nearly a full minute longer.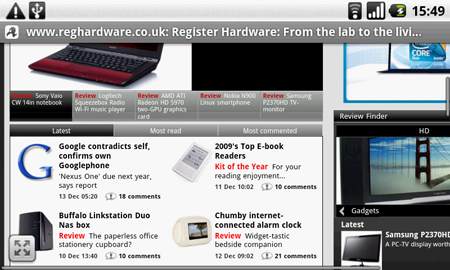 Browsing on the 3.5in screen is certainly useable
To date, the cameras built into Android phones haven't been much to shout about and to be frank the 5Mp device in the Liquid is no huge step forward. It features autofocus, geo-tagging, adjustable white-balance, some very basic effects and the ability to shoot QVGA video. With no flash, taking pictures in low light is pretty much out of the question, while the time between shots is a reasonable 6 seconds. As the sample images show, the Liquid takes adequate snapshots.
Sample Shots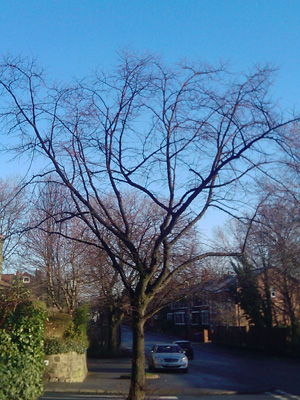 Click for a full-resolution image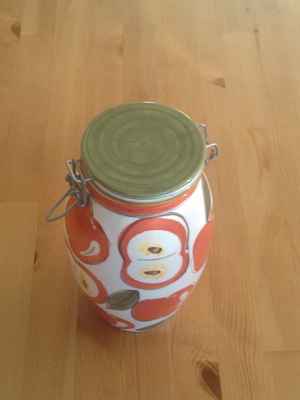 Click for a full-resolution image
Like every other Android phone under the sun, media file support extends to MP3, WAV, WMA and AAC audio along with MP4, WMV, H.263 & 4 video. All well and good, but a screen of this size and resolution does make us rue the absence of Xvid/Divx and AVI from the list. Speaking of digital media, on-board storage is a measly 512MB, but the Micro SDHC slot is good for cards up to 32GB. Yet, replacing either the SD or SIM cards involves removing not only the battery cover, but also the battery itself.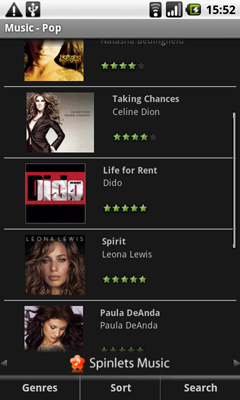 The media Spinlet offers various content
Alongside the included basic Android media players, the Liquid features nemoPlayer. This doesn't really add much in the way of functionality but it does come with a widget that lets you flick through your media by video or picture album or music album, with each album rotating out of the side of the screen. Its a nice idea, but it does occupy one whole half of the screen. A similar widget lets you access your web page bookmarks in the same format. Yet it's a shame you can't run both widgets on the same page, one on the left and one on the right.
Of course Donut is already just a bit passé, what with the release of Android 2.0 or Éclair but we would be surprised if Acer doesn't come across with an update at some point in the New Year. Indeed, some fan sites are already claiming that, come the New Year, the Liquid will start to ship with 2.0 and that Acer will offer an OTA update for existing users.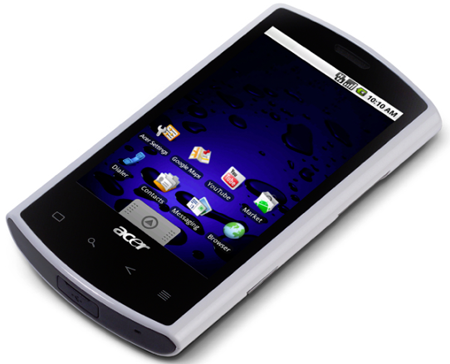 No Windows USB drivers yet, so watch this space
So much for the bells and whistles, but what about the basic phone stuff? Well, in short the Liquid performed faultlessly. Calls sounded clear as a bell both outgoing and incoming and the speaker does a good job if you are worried about getting brain cancer. No problems with the cellular and Wi-Fi radios or GPS receiver either, all of which managed to pull in a strong signal no matter where we were standing.
Battery life is helped by the ambient light sensor, which adjusts screen brightness automatically and Acer's handy power management widget which lets you turn off the Wi-Fi radio, Bluetooth, GPS, system sync and adjust the screen brightness all from the home page. A full charge should see you through the best part of two days assuming no excessive use of the Wi-Fi and GPS. Overall, the Liquid lasts longer than the HTC Hero, which has an identical capacity battery.
At the time of writing, Acer has yet to release official Windows USB drivers for the Liquid. The user guide says they are on the accompanying CD – oh no, they're not. So tethering it to PC could be a problem for the less technically adept. The Liquid also comes with something called a Proximity Sensor – we found the sensitivity settings for it for it while rummaging about in the Call Settings menu – apparently it handles auto turn-off, presumably for calls, yet no mention is made of it in the user guide.
Verdict
The Liquid's social network integration tools are pretty poor when compared to what's on offer from the likes of Motorola, but many of us need nothing more than a good Twitter and Facebook application, both of which can be picked up gratis from the Android Market. As for the lack of nifty HTC-type widgets, well, do you really need a windscreen wiper to appear when your weather app tells you its raining? Indeed, there is something to be said for an OS that hasn't been tarted up like a fifty-dollar hooker. Android as God intended is pretty impressive on the A1 Liquid. ®
Thanks to Expansys for the loan of our review handset
More Android Smartphone Reviews...

T-Mobile
Pulse

Motorola
Dext

HTC
Hero

Vodafone
Magic