Original URL: https://www.theregister.co.uk/2009/12/16/plugless_power/
Wireless e-car recharge tech within range?
Powermat for cars
Posted in Science, 16th December 2009 11:28 GMT
Leccy Tech If losing your leccy car's power cable or the risk of an almighty electric shock keeps you from buying an e-car, then US company Evatran may have the answer.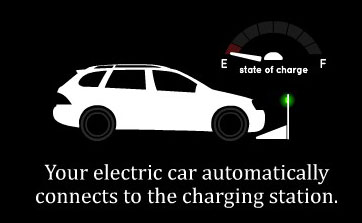 Evatran's Plugless Power system would do away with charging cables
The firm's Plugless Power concept would supposedly let you recharge your e-car in the same way that mobile phones and other gadgets can now be powered-up using wireless pads.
Rather like parking on a huge Powermat, Evatran's proximity charging system could connect an e-car's on-board battery charger to an electrical power source using magnetic induction.
To re-charge their e-cars, drivers would simply pull up closely - probably very, very closely - to the other part of the charging system, which would be bolted to the garage wall or embedded within a parking bay floor.
Exact technical details are still thin on the ground, though Evatran claimed its technology will achieve an efficiency rating of roughly 90 per cent.
Charging times will not be noticeably longer than if using a traditional cable-based power system, the firm added.
Beyond its obvious convenience and safety benefits, Evatran claimed Plugless Power is the only system that will allow any make or model of leccy vehicle to connect. Drivers would also be free from worrying about such variables as voltage, amps or plug types.
Evatran has been tinkering with the basic technology behind Plugless Power for several years, recently announcing a tie-up with product development outfit Syncroness.
If the partnership goes well then Plugless Power could go into production by the end of 2010. ®