Original URL: https://www.theregister.co.uk/2009/12/16/fuse_concept/
Firms fuse high-tech sensors into concept phone
The future of smartphones?
Posted in Personal Tech, 16th December 2009 13:15 GMT
Consumers could soon interact with mobile phones in more advanced ways than mere button presses or finger swipes, if the concept Fuse phone is anything to go by.
Can't see the video? Download Flash Player from Adobe.com
Fuse employs multiple interface technologies – including multi-touch capacitive sensing, haptic feedback, and grip and proximity sensors – to let users glide through its applications by swiping a finger down the side or back of the phone.
Tilting the phone backwards or forwards also causes applications to react in certain ways and rumours are currently circulating online that Fuse even reacts when gently squeezed.
Fuse employs features from a handful of leading phone technology firms, including Synaptics and Immersion. It was designed to demonstrate "the future of user interaction for handsets".
Synaptics' ClearPad – first seen back in 2006 and since improved to cope with up to 10 fingers, NavPoint and TouchButton technologies, for example, allow Fuse to cope with multiple finger input and high-resolution finger input – though we're unsure about that last one.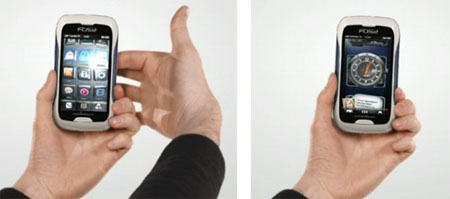 Fuse will be at CES in Las Vegas next month
While some of Fuse's features aren't particularly groundbreaking, the idea is at least a step in the right direction and demonstrates how "grip sensing" and "slide sensors", for example, could help improve human interaction with smartphones.
It hasn't been confirmed if Fuse will ever make it into shops, but Synaptics plans to demonstrate the device at the CES show in Las Vegas next month. ®