Original URL: http://www.theregister.co.uk/2009/12/15/review_hd_tv_lg_42sl9000/
LG 42SL9000 42in LED-backlit TV
Ultra thin and frameless too, apparently
Posted in Personal Tech, 15th December 2009 08:02 GMT
Review LG's 42SL9000 is billed as a 'frameless' set, and indeed the pictures on the website seem to give the impression of the picture spilling out of the frame, in an immersive manner that's somewhat reminiscent of Philips' Ambilight.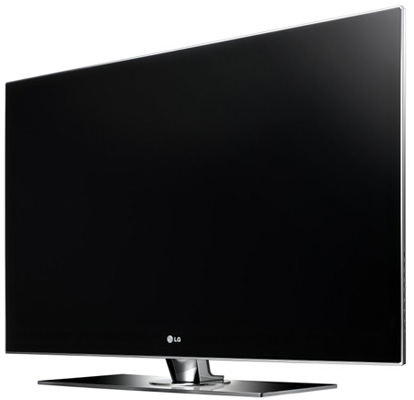 LG's 42SL9000: when is a frame not a frame?
So it's a bit of a disappointment on taking it out of the box to discover that 'frameless' really just means that the front is a single piece of glass, and that there's still a black border – about an inch wide – around the edge of the picture. Still, it certainly lives up to the billing when it comes to slim, being only around an inch deep. However, if you don't use the desktop stand, with all the sockets on the rear it will certainly sit further from the wall than that.
The stand – which requires a few screws to put together – is about eight inches deep, but fairly unobtrusive. Also in the package are two remote controls – a full size, full featured one, with a stylish silver trim round the top edge, and a smaller one with just basic functions, for the more bewildered or less technically adept members of the household. The set has some buttons on the right hand edge for power, volume, channel and menu, should you lose both remotes.
As you'd expect at this price, it's a full 1080p set and the connectivity is pretty good, with four HDMI slots, three on the rear, and one available at the side. There are two Scart inputs too, plus component, and an audio in for use with a DVI adaptor, as well as a PC RGB input. There's the usual Common Interface slot for pay channels – though that won't get you very far in the UK – together with a USB socket accessible from the side.
An optical audio out is included too, and RF in for your aerial, together with Bluetooth, and that's the lot. There's no Ethernet, no satellite tuner, and of course the Freeview tuner is DVB-T only, so the set won't pick up the new FreeviewHD broadcasts.

Cabling will inevitably interfere with attempts at flush wall-mounting
Setup is straightforward, with a wizard automatically tuning in analogue and digital stations, and the on-screen menus are very clear, and simple to use. A Quick Menu button on the remote lets you change many settings very easily, including aspect ratio, which has a 'just scan' option for digital sources. Those who use Freeview for radio broadcasts will appreciate the dedicated Radio/TV button on the remote.
Another useful feature is a 'Picture Wizard'. This walks you through setting up the TV – including colour settings, contrast, sharpness, and brightness – without needing a separate test disc. It's a handy feature and, when you save the results, you can choose which inputs it should apply to. There are also 'Expert' picture settings, which offer a huge degree of control, including individual contrast settings for RGB. Our only niggle here is that to change the 100Hz motion control features, you need to go into the Expert menu, which is comprehensive enough to be scary for novices.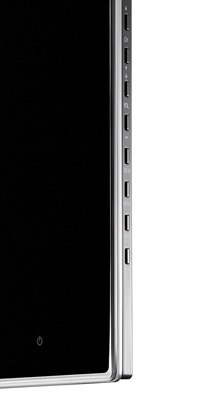 Edge of darkness: excellent contrast thanks to the LED backlighting
In terms of picture quality, the LED backlighting does make quite a difference; compared to the conventionally illuminated Panasonic V10 LCD we also have in the same room, blacks are much blacker and contrast is excellent; black bars above widescreen images really are properly black, and there's 24p support for film lovers too.
There's a wide range of default picture settings and modes, which you can cycle through easily at the push of a button on the remote, though purists will prefer to set up one of the expert modes and leave it at that, and likewise turn off the energy saving and dynamic adjustment features. SD pictures look good too, even on some of the ropier channels like ITV4, and while the sound isn't stunning, it's certainly adequate, with no annoying rattles – but you'll never get great bass from a set as thin as this – connecting to an external Hi-Fi is your best bet.
We did see some smearing, however, when using an external Freeview receiver, which wasn't present on the built-in one, probably due to the edge enhancements, which couldn't be disabled on the component input. Furthermore, when connecting with component, there's no auto-aspect ratio switching using the line 23 signal.
Another niggle, though one easily resolved with judicious placement of a domestic knick-knack, is the power light on the front. It glows red when the set is off and white – really, quite bright, white – when turned on, which you'd probably notice anyway, what with the picture showing on the screen. Frankly, it's a distraction we could do without.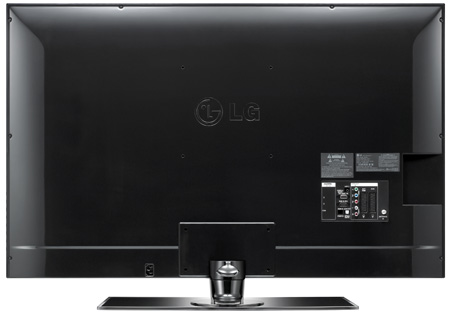 Comprehensive interfacing options, but no Ethernet
Multimedia capabilities are becoming more and more common on TVs these days, but the LG is a bit peculiar in that regard. It's certified for DivX HD, and the manual boasts support for a wide range of formats including MKV, Transport Streams, H.264, DivX, Xvid, and VOB. It doesn't, however, support AVC HD files (.mts) or WMV.
When a USB device is connected, a screen pops up allowing the selection of photos, music and video – the first restricted to JPG and MP3 respectively – and then a file browser lets you choose what you want to open. Our test files worked fine, but it's a great shame that there's no Ethernet. DLNA or even SMB support would make this much more useful, and AVC HD is an annoying omission for camcorder owners.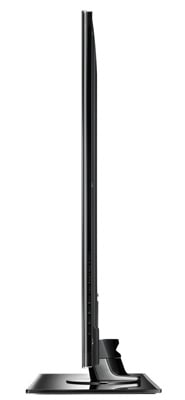 Good visual performance, but needs companion gear to get the most out it
The other curious connectivity option is Bluetooth. The 42SL9000 can display photos that you send from your phone using Bluetooth, which is handy, and it can also connect to a Bluetooth headset, including A2DP, so you can use the same headphones you take on the tube to watch TV late at night without disturbing people. It can also receive music with A2DP, in theory allowing you to play music from your phone through the TV's speakers. Alas, we were unable to make that work with the Nokia E72 we had to hand.
If you're a home automation sort of person, you might also fancy tinkering with the serial port; LG's manual provides a detailed description of the protocol and commands, though we can't see many ordinary users venturing down that route; the device manual is only on CD, incidentally, though a basic guide is available on-screen.
All in all, this is a well performing set – as far as it goes. It would make a great pairing for a Sky HD box, or a FreeviewHD recorder when they arrive next year. But those who want a one box HD solution, or network access to their PC media, will be a little disappointed.
Verdict
The 42SL9000 is a great looking TV set – aside from that bright power light – the produces very good pictures. If you have HD sources, it's well worth a look. But it's a shame there are no HD tuners built in and that the otherwise capable media playback is limited to USB, rather than having a network link. ®
More HD TV Reviews...

Sharp
Aquos
LC40LE700E

Samsung
UE40B7000

Sony
Bravia
KDL-46W5810

Toshiba
Regza
37AV615DB