Original URL: https://www.theregister.co.uk/2009/12/15/plugin_prius_timeline/
Plug-in Prius production plan posted
Test models next year, launch in late 2011
Posted in Science, 15th December 2009 15:12 GMT
Leccy Tech Toyota has finally announced that a plug-in version of its Prius hybrid will go on general sale during late 2011.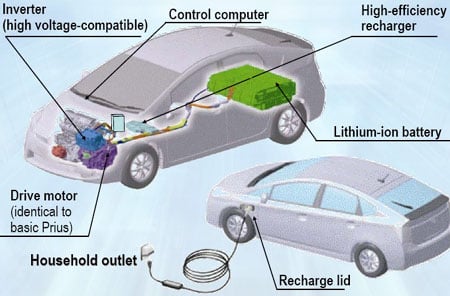 Toyota's plug-in Prius offers greater range and speed than the original
The announcement was made during the plug-in Prius' recent official launch in Japan, where Toyota plans to ship 230 test models of the leccy car during the first half of 2010.
In all 600 test models will be leased to various governments and business fleets around the world. Some 150 Prius plug-ins will arrive in North America next year, with a further 200 set to be shared between France, Portugal and Blighty.
The remainder will go to New Zealand, Australia and Canada, Toyota added.
If all goes according to plan then Toyota hopes to "begin sales in the tens of thousands of units to the general public in two years". Presumably just in time to have the car's thunder stolen by the Chevrolet Volt.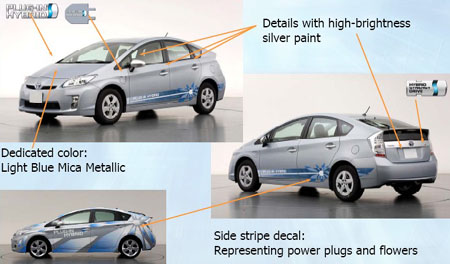 Test models will hit Blighty during 2010
Toyota said the plug-in Prius will carry a "reasonable and affordable" price tag. So it is reasonable to assume that the car will cost in the region of £18,000 ($29,282/€20,128) – the starting price of the current model.
The plug-in Prius is largely similar to the one you can't plug in – the latter of which Register Hardware recently reviewed. However, the plug-in model will feature a 5.2kWh lithium-ion power pack instead of a 1.3kWh nickel-metal hydride unit.
Toyota said the plug-in Prius' battery will boost the leccy driving range to just below 15 miles – the existing model can only go for about 1.4 miles during EV mode. Its maximum EV mode speed will also rise from 32mph to 62mph. ®