Original URL: https://www.theregister.co.uk/2009/12/15/lg_3d_sales/
LG predicts bountiful 3D TV sales
3.4m 3D sets for 2011 alone
Posted in Personal Tech, 15th December 2009 11:32 GMT
LG has followed in Sony's footsteps by publishing aggressive 3D TV sales figures for the coming years, predicting that the Korean company will sell 3.4m 3D sets globally in 2011.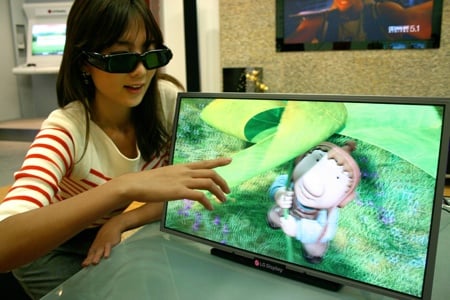 LG demoed a 23in 3D LCD earlier this month
Shifting over 3m 3D sets in 2011 alone is a tall order, especially since LG said it only expects to sell 400,000 3D TVs next year.
Hiroshi Yoshioka, Executive Deputy President of Sony, said late last month that 3D sets will account for between 30 and 50 per cent of all its TVs sold by the end of the firm's 2013 fiscal year.
LG's 3D TV product catalogue currently consists of a 23in 3D-capable LCD (shown above). However, the company added that it will launch 3D TVs in South and Central American and Asia from 2011, while focusing on extending the initiative in North America and Europe from 2010.
The global 3D TV market will increase sharply over coming years, LG said, while citing "internal global surveys" supposedly indicating that as many as 58 per cent of consumers already want to purchase 3D TVs.
LG added that if the London 2012 Olympics were aired in 3D – which is only a rumour at present, we might add – then global demand for 3D tellies would "expand". Well, we could have told you that.
The good news is that Fifa - the Fédération Internationale de Football Association – announced earlier this month that the 2010 World Cup will be the first global soccer event shot in 3D. ®