Original URL: https://www.theregister.co.uk/2009/12/15/dreamliner_first_flight/
Boeing 787 Dreamliner set for first flight
Today's the day - finally
Posted in Science, 15th December 2009 13:46 GMT
Boeing's 787 Dreamliner will later today take to the skies for the first time, almost two-and-a-half years after it was originally supposed to get airborne.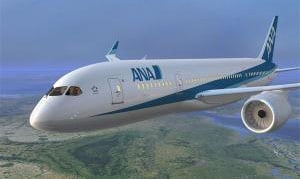 The carbon composite and titanium aircraft is slated to leave the Seattle tarmac at 18:00 GMT at the end of a troubled development programme which has seen mutiple production delays and schedule knock-backs.
Although the "eco-friendly"* Dreamliner has attracted 840 orders, customers' patience has been sorely tried by continuously-reshuffled delivery estimates. The 787 maiden flight is therefore critical for Boeing, as Richard Aboulafia, aerospace analyst at research firm Teal Group, explained to Reuters: "It will provide a badly needed perception that the program is on some kind of schedule again. But it's still a long way from the ultimate result."
Indeed, even if all goes according to plan today, there are still a minimum of nine months of "around the clock" flight testing of six aircraft to follow before All-Nippon Airways gets its hands on the first example by the end of 2010.
That's Boeing's latest estimate, although analysts say 12 months flight testing is more likely, and the company can expect more turbulence along the way. Aboulafia cautioned: "Just as they found hurdles on the way to first flight, they are going to find hurdles on the way to certification."
Today's four-hour flight will involve a "foray around the Puget Sounds and inland Washington state" as pilots "push the plane well beyond limits expected in ordinary commercial flights, practicing mid-air stalls, dives and steep banks". Boeing has full coverage here. ®
Bootnote
* Boeing's 787 blurb explains that the aircraft will "provide airlines with unmatched fuel efficiency, resulting in exceptional environmental performance". It elaborates: "The airplane will use 20 percent less fuel for comparable missions than today's similarly sized airplane."